PATIO DECOR REFRESH WITH BED BATH & BEYOND
This post is sponsored by Bed Bath & Beyond. All opinions are 100%on my own.
So, if you get my newsletter then you know I've had it in the works to redo my patio. This collaboration with Bed Bath & Beyond could not have come at a better time! We really enjoyed the DIY pallet furniture we built in 2015 but it was getting quite weathered and worn, and it was time for a major upgrade.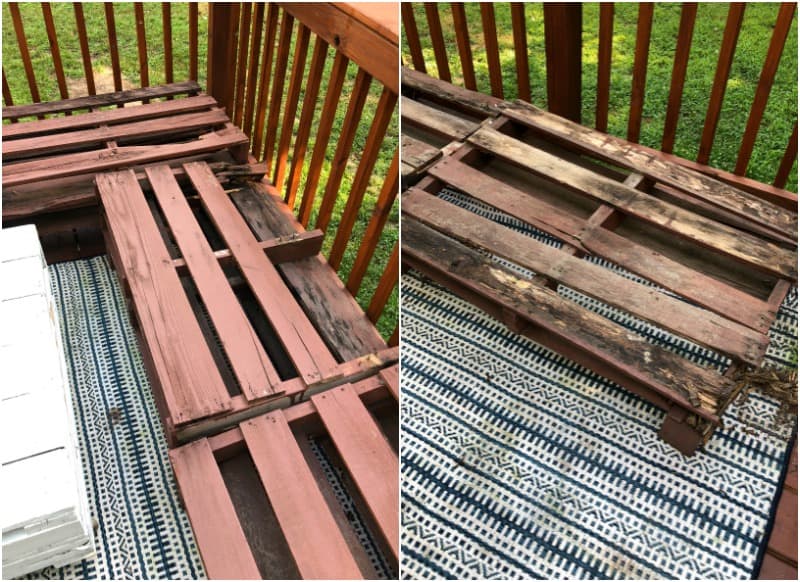 I found this AMAZING Amazonia Conversation Set and fell in LOVE! Let me tell you- Bed Bath & Beyond has made the online shopping experience crazy simple and seamless. It's an excellent source for unique, seasonal products, home décor, and furniture. I'll be back there to shop again soon!
Check out my new updated patio decor!
What do you think?! Gorgeous right!? Let me just tell you- I was going to wait and have my husband help me put the furniture together, but we had a time trying to line up our schedules. I could not wait to get this started once the truck delivered this pallet of neatly wrapped packages right to my driveway.
Sidenote: Do yourself a favor and take advantage of this delivery option. It is SOOO worth it not to have to lug it around yourself. Plus, Bed Bath & Beyond delivered for FREE. So you can't beat that.
Assembling the patio furniture…
As I said, I was going to wait for the hub to help me out but it was crunch time, and I had planned a Charcuterie party planned (that night!) to celebrate my birthday. I wanted it done so we could enjoy it.
I used a razor knife to carefully score the edges of the boxes and laid out all the pieces and hardware. There actually weren't that many- anything that could have been done prior to packaging was. It came with the allen wrench too. I think it took me all of 40 minutes to put all four pieces together. The directions were simple and straightforward with pictures. To be honest- I was pretty impressed with myself. It was empowering! 🙂
I ordered black covers with the Amazonia Conversation Set to go over the standard white pillow. They fit perfectly, and I feel like the zipper and stitching is high quality and will withstand the elements.  I loved the darker version when I saw it online and it turned out just like I wanted.
Pick a BONUS Piece…
This sleek Outdoor Interiors® Eucalyptus and Sling Outdoor Swing Lounger was the bonus piece I chose to go with my conversation set. It's really easy to customize your furniture by adding a stand alone statement piece to make your style pop and tie your new set in with what you already have.
I can totally see myself sipping my coffee (or something stronger-what time is it?) while I post to Instagram or get Pinning!
I'm sure by now you noticed the umbrellas. Never have I done this before, but when I added one umbrella to this gorgeous set, I underwhelmed with the outcome. I wondered what it would look like with 2 and VOILA! I think the variety in size and color really adds to the whole vibe and pulls color from the rug too.
Accessorize your space…
This Outdoor Planter Set or this fun White Outdoor Planter worked perfectly to help me incorporate green back on this deck. Make a point to add fresh, happy plants with lots of foliage to your space to make it a really inviting place to entertain and recharge.
I also really loved this medium planter that helped to dress up my table.:-)
Using layers and angles makes everything look more professional. Tie in colors from one accessory to the next like this Herringbone Square Outdoor Pouf Ottoman and Checkered Field Rug.
A strong foundation is essential no matter what you're building. This bold Patio Rug all weather rug sets the stage to make it all work here.
And, no project is complete without lighting. You can check out the tutorial for how I hung my String Lights and you can add some string lights to your order with Bed Bath & Beyond!
I can't wait to hear what you think of my new outdoor furniture and what I've done with the space. Drop me a comment and share your thoughts.
Thanks so much for visiting Place of my Taste.
Cheers,
Aniko