Hello!
I am happy to co hosting again with Rebecca from Living Better Together, Kat from I Want Crazy and with Kim from Enjoy the View. 
Take a moment and check out their wonderful blogs and then let's rock this party!
Welcome to the TGIF Link Party at 
Living Better Together and I Want Crazy!
Meet Your Hosts!


Rebecca from Living Better Together



Kat from I Want Crazy 



We're also excited to introduce our fabulous co-hosts for this week:

Aniko from Place of my Taste


Kim from Enjoy the View
If you are interested in co-hosting, email Rebecca at fickrj5@gmail.com. Share this party with your friends, and don't forget to make some new ones while you're here! We all love making new friends, don't we?
____________________________________________________________________
Features:
Most Viewed 
Numbered Counter Stools from Elizabeth Joan Designs. There's nothing better than snagging up a great find for FREE on the side of the road! I love how Emily transformed these bar stools to match her own personal style! I have a couple of my own that could use a change, thanks for the inspiration, Emily!
Rebecca's Favorites:
Lemon Cake Batter Truffles by Simply Suzanne's At Home. I love, love, love Lemon! I feel like it's one of those perfect things can pair with almost anything for any kind of dish. So of course I was all over these! They look so good and the best part is, no baking involved. Okay that's not the best part, the best part is the white chocolate coating!
Rustic Chalkboard Pantry Label Printables by New Mama Diaries. I love these cute little labels for the pantry. Especially for those canisters that are never marked and you're just praying it's flour not pancake mix when you grab it off the shelf! These are a great way to simplify and organize!
Kat's Favorites!
Homemade Baking Mix by Yesterfood. I never have bisquick on hand when I need it. Who knew you can just make it yourself? This is a great go to recipe when you want to make homemade biscuits or my favorite, pancakes, without all the added extras from a store brought mix!
How to Clean Outdoor Toys by Carrie This Home. I am always wanting to buy these awesome slides and playhouses at yard sales and such, but they are always so dingy. This tells you how to get them looking like new with a few simple tips!
____________________________________________________________________
Link up your recipes, projects, tips and tricks, etc. Each week we'll be featuring some great posts from the previous week, so be sure to check back to see if you were featured and to link up again! 
The party will run from 8:00 pm EST on Thursdays until 8:00 pm EST on Sunday.
Rules:
1. Please follow your hosts and co-hosts in some way! Let us know you did and we'll follow back!
2. If you'd like, grab the party button and tell your friends!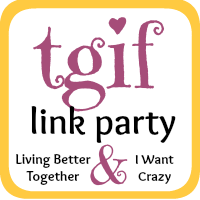 3. No Giveaways, Etsy Shops, or Link Parties please.
4. Please link to a specific post,
not
your homepage.
5. Get inspired! Visit other links! Spread the word! It is a party after all!
____________________________________________________________________
Thank God it's Friday! Get ready to party!
We'll be pinning all of your links to our TGIF Link Party Board on Pinterest to share with our followers!