CHICKEN BREAST WITH ARUGULA & TOMATOES MADE WITH BUTTER OLIVE OIL
I am a member of the Collective Bias®  Social Fabric® Community.  This shop has been compensated as part of a social shopper amplification for Collective Bias and its advertiser.
Hello Everyone! I am back today with an amazing and easy dinner recipe for you! I particularly love easy 20-30 minutes meals on busy weekdays or event filled weekends, when kids are priority and I spend little time in the kitchen. Lots of time we choose chicken over anything else and most of the time we end up having chicken breast as our meat choice. Whip up quick, healthy kid friendly recipes are always on my to do list. I am working together with #CollectiveBias  and I took a trip my local Walmart  with my little one this past weekend to #shop for Butter Flavored Olive Oil by Star.I have not seen this type of olive oil in any other stores before.
With my husband doing his serious diet, I  really have to watch what I serve for him. He loves me to use olive oil when I grill his chicken, however sometimes I just prefer  butter for mine. Now finding  the Butter Flavored Olive Oil by Star can make both of us happy. Whoohoo!
For this recipe I used Tyson Chicken, fresh baby arugula,tomatoes and red onions from Kroger. Kroger always has the freshest meat and produce choice and thankfully it's about 5 minutes drive from my house.
Adding vegetables to our meals are always important.  My kids are very picky about it but I try my best. My little one tend to like more variety of vegetables as oppose to my older son. I think it will always be a challenge to make them eat veggies but I will never give up trying.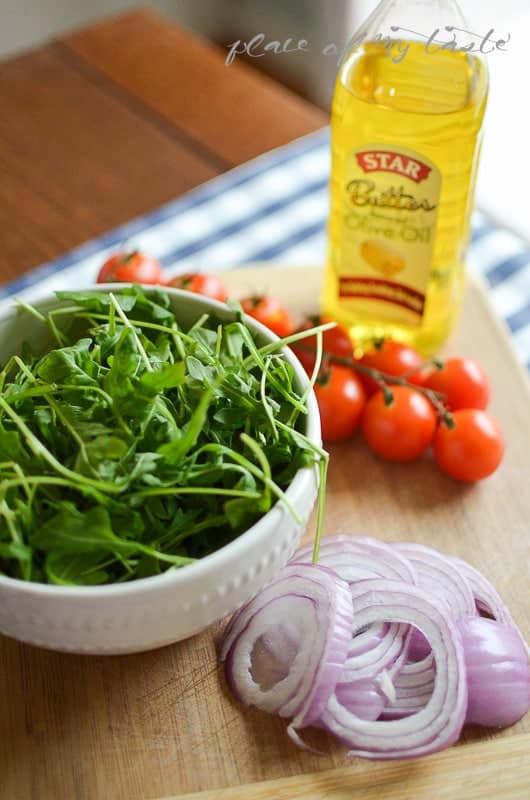 I usually start mixing the diced tomatoes and onions together with the balsamic vinegar and I let it chill in the refrigerator while I cook the meat. The flavors are blend together so well in a short period of time. If you prefer, you can prepare this tomato mixture in the morning and let it sit until dinner. It won't hurt.
We love chicken breast so much because it could be cooked for perfection in no time.
I like my chicken to be cooked to be beautiful golden brown on both sides.
Was it extremely tender and soft?
It sure was!
CHICKEN BREAST WITH ARUGULA & TOMATOES MADE WITH BUTTER OLIVE OIL
Author:
Prep time:
Cook time:
Total time:
Ingredients
2 boneless chicken breast
salt, pepper to season
3 tbs. Butter Flavored Olive Oil by Star
1/2 cup all purpose flour
1 cup fresh baby arugula
1 cup dices tomatoes
half red onion, sliced
2 tbs balsamic vinegar
Instructions
Put diced tomatoes, onions in a bowl, season with salt and pepper and add on the balsamic vinegar. Place into refrigerator for 15 minutes to chill.
Heat Butter Flavored Olive Oil by Star in a large shallow pan.
Season chicken breast and dust in flour.
Cook chicken breast on both sides for about 8 minutes or until golden brown.
Remove from heat.
Place chicken on a plate and top with fresh baby arugula and the tomato mixture.
Enjoy!
I hope you will try this excellent recipe. Let me know how you like it!
Have a wonderful day my Friends!
Xoxo~