Tour my Christmas home along with many others'! Check out these homes talented bloggers beautifully decorated for the Holidays!
First of all, hello everyone, I am so delighted that you are here! If you are coming from  SG STYLE, Welcome! I love Shavonda's unique style!
This week has been a huge dose of Christmas decor inspiration, you guys! It is so amazing to tour everyone's home, and see so many different styles as well as homes. Today is the last day of the Blogger Stylin' Home tours, hosted by Lindsay from The White Buffalo Styling Co. and  I am thrilled to be participating with so many fabulous and talented bloggers.
Lets look at all the details of my Christmas Home!
I just got home from my vacation Monday night, and I could not believe Iamanged to pull together a Christmas Home Tour today. Not only that, but since Monday, the weather has been awful:  rainy and dark. Finally the sun was out and bright yesterday, therefore I managed to snap some photos. This year I mainly used what I already had on hand, as I did not have the time to run around to hustle decor stuff. The only thing I bought were some lovely blue ornaments. I took my son to shopping with me one night, and I let him pick his favorite ornaments. Of course, they were blue…
…and mommy listened to his little boy, therefore we added blue to our Christmas decor this year. I was a bit skeptical first, but nowI think, in the end, the color mix turned out fantastic. Last year I decorated with gold and silver, and I missed seeing colors, so bringing the blue in was a great choice.  I decorated with lots of greenery, too, because I just simply love the fresh scent in the air throughout the winter months.
And now into the living room!
Just recently we made a few changes to our entry way, so the hallway would blend nicely with our new cozy and eclectic LIVING ROOM. I am going to post about it in January. 🙂 I threw some greenery on the coat hanger, and I filled a bucket from Target with Christmas tree branches here.
My new LIVING ROOM only got a few Christmas-y touches: a garland and a cute little Christmas tree with lovely blue ornaments.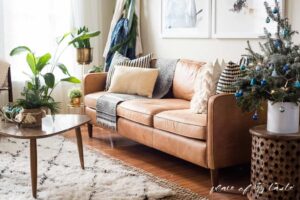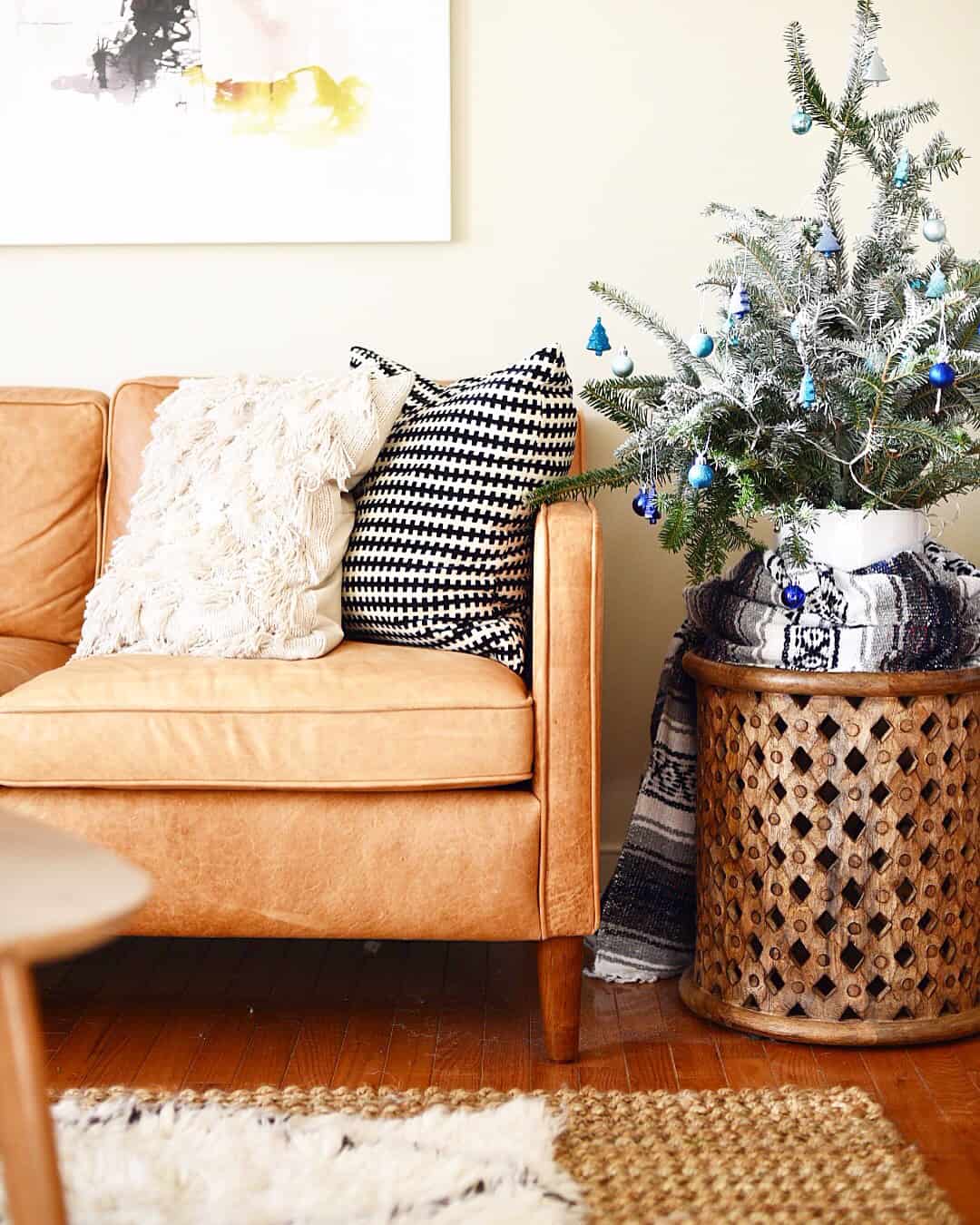 I moved some things around in the family room, therefore this year the tree got pushed back all the way to the fireplace. My family room is pretty small and not very functional, but I made it work, even with this tall tree. It will be a cozy place for us to chat and play board games with the boys by the fireplace.
(These pillows are 20% OFF now with FREE shipping in my shop)
In addition, to coordinate with the blue hues, I also made these easy DIY NO SEW STOCKINGS.
I carried blue throughout the house while decorating, so my dining room got some of the blue hues with a touch of red as well. We celebrate Christmas Eve around the table with the family, and of course, I love to make our Christmas table festive. I created a gorgeous centerpiece, and I am going to paint some holiday plates. I will be sharing my full table setup on the blog in the second week of December, so make sure to stay tuned for more!
…and this is our night view. I love Christmas time! I do! The lights, the smell, the holiday festivities all make it so magical!
I hope you enjoyed our home tour!
The next stop is PRIMITIVE & PROPER. Hop on over and check out Cassie's stunning home!
Before you start this long list down, be sure to enter our MINTED HOLIDAY CARD giveaway!
And a week worth of Christmas home tours for you to check out this weekend:
MONDAY:
The White Buffalo Styling Co.
TUESDAY:
WEDNESDAY:
THURSDAY:
FRIDAY:
Have a fabulous weekend!
Cheers,
Aniko