CHOCOLATE DIPPED CHRISTMAS COOKIES
Bake some short bread Christmas cookies dipped in chocolate, and decorate them with nuts, or anything else you like, to even give as a personal gift!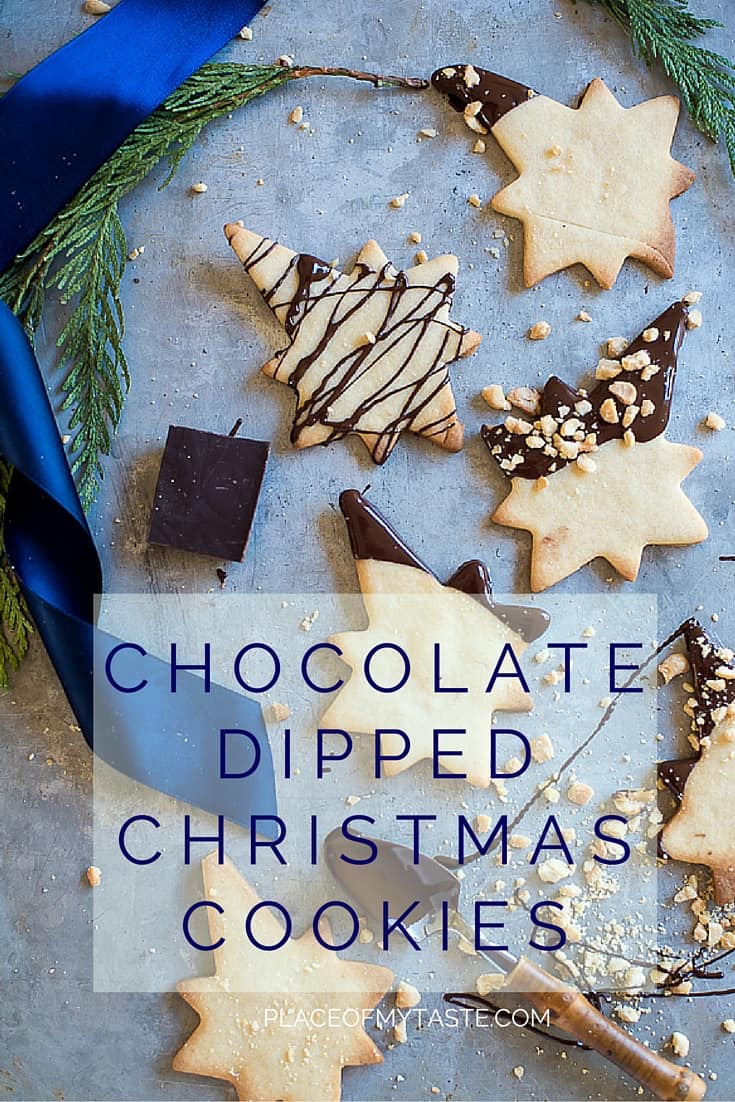 I am not sure what I love the most about December and Christmas time: the magical lights or baking cookies. 😉
We do our Christmas countdown each year, and I always include many Christmas cookie baking days, because love to bake cookies together with my boys.
Even though they are boys, they sure love to mess up the kitchen with Mommy. They would drop their legos and trucks, and they would run to mommy when they hear me getting ready for baking. Love it!
We were invited to a Christmas party this past weekend, and, as always, I barely had time to get everything ready. I wanted to make something festive, therefore we baked some delicious cookies and dipped them in chocolate, then we sprinkled them with crushed cashews. If you are like me, you like anything chocolate-dipped. Last year we made Christmas Tree Cookies and this year we chose to make star shaped ones.
Christmas cookies in the making!
First of all, for our baking, we used Bob's Red Mill's unbleached all purpose flour. I have been using this flour ever since I discovered it last year, and it is amazing. This Organic Unbleached white flour is freshly milled from Organic hard red wheat, and it is not enriched with any additives. It's the same high protein flour that is used by professional bakers: definitely perfect for all your baking needs!
CHOCOLATE DIPPED CHRISTMAS COOKIES
Author:
Prep time:
Cook time:
Total time:
Perfect Christmas cookies. Chocolate dipped and sprinkled with cashews for perfection!
Ingredients
2 sticks unsalted butter
1/3 cup granulates sugar
2 tbsp milk
2 tsp vanilla extract
2 3/4 cups BOB'S RED MILLS UNBLEACHED WHITE FLOUR
1/4 tsp salt
6 ounces semi-sweet chocolate, melted
1/2 cup roasted cashews, crushed
Instructions
Preheat oven to 325 degrees.
Mix together butter and sugar until light and fluffy. For about 3 minutes.
Add milk, vanilla and beat until combined
Slowly add the salt and flour to the mix and until it forms a dough.
Roll out your dough and using cookie cutter cut out your shapes.
Line them in parchment paper and bake until golden brown, 8 minutes.
Melt chocolate and either dip your cookies in the chocolate or drop chocolate with a spoon onto your cookies.
Enjoy!
Let me tell you, it was pretty hard to resist eating these cookies while we were making them.
These Christmas cookies are perfect with a glass of milk, and they are very addictive. 🙂 I'm pretty sure Santa would love them too, therefore I truly recommend making two batches right away. 😉
Head on, print your coupon, get your flour, preheat your oven, and start baking, my Friends!
Happy Baking !
Cheers,
Aniko
I was selected for this opportunity as a member of Clever Girls and the content and opinions expressed here are all my own.