MID CENTURY MODERN DANISH CHAIR RECOVER

I's week five for the ORC. Oh my goodness! Next week is reveal time, you all!
So today I am giving you a little update on the room.
I found a Danish chair. A fabulous Mid Century modern Danish chair on Craigslist!
And here is the best thing, for only $50!!! What a deal! Well, I was crazy enough to drive an hour and a half to get this chair but I thought it was worth it. I have been chair hunting for a long time. I was almost at the point that I have no choice but buying one of those modern chairs for $700.  I already overspent my budget with the sofa so I tried really hard to find something that was more affordable. And my waiting and hunting paid off…I found the CHAIR!!
Look at this pretty!
Surprisingly the chair was in really great shape, no damage to it at all. The cushions were like new, and they did not smell. I wasn't really crazy for the cushions but I thought I could sew a new cover for them, with my amateur sewing knowledge.
So I did.
For some reason, I was really attracted to this pretty blue fabric. I found some great articles on how to upholster a chair. And I just went for it.

If you remember for my room plan you know that there was no blue on my mood board. Nope. But I kept coming back to this blue shade at the fabric store so I bought it.
For $10.:-)
I sew basic things before but I never sew a cushion with zippers. I say, don't be afraid of sewing, it really is not that hard. I was able to make the cushions almost to be perfect-)
I have to admit that this shade of ble seemed a little too bright at first but I kept looking at a big picture of the room and it looked great.
Fact :I can not live without colors. The blue added a nice pop of color in the room. I just can't.
What do you think of my new treasure? That pillow that I made out of a table placemat was asking for its place on that chair. 🙂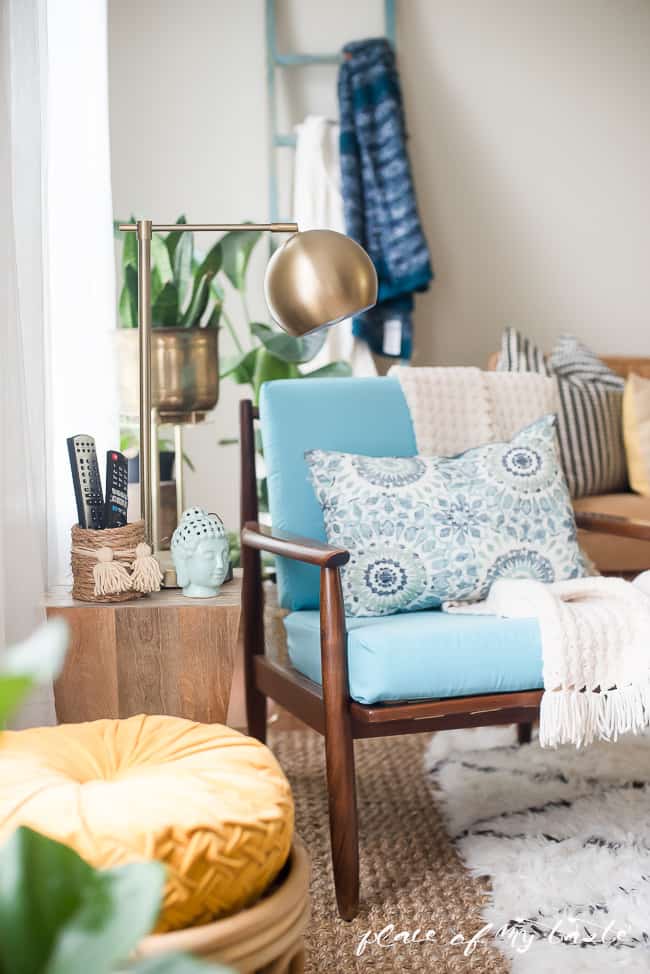 The room is coming togehter nicely, all I have left is to add some artwork. Phew. It was a busy 5 weeks. I hope you will check back next week to see the reveal. Oh and there is going to be a great GIVEAWAY, too, so be sure come and play! You can check other linking participants for the ORC over at Calling it Home today.
Cheers!
Aniko