Advent calendar – Oh, how cute! Make this super quick and easy Advent Calendar using matchboxes. Not only your children, but all your guests will love it!
Hello – hello…and Happy December!
Yay, it is the 1st day of December and it means that today we are starting our fun countdown until Christmas day.
I am participating in a Christmas Traditions blog hop – hosted by Like a Saturday – this week and I am sharing this cute Christmas Advent Calendar with you today! There will be other amazing bloggers sharing their Traditions as well, so be sure to check them out if you are looking for inspiration!
If you are coming from PERSIA LOU, welcome, I loved her BOOK ADVENT idea, so much fun!
Last year was the first year when we made an Advent calendar with my kiddos to have a fun countdown and a bunch of fun holiday activities lined up for the month of December.
My older son really enjoyed it last year and I think this year my 3-year-old will be excited to do it as well.
Last year I made a Christmas tree Advent Calendar and I wanted to make something colorful again.
This year I chose white-gold -silver decor for the most part but adding a little color is always a must in my house. 🙂
The whole idea was born while I was looking around at a local Goodwill and I spotted this piece…
I have no clue what it was used for but I thought if I spray-painted it with white pain,
t it would be the perfect hanger for cute wrapped matchboxes that we could open each day until Christmas.
To make this cute Christmas Countdown calendar, I used
-small matchboxes
-bird house ornaments that  (I got them from IKEA)
–paper sticker sheets (from the dollar store)
– sticker numbers
–twine
–whole puncher
I removed all matches form the boxes and covered the empty boxes with the sticky paper. I found these sticky papers at Dollar Tree and they were super easy to work with.
You could also cover the boxes with scrapbook paper:-)
I punched a whole on one side of the box to add a piece of twine to hang the box and numbered the boxes.
I decorated the boxes with fun washi tapes as well.
Added a little note with a fun activity to each box for each day until Christmas.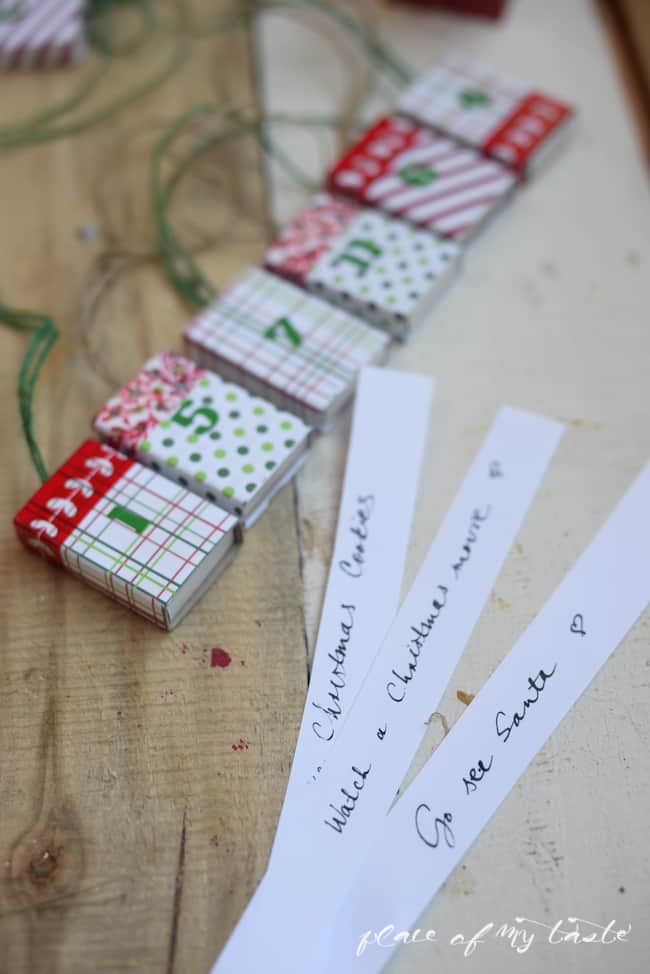 That is it! I hung all these cuties on the spray painted hanger and it looks fabulous:-)
This morning we opened up our first box and today will call for a fun evening in downtown to see the city in lights. Oh…can't wait!
I hope you liked this easy and quick tutorial !
Make sure you check out all the other amazing bloggers and their ideas today
and throughout the week!
1) Absolutely Arkansas
2) I Should be Mopping the Floor
3) Life Love Larson
4) Decor and the Dog
5) Glamorous, Affordable Life
1) Lovely, Etc.
3) Everyday Enchanting
3) Migonis Home
Thanks for stopping by today!
Have a wonderful week Everyone!
Xoxo
Aniko