It's Christmas!
Or at least it's starting to look a lot like Christmas in our house. This week seems like a  Christmas extravaganza around here. Yesterday I shared a cute Advent Calendar in a Christmas Traditions blog hop and today I am letting you peek into our home to see how I decorate for Christmas this year. I was invited by Carrie from Lovely Etc. who hosts this amazing Christmas blog tour and included 30+ awesome bloggers in. There is going to be so much to see so if you are looking for inspiration, you are in the right place!
I love to decorate my house…for every season…
I, especially love to decorate for Christmas. Christmas is more than a decorated home to me though. The spirit that is there, in the house in the month of Decemeber is what really Christmas is. I love the beautifully dressed tree, the smell of a real tree, the cookie making evenings, the fun activities that we include in the Advent calendar, when we sleep under the tree and all these things that are only there in the this magical season.
♥♥♥
I try to have a different color theme each year:-) This year I wanted to have more white and I decided with silver-gold and white combo for the  most part. I also have some red accents here and there in the house and of course the house isn't fully decorated yet. Since I  started Christmas decorating this weekend and today I will show you our living room (which actually had been updated a bit… I sold some of our furniture that I wasn't crazy anymore and we got some new ones…I  have not gotten a chance to show you around just yet…but it is coming up-I promise:-))
Ok! Are you ready to come in? The door is open.
I made this gorgeous door wreath a few weeks ago and I was so excited to hang it on the front door.
Love it, love the texture and the look of it. Every time I enter the house it makes me happy:-)
See tutorial HERE
Our entry way is pretty small and can't really decorate much but  I love to display a few things on the shoe cabinet. I change the pictures in the frames when we get new shots of the kids.
I have not shared that pine cone tree yet, but it is scheduled for next week so stay tuned!:-)
We have a small kithcen nook that I love to decorate for each season. This time the ADVENT CALENDAR, my PAPER TREE -from last year-  and a chalk board found home here.
Now to the living room:
The  living room  is not so spacious but I wanted to have the tree in here.
 The mantel was DIY – ed last week- yep…if you are following me on Insta, I shared a peak of it. Our fireplace was remade couple years ago and we did not add a shelf on there…big mistake. Ever since the redo, I am dying to add a shelf so I can display all my DIYs for each holiday! Now it is done and I am one happy girl!
The wooden tree was made last year for the CHRISTMAS TREE ADVENT CALENDAR and I was so happy when I found it up in the attic when I was pulling down the Christmas decoration. I hung some gold ornaments on IT and it looks gorgeous.
The FUR JOY sign was DIY-ed of course and tutorial is coming up on the blog soon:-)
Found these tables this past weekend and once I get a coffee table they will be side tables but until then they make a great coffee table:-)
Found these nesting tables this past weekend and I could not leave them behind. They were so inexpensive at ROSS and it fits the room perfectly. Once I get a coffee table they will be side tables but until then they make a great coffee tables:-)
Loving the gold and silver combo. Just beautiful.
Can you tell that I have a slight deer addiction…really.
Be sure to come back on Thursday, I will be sharing a tutorial of how I made those NO SEW stockings in NO TIME!
Do you spot my pretty DIY Faux fur Ornaments?
I hope you enjoyed this little tour of our Christmas-y home.
Now head on the see some other gorgeous homes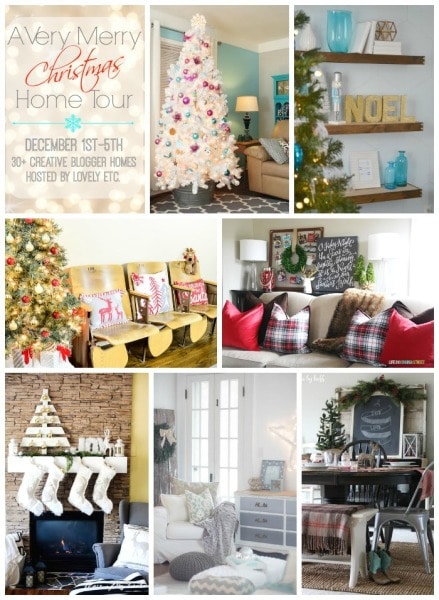 The tour is going on ALL week and HERE you will find the homes for each day.
You can also check out my last yeat Christmas DIY-s and home tour
Thanks for dropping in today!
Be sure to come back to party with us tomorrow and on Thursday to see my tutorital!
Xoxo