DIY Pendant light with super bright led bulb
I am a member of the Collective Bias®  Social Fabric® Community.  This shop has been compensated as part of a social shopper amplification for Collective Bias and its advertiser. #collectivebias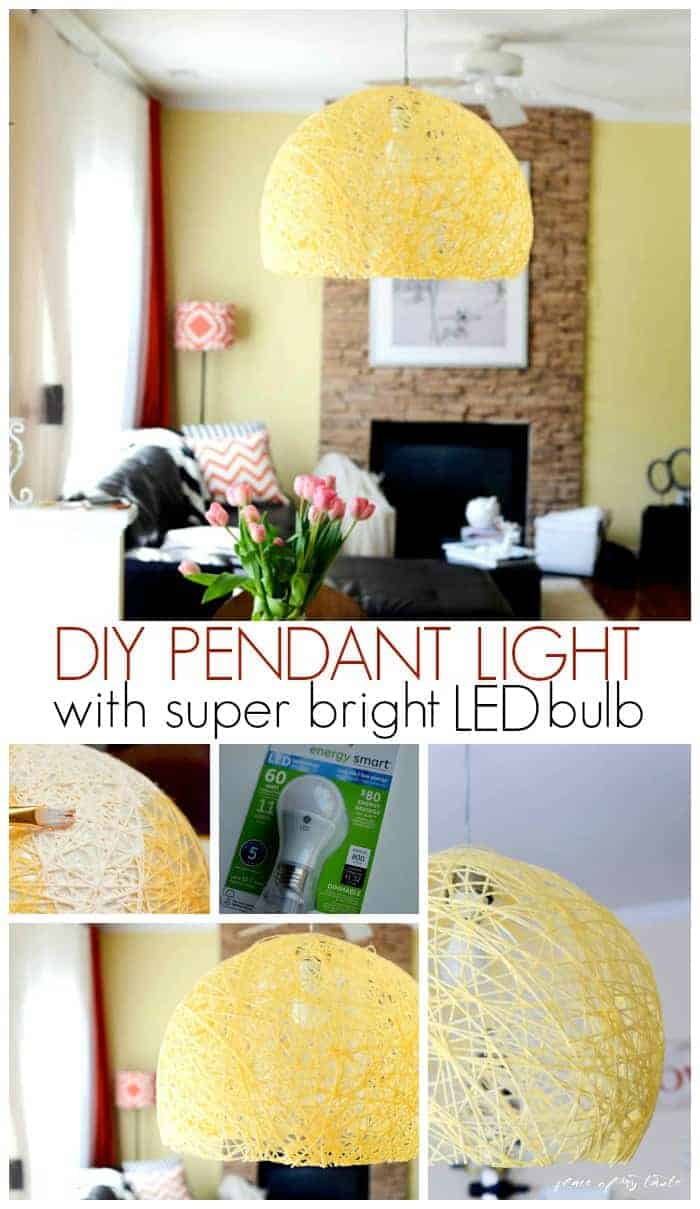 I hope everyone had a wonderful holiday weekend and are ready for another busy week. Today, I am going to show a super fun  DIY project. I will show you how you can save money in two ways:   DIY your  pendant light and use GE energy smart super bright LEDs.
 Oh, what a fun project it was.
It was a little bit time consuming but after all, it was worth my time.
I am loving our new light.
 Let me start with the  story of our chandelier that I switched to this new pendant light.
When we moved to this house ( 6 years ago ), it was already here and we decided to keep it. I never really liked the style, but I also never really got the time to change it. I love DIY everything and I was actually planning to DIY some sort of fun light  to change this chandelier. You know how that is, right? You have something on your list forever, but you never got to it. As I was looking around in Target* my favorite store*, I noticed these new energy smart LED light bulbs on a huge shelf. I could not walk by without actually purchasing one. Get yours today, there is a $2 off LED coupon in Target . I got a new light bulb, so I thought this would be a perfect time to change this really not my favorite chandelier in our breakfast area to something that fits our style better.
I am so glad I did get one of this LED light bulbs and I finally made this fun pendant light.
Our breakfast area is very much used and most of the time we eat here.  Although, we have a dining room and it's nicely decorated for every season, it's only used when we have visitors.  Good lighting is very important to our breakfast area. The chandelier had more light bulbs, but here is the thing: LED lights are so bright. I bought my very first LED light bulb, and I instantly noticed the difference. LED bulbs will give you  a nice soft, bright white light to the room and it also saves you dollars. 1 LED Bulb lasts as long as 15 traditional incandescent bulbs. This calculator will show you how much you can save by switching your light bulbs to LED bulbs. If you wish to learn more about the LED light bulbs, you can READ MORE HERE. #LEDSavings
Now, I will show you how to make this fun pendant light.
Are you ready?
I actually spied this light on Pinterest and it led me to a site, where I was able to watch the video of  how to make these yarn pendant lights.
THINGS YOU WILL NEED:
–  Ball (I wanted my light to be big, so I used an exerciser ball, but you can use a beach ball for a smaller light )
– Yarn ( colored or white )
– Fabric stiffener ( a lot )
– Brush
– Pendant light kit
– Scissors
I am going to warn you that you need some time to finish up this project so only jump into it if you will have a free hour.
But be patient, you will LOVE the result.
 I started to wrap the yarn around the ball, until I used up the whole ball of yarn. This is the most time consuming part.
Yeap.
Hang in there…:-)
I did not soap the yarn ( as the video shows) in the fabric stiffener. I applied the fabric stiffener with a brush onto the yarn and it worked well.
Make sure you wrap the yarn on the ball super tight. After you are done with the wrapping, hang your ball somewhere and let it completely dry ( 24 hrs).
Once it's dry and hard as a rock, let the air out of your ball. Cut the bottom of the round shaped yarn "ball" and take your ball out. Use a pendant light kit to hang your  new light. (you can purchase these kits in any larger hardware stores.)
TADA!
DIY pendant light is done and my GE energy smart LED light bulb will give me super soft white light for our every day needs!
This new light fits our style much better than the chandelier.
What do you think, YAY or NAY?
You can follow GELighting on Facebook, Twitter , Instagram or on the WEB
I hope you enjoyed today's post and I inspired you to make your own light! To see some spring inspired projects, check out my Spring Gallery.
Have a wonderful week!
Xoxo~