OUR COZY AND COMFORTABLE BREAKFAST NOOK REVEAL
This post is sponsored by AllModern. All my opinions are 100% my own.
It's Breakfast Nook reveal time!!
You guys! We did it again! We have another awesome room makeover behind us. I just love to participate in this fun One Room  Challenge, hosted by Linda over at Calling it Home each season. It's incredible how much motivation it gives me when there is a deadline. That's exactly why I've been participating in every ORC since I started my very first one two years ago. This time around I picked our SAD breakfast nook which is the center of the house and it was pretty much ignored since we live in this home. A few years ago we had some update in this space but nothing major. and not to mention that my style has been evolving for a long time and now I feel I found my true style and I feel that my home is becoming a gorgeous,  stylish and most of all COHESIVE space that we enjoy as a family.
If you missed the first five weeks, be sure to check out the weekly updates and how we got to where we are today!
WEEK1 | WEEK2 | WEEK3 | WEEK 4 | WEEK 5
So let me take you back to see where we started.
Ehh! This space is pretty sad and empty without style, right? Our breakfast room is a very common area right in the center of the home, so it was time to get this room in shape a bit!
And look what we have after short five weeks!
Drumroll, please!!!!
Our sad breakfast nook became a happy place!
Doesn't it screams HAPPY?? It does, right? I just love to walk in here now! All these gorgeous tones and textures make me smile! I had a vision for this room.
I envisioned a cozy little nook where I can sip on my morning coffee, where my hubby can surf the net while I prepare dinner, a nook where the kiddos can curl up to read a book….And you all, this is exactly what this space had become! The favorite spot for the entire family!
This fantastic dining room set is from AllModern. (Sources with affiliate links will be listed at the bottom of this post.)

I wanted to add a round table to this tiny space, and I think it works beautifully in here. I also adore these modern chairs, and they are super comfortable and were easy and quick to assemble.
I wanted to break the double window look, so I chose to add a large bamboo shade that covers the windows fully in length. I found this awesome bamboo shade over at Blindster. Shipping was quick, and it was a piece of cake to hand this fun window treatment. I love that the shade is light in color and that it makes a great contrast with those colorful pillows.
Did you catch last week that I made those funky pillow covers myself using Morrissey Fabric amazing textiles? Check on the deets HERE. In last week's post, I show you how to make a zippered pillow cover!
I added new placemats and this lovely vase to bring the room together.
I was going to hand a piece of art in between the window and the backdoor, but I came across these rattan plates in the garage (ha, if I would have time to clean and organize my entire garage I think I would find some pretty awesome stuff that I already forgot about..:-))
I added a modern lighting fixture which I think looks perfect in here mixed in with the woodsy tones and all those pops of colors.
So what do you say?
Yay for our HAPPY breakfast nook, right? It was one of the easiest One Room Challenges that I have ever done, but I think I love it more than any of my other rooms (at least now haha).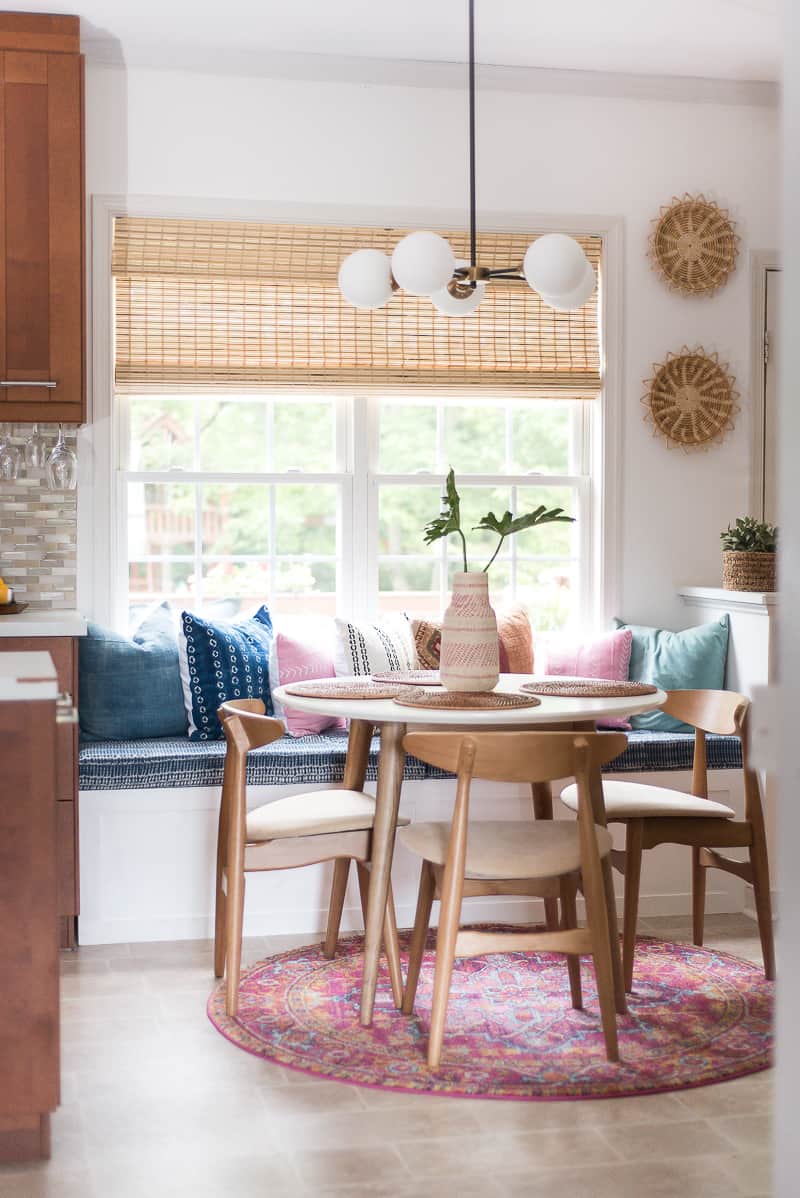 I big Thank you to all my sponsors AllModern, Blindster and Morrissey Fabric to providing me with products for this amazing breakfast nook.
Sources with links:
**affiliate links**
Textiles for pillows:
Thanks so much for stopping by! It means a lot to me! I hope you keep coming back! Be sure to sign up for my Newsletters to stay updated with my home improvements!

If you care to see some other ORC makeovers be sure to click on the image below!
Cheers!
Aniko