SALTED CARAMEL CREME BRULEE RECIPE
Today I am sharing my all-time favorite dessert, creme brulee recipe.

Is it just me or creme brulee is your favorite dessert, too! Well, if you are here reading this recipe I might assume that you are in the same boat with me! For many years now, I ALWAYS end up getting a CREME BRULEE for dessert when we go out for dinner. And I have to tell you that I can never have enough of it:-) Love it, love it waaaay too much! So the other day we were sitting at our table at home, and I had a box of milk in front of me, and I read the words off of the box: SALTED. CARAMEL. PUDDING. And I said to my husband…Honey, that sounds like something I would really like so I am gonna make it NOW! The full recipe was written out on the milk box, and I started making it right away.
I've never made creme brulee at home despite that it is my favorite dessert. And to be quite honest this might not be THE real CREME BRULEE recipe, but it was so good and very similar in consistency that I named it creme brulee.!:-) Why not? It's was easier to make than I thought, though! You can make creme brulee with any flavor, but today I am sharing the salted caramel version. Yum! One thing you will need to make this dessert, though, is a torch! It's super easy to use, and it's good to have in the kitchen.:-)
SALTED CARAMEL CREME BRULEE RECIPE
Author:
The best creme brulee!
Ingredients
1 cup organic whole milk
1 cup organic heavy whipped cream
3/4 tsp vanilla
1/3 cup + 2 tbsp sugar
3/4 tsp sea salt
3 egg yolks, room temperature
browns sugar for crispy top
Instructions
Heat oven to 300 F.
Heat milk, cream and vanilla on a stovetop until simmering. Separately cook 1/3 cup sugar and 2 tbsp water over medium heat until sugar dissolves, then over high heat for 6 minutes or until the liquid turns dark brown.
Remove from heat and stir in milk mixture and salt.
Cool 10 minutes.
Whisk together yolks and remaining sugar.
Wish caramel mixture into yolks.
Pour mixture through fine -mesh sieve. Divide pudding between 4 ramekins.
Place ramekins in a baking dish and pour water into a dish until it reaches halfway up sides of ramekins. Bake puddings for about 1 hour or until set.
Refrigerate until chilled.
Remove the creme brulee from the refrigerator for at least 30 minutes before browning the sugar on top. Spread brown sugar evenly on top of pudding. Using a torch, melt the sugar and form a crispy top. Allow the creme brulee to sit for at least 5 minutes before serving.
Guys! I could not stop eating this creme brulee! And I know you won't stop eating this delish dessert!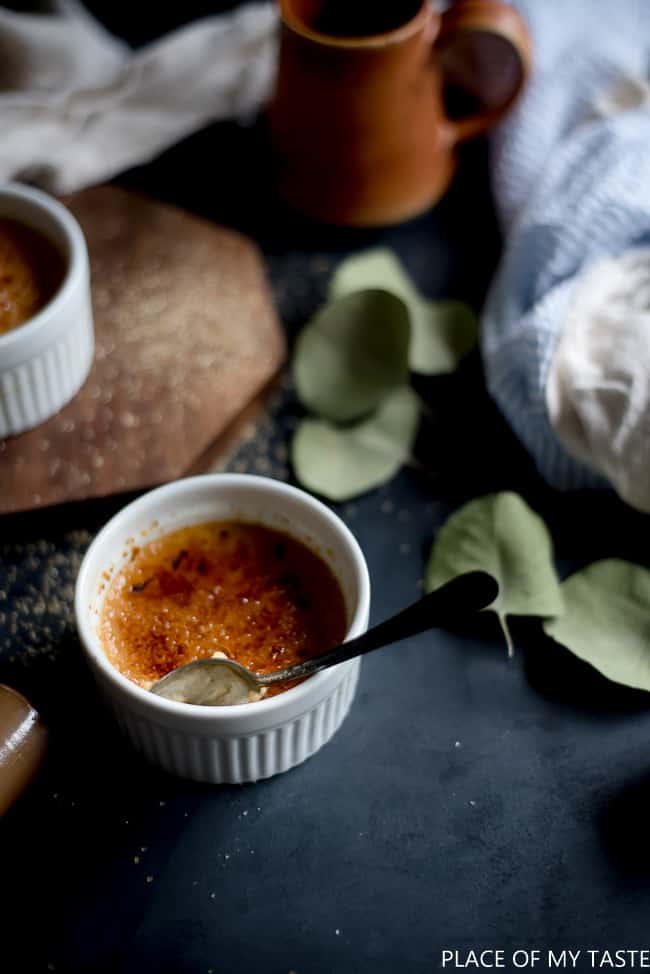 I hope you are going to give this delicious creme brulee a try! Very easy to put together, but it takes a little long to bake in the oven.
If you like this recipe, be sure to check out more great and easy recipes like this
or this cute
and if you like a bohemian style, check out my pretty fall wreath on the blog
Cheers for a great day!
Aniko