MINIMALIST HALLOWEEN DECOR
Make sure you visit some of my other Halloween and Harvest ready posts to get the most from Place of My Taste! Try 6 SPOOKY HALLOWEEN PARTY CRAFTS for lots of seasonal crafts and recipes (it actually has links to a lot more than 6!) or to see how I fancied up my front yard with SPOOKY HALLOWEEN FRONT PORCH DECOR to make it spooky and fun for the kids this year!
Shall we dive right in to my Elegant Halloween Decor, friends?
Less is more sometimes in holiday decor…
I don't deck out my home for HALLOWEEN, but I love to add splashes and touches of the season and keep it simple. Minimalist Halloween decor is my game. Yup! And today I am sharing a few kind of elegant ideas on how you can incorporate some easy, yet minimalist Halloween ideas into your decor. This post is part of my Wayfair series, so there is a quick video that you can watch, too:-)
I chose to dress up my small entryway for this Halloween season. I love black and white, so I decided to use them for my simple decor ideas. They are timeless and I can only take so much of "fall colors". It's nice to break it up a bit before Thanksgiving harvest comes in full force.
Just because I am not huge on Halloween decor and I don't decorate with the spooky and scary stuff I still added a couple of easy DIY Halloween decor items to my list. (**UPDATE** I'll try anything once! See  this SPOOKY HALLOWEEN FRONT PORCH DECOR !)
I went out to my backyard and brought in a few large branches, and I had some glass candle holders handy, and I changed them to a black decor piece by spraying them with Rustoleum spray paint. Super easy and very simple ideas, I know,  but sometimes you don't need to think further than that:-)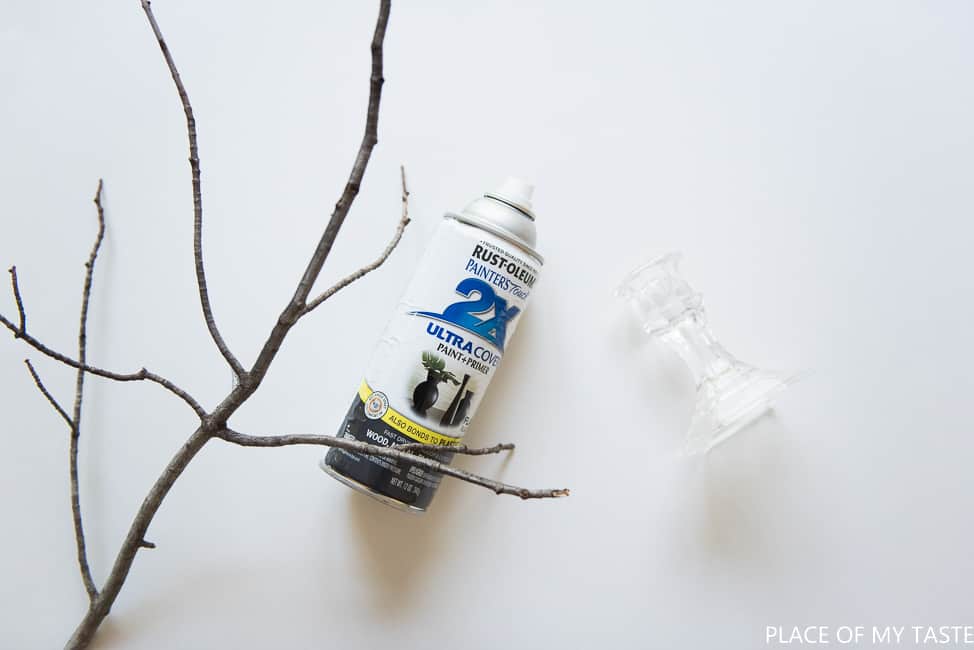 I ordered a beautiful wooden mirror for my entryway ( which I am so obsessed with), and I decorated around my mirror with those simple black and white decor items and elements.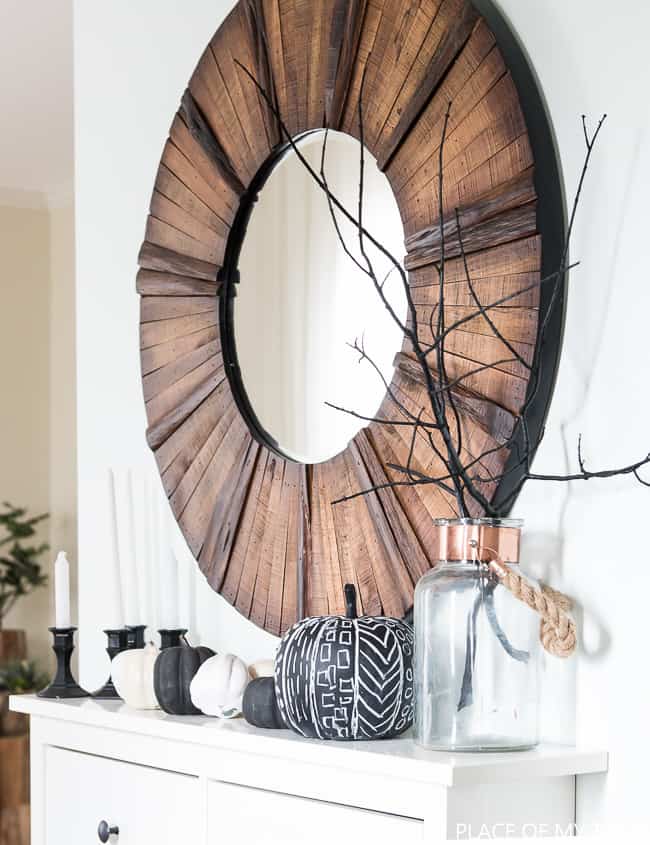 I also ordered a chalk pumpkin which is a fantastic way to add your style and personality to your decor. You can draw modern lines onto your pumpkin, spiders or you can even write out
TRICK OR TREAT!!
You could probably purchase Styrofoam or maybe plastic pumpkins cheap and paint them yourself with chalkboard paint- but I went the easy route and got them pre-made.
That's it, my friends!
I love the way these simple spray painted candle sticks turned out – what an easy way to switch up a cheap decor item for any season or tablescape.
What do you think of black, white and wood for Halloween?
Did I inspire you to get some chalk out of the drawer? Snatch some twigs from your yard? I hope so!
A little extra tip to get your home smelling as delicious as it looks for fall.
In a mini crock pot or a small pot on the stove, simmer:
2 cinnamon sticks
12 cloves
2 orange peels
1 knuckle of ginger
Cover with a few inches of water and allow to simmer – adding water as needed- to give your home a deliciously spicy aroma all naturally with no chemicals, waxes or plug ins. 🙂
Enjoy your weekend and if you missed seeing my previous videos, be sure to check them out HERE!!!
Cheers,
Aniko