SWIFFER WET JET WOOD – AN EASY WAY TO KEEP YOUR FLOORS CLEAN
Remember that post a few months ago where I shared how I clean with my Swiffer WetJet Wood ? Well, I wanted to give another shout out to this fantastic and easy to use cleaning tool- because it's that good! I'd only share products here on the blog that I absolutely LOVE and would recommend. And the Swiffer WetJet Wood mop that I scored at Target is one of those things that I would highly recommend to all my busy mom friends.
Well, since that post back in May, my Modern Moody Dark Dining Room has been revealed- Oh my gosh!! So, so good!!
Have you seen the reveal of that space?
If you haven't, be sure to check it out and get inspired!;-) I am still in AWEEE of what I have created in here.
BOLD, FUNKY, AND MOODY!
I could sleep in this space, guys. I walk in here every day (not only to grab my drink' ingredients from my BAR WALL:-)) but to stare.:-)
And to clean the floors!
I got rid of basically all unnecessary things and furniture from this room, so now the only thing I have to clean is the floor.
Since summer vacation began last week and the kiddos and their friends will make their way in and out with dirty shoes, I have a feeling that this cleaning tool will be overly used over the next few months!!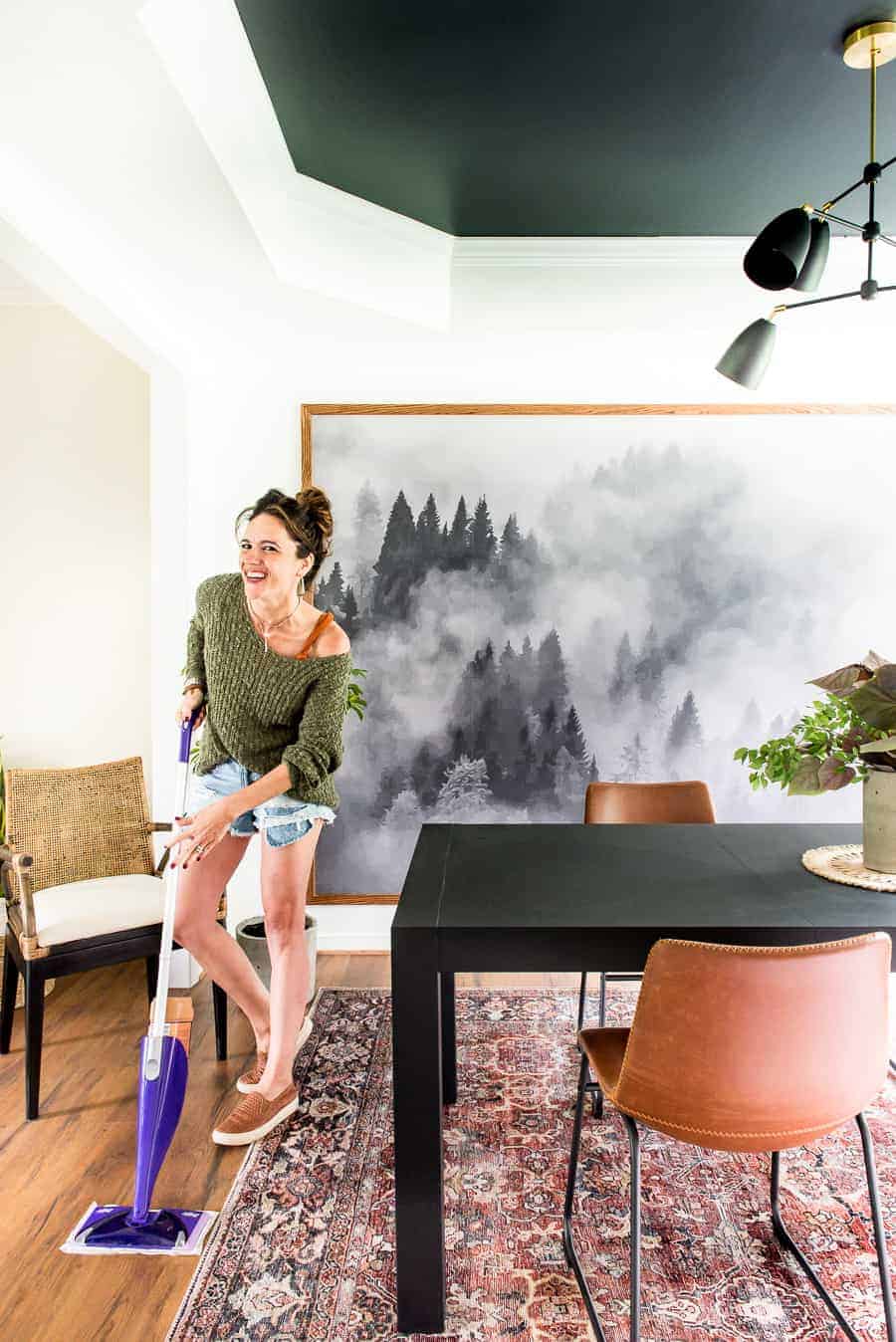 But here is how easy cleaning is with the Swiffer WetJet Wood Mop:
Cleaning is easy-peasy, especially with the help of the Swiffer WetJet Wood mop. I add on the microfiber-like pad on the bottom and ready to get mopping the space. The mist dries so fast that even my cat walks on it within minutes without leaving her footsteps.
We installed Luxury Laminate floors last year, and I could not love them more. The same floors have been installed in the entire house, and trust me! I will never look back to the carpeted days. Wow! I've been using and loving my Swiffer WetJet Wood mop and after a few minutes of mopping, I have clean, streak-free floors to enjoy.
What is your favorite cleaning tool for wood floors?
Have you tried the Swiffer WetJet Wood mop yet?
Thanks for reading on!
Stay fabulous!-
Aniko
***This is a sponsored post by Swiffer. All opinions are 100% on my own!***