Toys organization and free printables
You ask – how to organize kids' toys? I have the answer for ya!

Happy Friday!It is the last Friday of August, and I have to tell you that I am so proud of myself that my organizing plan turned out well this month. I got a few spaces organized. YAY! Now, it does not mean I am done with decluttering. There are a lot more spaces in the house to get organized, and I will continue sharing my organized spaces. I have big plans for fall, lots of fall projects and a whole living room makeover…Eeek.
Update: See my LIVING ROOM makeover HERE:-)
First I have to finish my boy's room and my bedroom, though, both of them are almost done. This week I am sharing how I organized the toys in the kids' playroom. My kids have way too many toys. Yep. I am a hoarder. I love yard sales, and I love those $0.25 toys for my boys. The problem is that I am not only a hoarder but a keeper too. That together makes a HUGE mess.:-)
I dare to show you a BEFORE picture. Here you go:
Every time I entered the playroom, I got so upset seeing this huge pile of toys in the corner. I was upset on my boys, but then I realized that how would I expect them to put everything back in place if the toys did not have a place. Da!
 I had to come up with a solution to keep these toys organized. I created some cool printable tags with an actual picture on so my kids would know where they the toys belong to.
First, we sorted everything out. The toys that we did not need anymore were bagged up and were taken to Goodwill or Friend's house.
We had a LACK shelving unit up in my son's room that I brought down to the playroom. I thought it would be perfect to have the toys categorized.
I bought some yellow IKEA baskets and created some fun tags that I've attached to the front of the baskets. I was hoping that if my boys see the graphic on the baskets, they will put the toys back into the right place when it comes to clean up.
I used a self-seal laminating pouch to fix up the tags and velcro to attach them to the baskets. After a few weeks, the velcro did not hold very well; I would suggest gluing the velcro to the basket.
I made up these cute Tags, and if you happen to have similar toys, you are more than welcome to DOWNLOAD them.
DOWNLOAD PRINTABLES HERE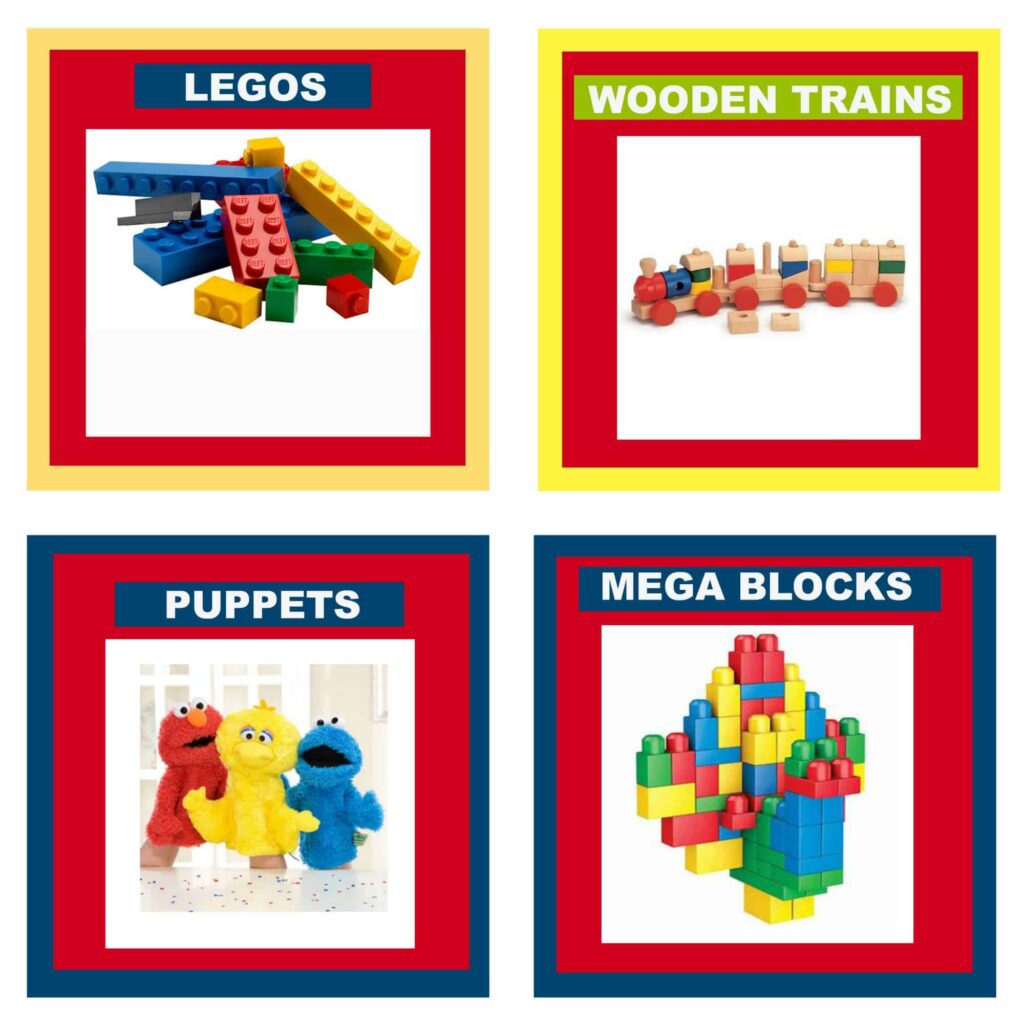 Looks much better, don't you think?
All the toys are in place, and the baskets are labeled. Whohoo!
The project was done in no time!
Now the next project is to keep it organized. I think it is a bigger project then getting it organized-haha:-)
Since this was done a few months ago, I have to tell you that the label system works. I have to rearrange the toys now and then, but at least the toys are hidden, and my boys know where they are.
I hope you got inspired to organize this weekend!
Here are my other organized spaces that I shared during the month of August.
Happy Organizing and Thank you so much for stopping by today!
Xoxo