LIVING ROOM REVEAL AND MINTED GIVEAWAY
*This post was brought to you  by Minted. All opinions are 100 % on my own.*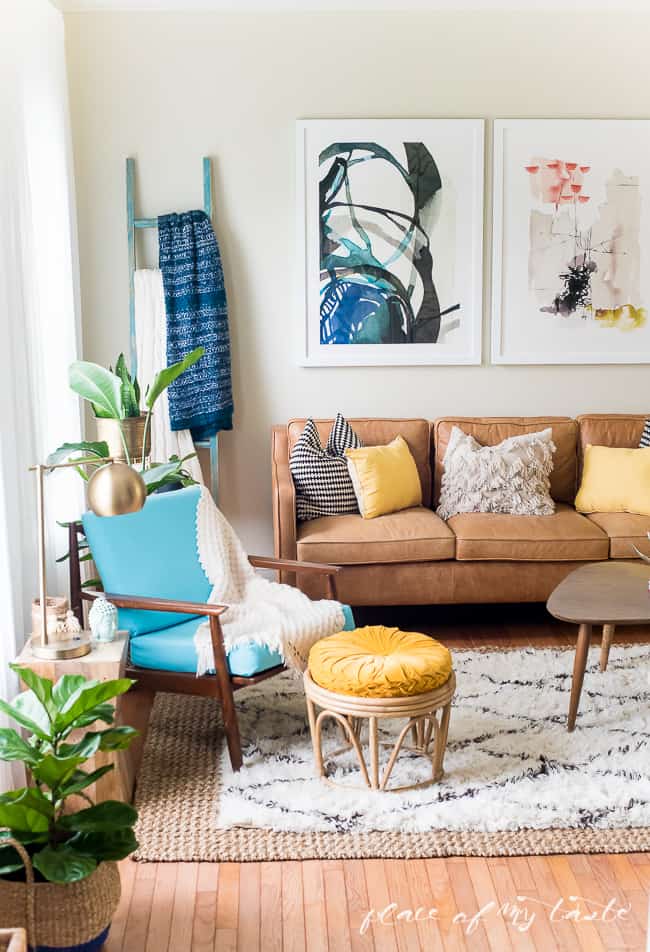 Wowza! I am so excited for today you all! This fun and boho living room decor have to be seen today!  This past 5 week was pretty exhausting but also very fun because I got to makeover an entire room. And I started with a blank slate! How cool! This is my 3rd One Room Challenge ( Hosted by Linda over at Calling it Home) and here is why I take the challenge each year; I love it as it motivates me actually to finish the room in 5 weeks. Without that motivation, I would be distracted with many other projects that are circulating my brain. I know, I would be. The good thing is that now the room is done,  I do not have any serious plans for the rest of the year, I only get to enjoy what I created with my family. I feel like I am always working on something around the house, and there is not much time to enjoy myself with an excellent book and a glass of wine. Sigh.
So if you are new here and if you wonder what I am about to reveal, here is a before picture for ya. Our living room, which was transformed to a playroom 6 years ago was kind of disaster. And that is a bit of an understatement. The playroom was fun, colorful, really great while babies were toddlers but to tell you the truth, we were tired of stepping on matchboxes and dinosaurs right after we walked into our house. This room is the very first room when you open the door, so I bet you get my point.
Oh wow… it is an "OH Wow" room, right? But not in a good way:-)
So I sold every single piece from this room. Every single piece of furniture, rug and light fixture.
*Update: A kind reader asked where did I put all these toys after all? And yes, I did not address that questions in the post. So here is my answer:  My boys, each of them, have a room upstairs. We transferred some of the toys up to their room, and some went to Goodwill. No kids in this world need three room full toys, right? They still have lots of toys to play with after all:-))*
Then I started with a BLAH, blank slate space.
My plan was to create a boho-chic living room with lots of layers, textures, and a fun personality. Well, I stuck to some of my plans but the room evolved into something that I did not vision in the beginning. And that is OK, right? One little thing inspired the next, and that is how real creations form.
I love to decorate and incorporate interesting elements in my home decor.
Download your mini guide NOW! I share 5 quick tips on how to create a stylish home!
I made a quick video for you all to show you how I added every layer to the room and how it becomes a beautiful, finished, airy space with bright, bold colors and a little mid-century feel.
Now that you saw the video let's talk details.
My very first piece that I got was a beautiful West Elm Leather Sofa. I was so in love with that SOFA; I had to have it. It was a bit over my budget, but selling everything from the room helped at least to start with a budget:-)
I used neutral colors throughout the entire room. I added two rugs and I truly loved how they worked so well together. Rug on a rug is just wonderful, don't you think? This room is all about textures you all. And yeah, while I had no plans on adding bright blue to the mix, I totally did. Of course. It's clear that color is my WORLD! That stunning blue Danish Chair pops right at me everytime I get home. It was a fantastic craigslist find for only $50. The chair was in excellent condition. All I did was that I recovered the cushions as I wasn't crazy about the colors. Love it! Oh, and do you spy my plant stand? Goodville has it guys, for $3. Winner!
And how about my cute little rattan footstool find for $10? That yellow pintuck pillow from Urban Outfitters was made for that foot stool exactly. Isn't it lovely?
I found this darling mid-century coffee table at a local thrift store. It has a little wear but that is what made me get it.

When everything was in place, there was something missing.
Artwork.
I believe every home should have ARTWORK. I am an artist. And I like to create art but I also love to recognize other fabulous creators. I was SO super excited to collaborate with MINTED and pick out 2 incredible artwork for my room. I displayed the artwork, above the sofa and that nicely complimented the design style in the room. Minted works with the best and most unique independent artists who create fresh and one of a kind design. Minted has an enormous collection of contemporary artwork and I almost couldn't decide which piece I loved the most.
I stayed with that popping blue and black watercolor creation, Cera No 1,  from Kelly Ventura. This art piece is a contemporary abstract design. That blue shade… totally sold me!
My second choice was this interesting, yet fun print. The passage from Kelly Ventura, again:-) Love her work. She has a unique artistic style.
I was aiming for a very airy, bright room, so I added plain white cheap curtains. I like to push up my rods all the way to the ceiling as the room looks bigger with taller curtains.
And of course, we should not forget the other side of the room. Remember my dramatic stenciled wall? I kept the brown hues and popping yellow accents all over in the room.
I am so glad that I played along, and I created a room that our family can enjoy for years to come. Or at least I hope I am talking years-lol. You never know where my crazy ideas take me -ha!
I hope you enjoyed seeing how this room came to life.
Source List:

And here are some the list of DIY's in the room
Thank you for checking in today!
And before you leave be sure to check out my FAMILY ROOM REVEAL. Lots of goodness to see!:-)
Cheers,
Aniko
*This post contains affiliate links*
Huge Thanks for Minted for providing me with incredible artwork!
This room makeover was featured on