CHOCOLATE CHIP MOCHA WITH ITALIAN SWEET CREME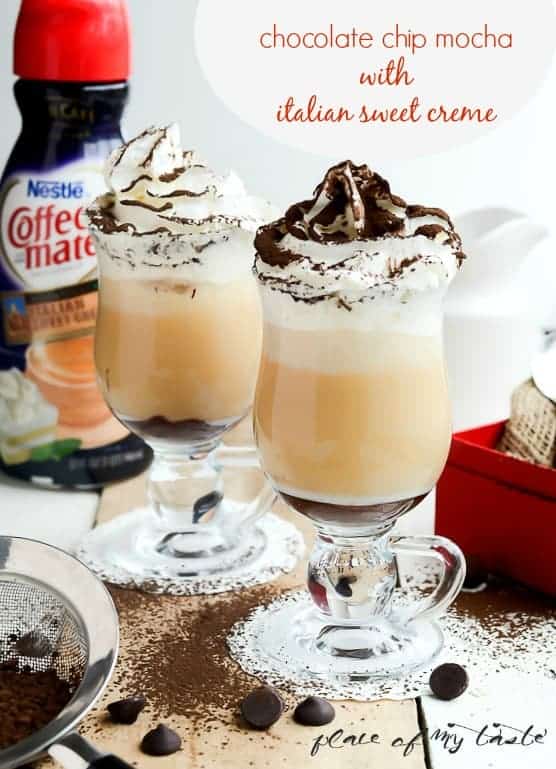 I am a huge coffee lover.
I don't just drink one coffee a day.
I start my early morning with a grande, and usually, when it comes after lunch I am ready for my next round. That's when I love these fantastic creations like the one you see in this picture above. It only needs a few ingredients, but it's definitely more like a s'more kind.
…You just want some more…
That's how great this creation is.
On a cold, yucky day a cup of warm coffee is heavenly. I love my coffee with a creamery, and Coffee-mate has several flavors with a range of sweetness — from Original, to Italian Sweet Cream to their newest offering- Extra Sweet & Creamy. The new flavor,  Extra Sweet & Creamy, gives you a balanced cup with a creamy taste and extra sweetness.
  I experimented the Coffee-Mate's super exciting flavor, Italian Sweet Creme with this creation.
The flavor is just amazing! Coffee-mate's smooth, creamy taste has been perfected to bring out the flavor in my coffee. To add a little bit of twist, I heated some chocolate chips to a creamy consistency and spooned it into the bottom of my glass.
Next, I added the warmed Coffee-Mate Italian Sweet Creme coffee creamer then my freshly brewed coffee.
CHOCOLATE CHIP MOCHA WITH ITALIAN SWEET CREME
Author:
Prep time:
Total time:
Ingredients
1/4 cup NESTLE TOLL HOUSE chocolate chip
1/4 cup COFFEE MATE ITALIAN SWEET CREME flavored coffee creamer
6 oz freshly brewed coffee
Whipped cream and
Cocoa to garnish
Instructions
Melt chocolate chips in microwave and drip into the bottom of the coffee cup.
Heat up Italian Sweet Creme and pour onto the top of the melted chocolate chips.
Pour hot coffee and garnish with whipped creme and cocoa.
When the warm, sunny days come, I definitely will try adding a handful of ice to this excellent coffee creation. Hopefully, the weather will change quickly to what is suppose to be; it's just not fair to wake up to see 4″ of snow instead of hearing the birds singing outside in the first week of March.
Follow Coffee-mate on Twitter for more delicious fun and giveaway opportunities!
Have a fantastic & coffeelicious day!

I was selected for this opportunity as a member of Clever Girls Collective and the content and opinions expressed here are all my own.