My new kitchen addition: Delta Esque Collection Faucet with ShieldSpray Technology
Last month I had the opportunity to join Delta® Faucet and some other fabulous bloggers in New York City. We spent a day at the fantastic Food52 test kitchen and had the pleasure to cook and taste some goodies with Amanda and Merrill. It was a super fun day, and we all got to make our version of a pinwheel recipe that is featured in Amanda and Merrill's new cookbook.
Can you spot the Delta Faucet installed in the Food 52's test kitchen? Looks great, doesn't it? I am excited to report that my lifestyle has been enhanced by Delta ShieldSpray™ Technology as well. We just finished our kitchen refresh a few weeks ago, and I was super happy to install a new Delta Faucet in my revamped space for several reasons; I immediately fell for the Matte Black finish plus the new ShieldSpray Technology is wondrous.
Installation was fast and easy, and I've been enjoying the faucet's unique features.
Touch2O® Technology helps keep your faucet clean, even when your hands aren't A simple touch anywhere on the spout or kitchen faucet handle with your wrist or forearm activates the flow of water at the temperature where your faucet handle is set. It's soo cool, guys! The Delta TempSense® LED light changes color to alert you to the water's temperature and eliminate any possible surprises or discomfort.
And nothing's worse than trying to clean those hard-to-reach places of your food processor, but the concentrated jet of ShieldSpray Technology made it easy! Delta ShieldSpray Technology delivers a practical yet straightforward means to clean with laser-like precision while containing mess and splatter. A concentrated jet of water powers stubborn messes away as an innovative water shield simultaneously includes splatter and clears off the mess. Together, these actions decrease the time spent soaking, scrubbing and even shirt swapping based on splatter. #MorePowerLessMess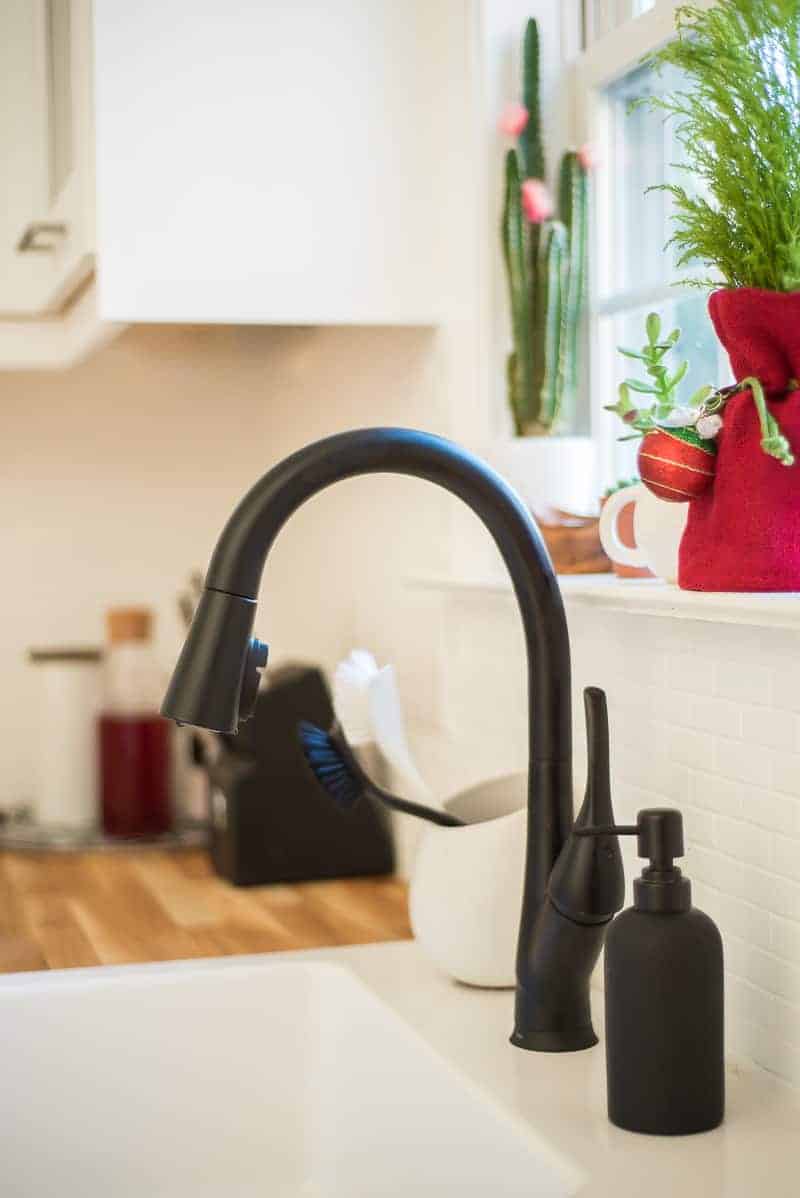 I've been delighted with my new faucet, and I think you would be too! It looks stylish in my kitchen, and I love the new features it has to offer.
I created a short video for you to see how I used one dish to make three different meals by rinsing and reusing the one dish. Enjoy!

Thanks for visiting and have a Happy New Year!
Cheers,
Aniko
This is a sponsored conversation written by me on behalf of Delta Faucet. The opinions and text are all mine.