ONE ROOM CHALLENGE – WEEK 5
WEEK 5!
I am freaking out! I am guys!
So let me fill you in where we are with the ONE ROOM CHALLENGE project. But before I do, you can get caught up on previous weeks below:
WEEK 1 | WEEK 2 | WEEK 3| WEEK 4
SOOOO!!
We have tiles on the wall AND wine in my hand, lol! Lots!
Woohoo! It makes me feel a little better. I honestly underestimated the size of this tiling job. I thought, hmmm- 2 days of tiling, and it's going to be done. Well, heck no!
It's a WEEK worth of tiling, and it's still not done. Every little detail takes up so much time. You know to make and cut those corner pieces…oh wow! I think my workers are doing a phenomenal job, though!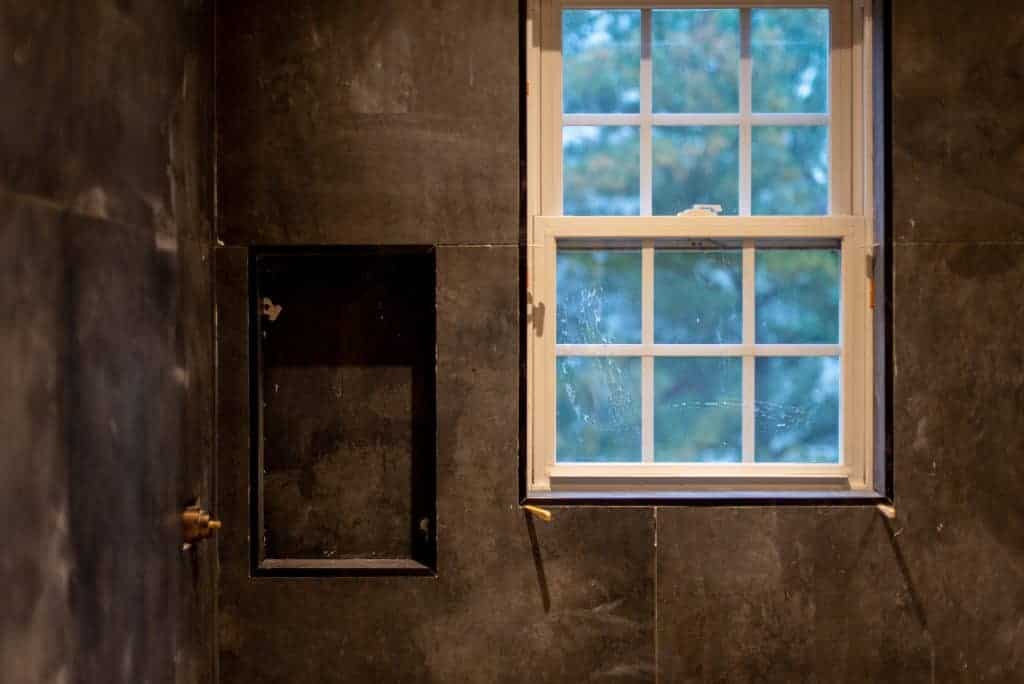 And now we have tiles on the floor too!
Today they are finishing up the floors, and I am hoping to be able to move on to other things tomorrow…
We had some delays as the tiles were JUST not enough that we initially ordered. I am still unsure how that happened, but it did. Of course! There is no ONE ROOM CHALLENGE without DRAMA!:-)
We ordered the extra tiles from THE TILE SHOP that we needed, and it will be here today. The majority of tile work is done in the room, but after all, tiles are installed; we still have a ton to do!
TO DO LIST:
-finish up pluming and connect all hardware
-finish recessed lights install
-DIY and install shelves
-paint ceiling
-install vanity
-install glass shower panel
-STYLE!!
….and all this has to be done by the end of this week…:)
Can you see that happening?? I think we will need a lot of coffee or wine lol!

I also just received two of these mirrors from LAMP PLUS this week, and I can't wait to install it on the accent wall above the vanity.
Speaking of my vanity…
I haven't shared much of it yet as the vanity is a custom-built piece. I met a local artist/woodworker, MOLLIE, from OLD MOUNTAIN RD, and she took on building a fantastic piece for my makeover.
I can't wait to see what she creates! She is super talented.
So this is for share this week. All I need is a load of prayers from you guys – I am just a little worry here.:-))
---
Be sure to check out all the fabulous participants and check back next week for more!
I am grateful for my amazing sponsors: THE TILE SHOP |&  SIGNATURE HARDWARE  | THE LAMP PLUS \OLD MOUNTAIN RD
At Charlotte's House | Design Addict Mom | Erika Ward Interiors | Erin Kestenbaum | Girl & Grey
Gray Malin | Hommeboys | I Spy DIY | Jewel Marlowe | The Learner Observer | Making it Lovely
Nicole White Designs | Old Brand New | Oscar Bravo Home | Place of My Taste | The Rath Project
Room for Tuesday | SG Style | Undecorated Home | Veronica Solomon | Media BH&G | TM by ORC
And be sure to follow along on INSTAGRAM for the behind the scenes! There will be a lot shared!
Thanks for checking in, and I hope you will be here to cheer up the steps and process for this MASTER BATHROOM MAKEOVER!
Cheers,
Aniko