We are back with another round of WEST ELM KNOCK OFF SERIES. If you missed seeing our fun kick off of this series  last month, here is a little recap for ya. 4 amazingly talented DIY bloggers and myself started a series that goes throughout August. Each month we create something fun, inspired by West Elm design. Check out last months posts HERE. Today I will show you how to make this super easy DIY DEEP PICTURE LEDGE to display favorite family photos, art, kids art or really anything that makes your home special to you.
I took some photos of my favorite green plants and the OH SO pretty pineapple and this picture ledge is perfect to show off these fun prints  in my Dining room. Have you seen my other great West Elm knock off in the Dining Room? We love it and these wooden picture ledges will flow with the design nicely.
RECLAIMED WOOD BUFFET IKEA HACK
My inspiration for today's project was this pretty West Elm vignette: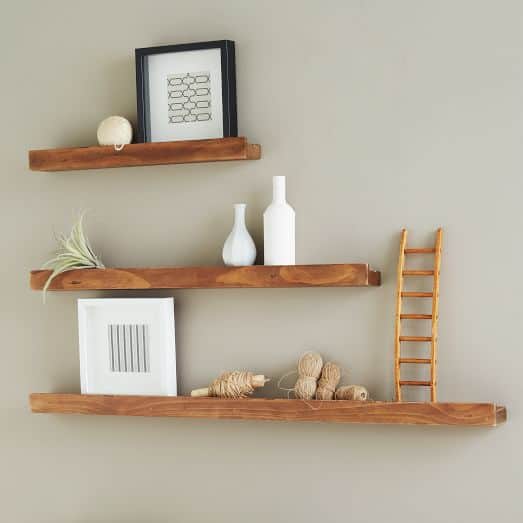 Are you ready to build your easy picture ledge? I promise, it will be pretty easy and super inexpensive!
Materials needed:
8′ long 2 x 4
6′ long  treated ( nicer finish) wood ..this piece is 1.5 inches wide that will go to the front of the ledge
4 long screws (1/4 x 6)
4 smaller screws
drill
We have a circular cut saw and I cut my pieces to size at home but if you don't have a saw handy, Home Depot will cut your wood for ya. I made one 24″ and one 36″ long wood piece.
Once I had my size cut, I drilled 2 holes in each thicker ( 2×4)wood piece closer to the edges.
I then gave a nice stained finish to each piece of wood. I used golden oak as a first coat and I added a darker walnut coat on the top.
I screwed 2 big screws into the holes we made in the first step and drilled the screw to the wall. You wanna make sure to use a level as shelves like this can look a little funny if they are not perfectly level.
Okay, so this was the hardest part of this project. Really.
Then we attached the front piece for the shelf with two screws on each sides. Using a wood filler we nicely smoothed the head of the screw.
I stained my wood piece and project was done, my friends.
I think these shelves turned out fantastic. I love how much personality it gives to that nice empty wall that I had in dining room.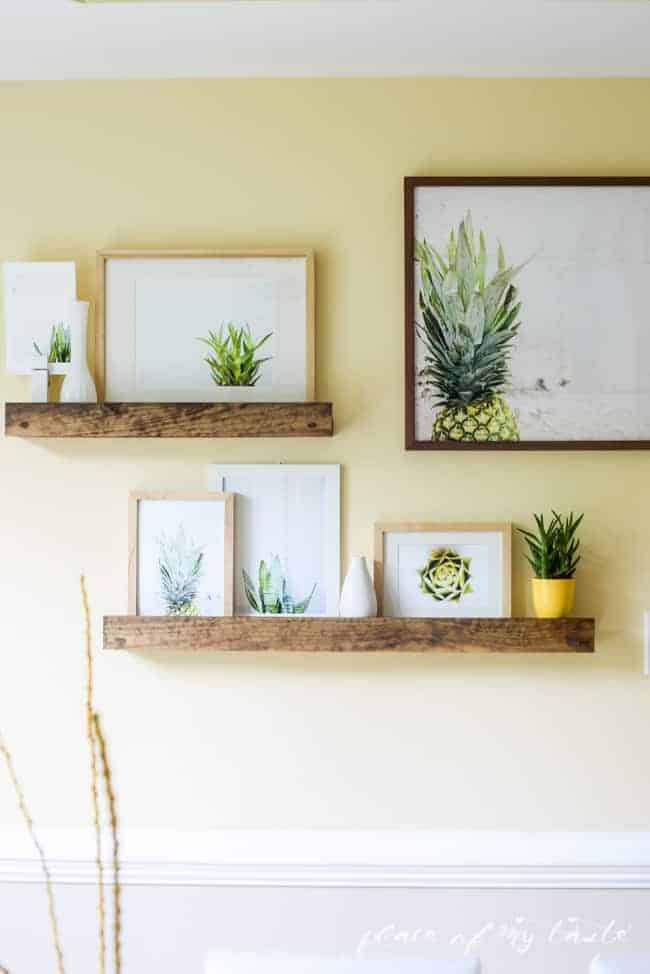 These shelves can hold smaller home decor items like vases, picture frames and smaller books as well.
Do you love these fun PLANTS PRINTS? Get my collection in the SHOP! There are other items over at SOCIETY6  as well!
Now,before you leave be sure to check out these other cool creations!
TINY SIDEKICK – WEST ELM INSPIRED NOTICE BOARD
PLACE OF MY TASTE – WEST ELM DIY DEEP PICTURE LEDGE
MAKING HOME BASE – WOOD AND PIPE ENTRYWAY STAND
HOUSE OF WOOD –WEST ELM INSPIRED RECLAIMED CUBBY SHELF
HOME MADE BY CARMONA – ACRYLIC SIDED SHELF KNOCK OFF
Don't forget to PIN IT to remember for it later!
 I am really having fun creating some expensive looking home decor items on the budget. These two picture ledges cost less then $10! Winner!!
Cheers!