FESTIVE GIFT WRAPPING WITH FAUX FUR
Wrapping gifts WITH FAUX FUR- Have you thought about adding some festive fur as a decoration to your gifts while wrapping them?

One of my favorite things in the Holiday season is wrapping gifts, and to make those ugly boxes festive and pretty.
I also love to achieve this pretty with simple and inexpensive accessories. Last year I used white and red in my Christmas decoration, and I used brown paper to wrap up the gifts. Check out last year's wrapping ideas HERE. This season I used gold, silver and white to decorate our living room, and of course I like to use the same color scheme for wrapping gifts.
I found some pretty paper for wrapping gifts at Dollar Tree for a buck. Pretty cool, right?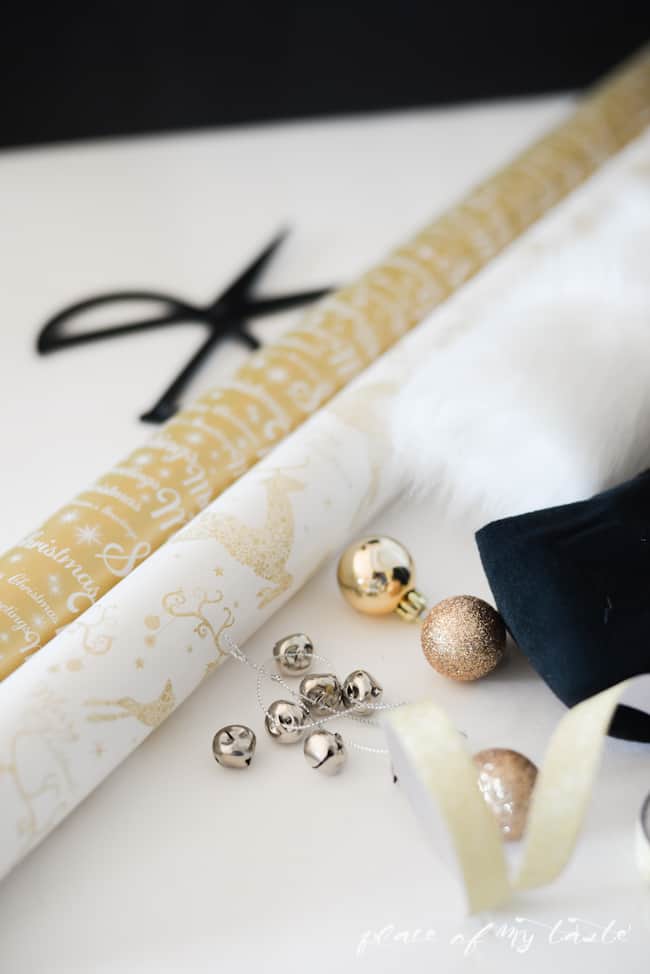 I usually don't spend much money on expensive paper and ribbons as I know it will end up in the trash right after the gift is opened. What a waste! I had some gold ornaments left as well and some cute little decorative bells and I used them to dress up our gifts.
Oh and did I tell you that I am in love anything FUR this year?? Yep, I made a FAUX FUR ORNAMNETS, and DIY FAUX FUR LETTERS  to decorate. I had some leftover fur from  those projects.
…and I thought why not to use them up for wrapping??

I like to number our presents and have a list with each gift in order. So fun to go down the list and find out who gets the next present in the line from Santa.:-)
I just played around with the little fur pieces that I had…:-)
Like I said, I rarely buy expensive ribbons; what I used this time was black fabric stripes to make up this lovely bow.
How do you like these festively wrapped gifts?
Aren't they pretty?
Check out our CHRISTMAS HOME TOUR
and our
Thanks for stopping by and I hope you have a fantastic December !
XOXO
Aniko