WE ARE MOVING! OUR NEXT BIG ADVENTURE!
Surprise!!! We are MOVING!!! It's hard to believe I am writing this sentence. I have been keeping a secret about our big decision, but today is time to spill all the beans for you guys and share the WHY, WHERE, and our NEXT BIG PROJECT.
BOOMER is not sold haha but our HOUSE is!
It's been a rollercoaster ride around here in the past months. Prepping the house for sale kicked our butt for sure. I know most of you would ask why are we moving from this amazing house? I get it! Trust me… it is a bittersweet moment for us.
We have been thinking about this big move for a long time and this year we felt very strong about being the right time to take on this huge life change.
THE WHY!
We love this house so much and I am sure the next owner will love it just as much as we have. We poured our hearts into every inch of this home in the last twelve years and truly enjoyed living and raising our two boys here. I started blogging about all of our DIYs, projects, and decor – because of this house.
But the chapter is over and we ALL are excited for the next one!
Many of you know that I am originally from Hungary – so as my husband. We met back there when I was 19 yrs old. Ghaw!! Time flies.:-) Our two boys are both bilingual and fluent in Hungarian and English.
Both of our families are back in the homeland. The topic of moving back to Hungary has been in the air for quite some time but when the crazy 2020 arrived we started talking about the BIG MOVE more and more. I feel that as we get older we realize the importance of life. Chasing your dreams is one thing but being close to family is more important than anything else.
We decided to move back to Europe.
WHEN?
We don't have a set date yet.
We sold our house as FOR SALE BY OWNER in two weeks (which was easier than I thought it would be), and we will be moving out in the next two weeks. Giving the crazy COVID situation, which changes literally on a daily, we have decided to take a little DETOUR before our BIG MOVE back to Europe.
WHAT'S NEXT?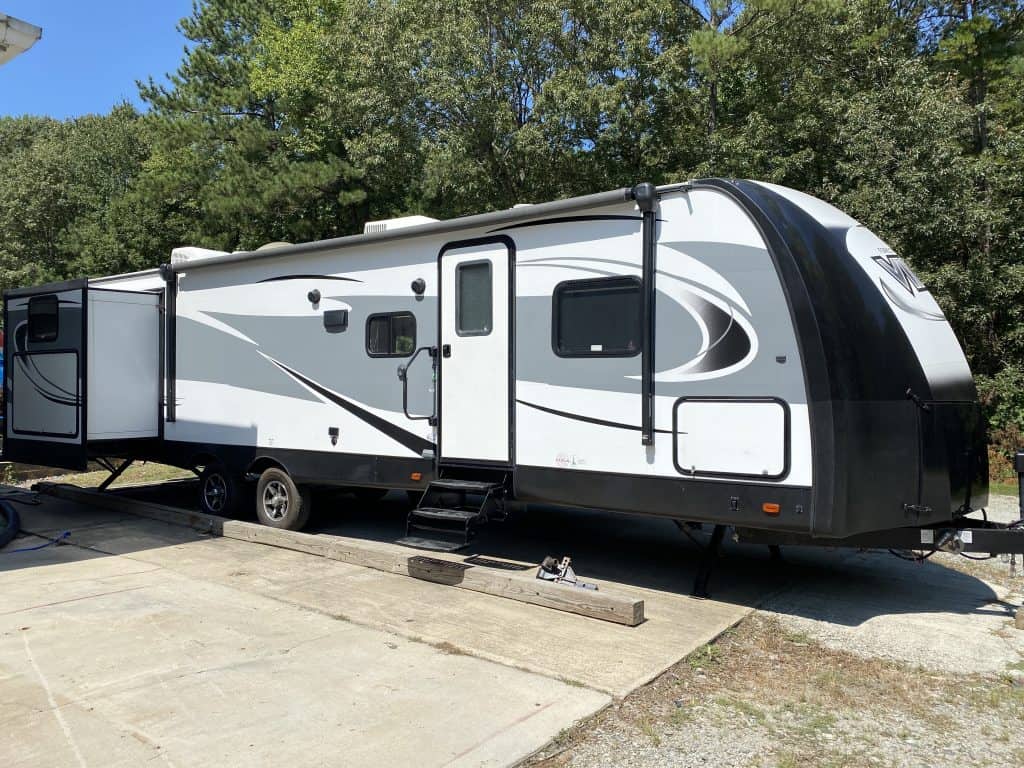 An adventure trip with a travel trailer! 🙂
Yup! My hubby and I (and four other friends) did an RV tour on the West Coast back in 2003 – way before we had children – and we always said that we would bring the kids back to those fantastic places. We thought there is no better time than NOW to take the boys to see and experience.
Yes, you read that right!
We will be doing a cross country road trip with a travel trailer we just bought.
OUR NEXT big PROJECT!
Of course I needed another project in the middle of the moving craze! 🙂
If you have been following for a while, you know that I can never sit still. Not for a second. I might have mild ADHD lol. I only feel good if I am digging deep into a project.:-)
The initial plan was to purchase a trailer that's old that we could renovate but reading all about trailers we decided to buy a fairly new travel trailer (2017) that had a completely brown interior that won't stay too long around here.
So….Let's the renovation begin!
I can't wait to share all the adventures that await us with you guys. Of course, I will still be sharing all about our life and decor projects and I sure hope that you will stick around for more.
As always, thank you for following and reading the little blog that helps me to stay sane and creative.
Stay tuned! I will be sharing more about our trailer and plans for the renovation soon!
STAY UP TO DATE and see the behind the scenes ON INSTAGRAM!!! TAKE ME THERE!
Cheers,
Aniko