WHY I BLOG AND WHY YOU SHOULD TOO
Why I blog and why you should too! My story goes back to 2012 December. I had the idea t start a blog on my mind for months after I discovered some amazing blogs on Pinterest. I said to myself that if they can do it, I can do it, too!
I can write a blog!
Being bilingual it was a hard decision to make.
I had no idea what a BLOG  was. I am the kind of person that say YES, I CAN DO THIS for everything (except roller coasters-LOL) because I like to challenge myself. As long as I remember, I always had a creative mind. I think I was about 11 years old when I designed my first room. My own little room and I'll never forget to hang my beautiful art that I created. That creativity never went away, in fact, it grew with me.
My husband and I moved to the states 14 years ago for work, and I had to focus on our business that has nothing to do with being creative, nor is my favorite industry but hey, you do what you got to do to make life better, right? When we bought our first house, this creative mind came to the surface, and I got into creating, decorating, DIY-ing in my free time and I felt that a BLOG would be a perfect outlet to share the world my ideas that hopefully inspire others to create.
After blogging for two years, I can confidently say that I am proud of myself and of where I took this little blog. It's my creation, it's my vision of design,  and it's unique in a way.
Every blog is unique in a way.
It is my journey, and it will always be there. It grew me as a person, it made me better at what I do, and I love it, and I am addicted to it.
Yes, I admit, blogging can be addicted.
Why I blog?
I LOVE TO INSPIRE OTHERS
One of the main reasons I blog is to share my creativity to inspire others. Satisfaction is there when I read a kind person's comment on the blog or when a reader sends me pictures of her bedroom of how she finished a project after seeing my creation and how I inspired her to get started. That is an incredible feeling.
MEET NEW PEOPLE, CONNECT
I have friends that are not like me. In fact, most of them are not like me. They are all beautiful people, but they might not like the idea of talking about home decor, DIY's, photography and art…  and it is OK. Do I talk about my blog or my projects with them? Heck no!
Some of them don't even know I have a blog.
Let's just say –  Blogland is amazing.
I found real friends there! I met so many wonderful ladies through their blogs. These friends are like me: they create, they share, we have a similar mindset, and we all care about each others. It's a fantastic community. I was afraid to reach out when I first started blogging but then I realized that the only way to succeed is to share and care about others. I don't only connect with awesome bloggers but with fabulous brands as well.
DO WHAT YOU LOVE AND MAKE MONEY WITH IT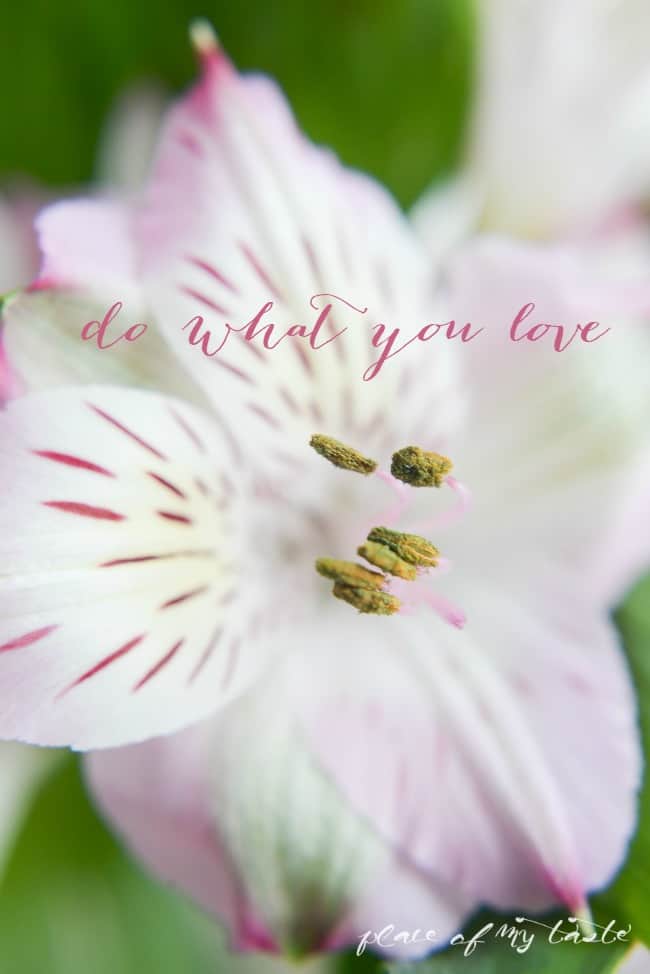 I did not start my blog to make money.
Period.
I had no idea that I can make money. After blogging for about a year, I started monetizing my blog. Blogging is still my hobby, and I only do it part-time, but it is great when I see little extra money coming in from doing what I love doing.
If you ever thought about starting a blog because you have something to share with others, do it!  
Do it to free your mind, use it as an outlet, a hobby, educate others with your knowledge, share you ideas! You might even be able to turn your hobby into a business like many other bloggers do!
HAVE .  A . BLOG
Now, I would lie if I haven't had some thoughts of stopping blogging sometimes. I have. Blogging is hard work. It is not only writing a few sentences and hit publish. Blogging requires time, discipline and passion. Depending on your niche but in my niche it is CREATING, PHOTOGRAPHING, EDITING, WRITING, SHARING, PROMOTING, CONNECTING….ALL TOGETHER!
Hard work but it's all worth it because I love it, and I own it!
When I started blogging, I had no access to AMAZING resources that YOU guys have these days. I wish I had. I learned all the little dos and don'ts of blogging on my own, searching, digging, reading all over on the web, which took so much out of my time.
My Friend, Abby from Just a Girl and her blog published her amazing eBook last year, and now she relaunched her eBook Building a Framework that has everything you need to know if you are about to start your blog.
This book is professional, full of information of how to blog!! Such an incredible resource!!
 In her largest package, she also includes interviews with other bloggers who are experts in different areas of blogging. I am super honored to talk about photography in her eBook:-)
 I am also wanted to let you know my little secret project that I am working on while has LAUNCHED!
THE ULTIMATE PHOTOGRAPHY BOOK FOR BLOGGERS
Thanks for reading today! Will you start a blog?
Think about it, read about it and go for it!
Have a fantastic weekend!
Cheers