HALLWAY REFRESH WITH A POP OF COLOR
This is a sponsored post by Wayfair. All opinions are 100% of my own.
Pop of color in the hallway.Yes! Last week, I shared an awesome MODERN PHOTO GALLERY WALL in this space, and I promised that I will come back and show you how I added a pop of color in our hallway. I was super inspired of my children's blue polos that you can see on the gallery wall I made. Those polos totally triggered my mind on BLUE. Bright blue! It is probably no surprise to you if you are following me for a while that I am not afraid to use color around here.  Colors always make me happy.
This hallway refresh was not planned at all, it all started with a simple "let's scout a new park and take some pictures, boys" in one sunny afternoon.
My cute boys did so well on the shoot, and I adored their images so much that I wanted to display these photos somewhere in my home. The hallway was the perfect place to show these pictures. The hall was pretty dull with not much style, had an dirty old paint on the walls, and it was probably about time to for a nice refresh, honestly.
Let me show you how this hallway looked before.
Ugly and very tedious, right?
The blue we chose was real pretty. I used Benjamin Moore Van Deusen Blue, and it added lots of character to the room. I only used it on the bottom of the wall, though.I was a little hesitant when I painted the first brush stroke, but my eyes got used to is very quickly, and I loved it when the whole wall was done. I also gave the rail a new fresh white paint, and it made a huge difference, too!
So when the walls were done, the photos were up, I was still missing something from the room. I was missing a nice area rug. I went online shopping to Wayfair and found this fun striped rug for my hallway. Do you ever shop  Wayfair's site? Seriously fantastic products they have and a huge selection of home decor items. Lots of choices of excellent quality products. I was looking through rugs for hours before I decided on this fun, bright, striped rug.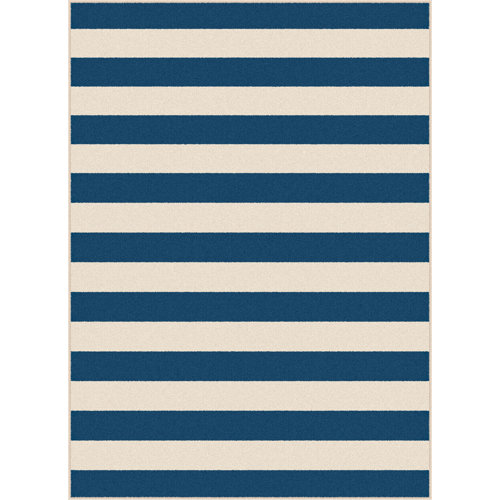 Garden City Stripe Navy IndoorOutdoor Area Rug
Regular Price: From $34.99
The blue was almost identical to the blue that I painted on the wall, and it worked out perfectly. The color was very true to the image that I see on the web.
The rug looks modern, fun with bright color, and it was a great value.
Just because we like to see before and afters
I could not be happier with this little refresh in the hallway. Pop of color always do wonders, or at least in my home.
Also, don't forget it is summer time and adding colors to you your room will make your house a little more summery.
How do you like a pop of color in my hallway? Now that I shared how I used a pop of color in my home tell me how would you use a pop of color in your home?
Cheers for a happy Thursday!