Learn how to make an arm knit blanket today! Below is a great tutorial for you. This cozy arm knit blanket will be a great addition to any home!
This post wasn't going to publish today but here is the story.
MY LATEST VIDEOS
Sometimes at the end of last year, I started seeing these cozy blankets all over on Instagram, and I fell in love. Completely! So I had ordered some chunky yarn, and it got here last week. And you know the rest of the story. I could not wait to put my hands on the yarn and make me a cozy olive green arm knit blanket. Did you know that the Pantone color of the year is greenery? I love green anyway, so it wasn't too big of a decision of what color yarn to order.
Anyways… Just last night, while I was watching TV from my bed, I started working on this blanket and guess what? I finished this piece in less than an hour. It took maybe 40 minutes (tops) to finish it off, and this was my first time knitting project!! And shockingly, I was so addicted to arm knitting that I made another fun pom-pom arm knit blanket since the first one!
Are you excited yet? I know you can do it, too!
After I had taken off all the Christmas decor I shopped my home a bit, and I pulled the cow rug down from my workspace to the living room, and now I feel that there may be too many brown hues in there, so adding this cozy olive green arm knit blanket was a great move. I added some amazing pillows to complete the space. Like this one below.
I love that this living room now is funky, colorful and bohemian.♥
If you like to create this style be sure to hop over to my SHOP MY HOME STYLE page to find all things pretty in this space.:-)


Download your mini guide NOW! I share 5 quick tips on how to create a stylish home!
Isn't this pillow fantastic? Oh, my!
Ok. So back to the blanket.
I ordered 12 skeins of chunky yarn for this project. I found a video on youtube that explained the basics of knitting, so it was super easy to make my arm knit blanket. (This post contains affiliate links.)
Products from Amazon.com
‹
›
And now here is the step by step tutorial on how to make an arm knit blanket.
MATERIALS:
To begin, measure out about 5-6 ft lengths of yarn for your tail, and then make a slipknot on your right arm. Make it tight.
Then, with your left hand create a V-shape with the working yarn (working yarn is the skein of yarn) and with the tail with your left hand.
Push your right hand under the working yarn on the left hand then pull the yarn from the tail through the loop. (see video – slow motion)
Take that loop and pull it over your right arm. Keep casting the stitches onto your right arm. Make it tight but not too tight.
Cast on 25 stitches on your right arm.
Once you are done with 25 stitches, start over on your left arm. Hold the working yarn in your right hand and pull off the first stitch over the working yarn then create a loop with the working yarn and over your left hand.
Continue taking the stitches until all of the stitches are on your left arm.
Keep on knitting from left to right and then right to left arm until you have about 34-38 rows (this will make a nice size blanket – I used 11 skeins to make this pretty good sized blanket.)
You will need to start a new skein of yarn after maybe every other row, so what you need to do is to simply tie the ends of the skeins together with a tight knot and just keep knitting.
Then once you are done with all the rows, you'll want to cast off.
Knit two stitches from your left arm to your right arm, as you did all the way until this point, and then slip the first stitch over the second (see video).
Knit another stitch on your right arm and then slip the previous stitch over the last one. Continue until you only have one loop left.
Then cut off the working yarn, pull it over and tie a knot.
To hide the tails braid them into your blanket.
All done. 🙂
Because I know it's always better to watch something done than read the instructions, I made a quick video for you to watch. 🙂
A few things to remember while you are knitting:
Try to cast your stitches on tight (that's when you get a nice even pattern on your blanket).
When you cast off (at the end of your knitting process), be sure NOT to tie your hoops to tight but rather to be loose.:-)
Enjoy! I had lot's of fun making this blanket and you will, too!
HOW TO MAKE AN ARM KNIT BLANKET VIDEO 
So? Are you going to make your arm knit blanket?
Not feeling getting into this project now? Be sure to PIN it for later! 🙂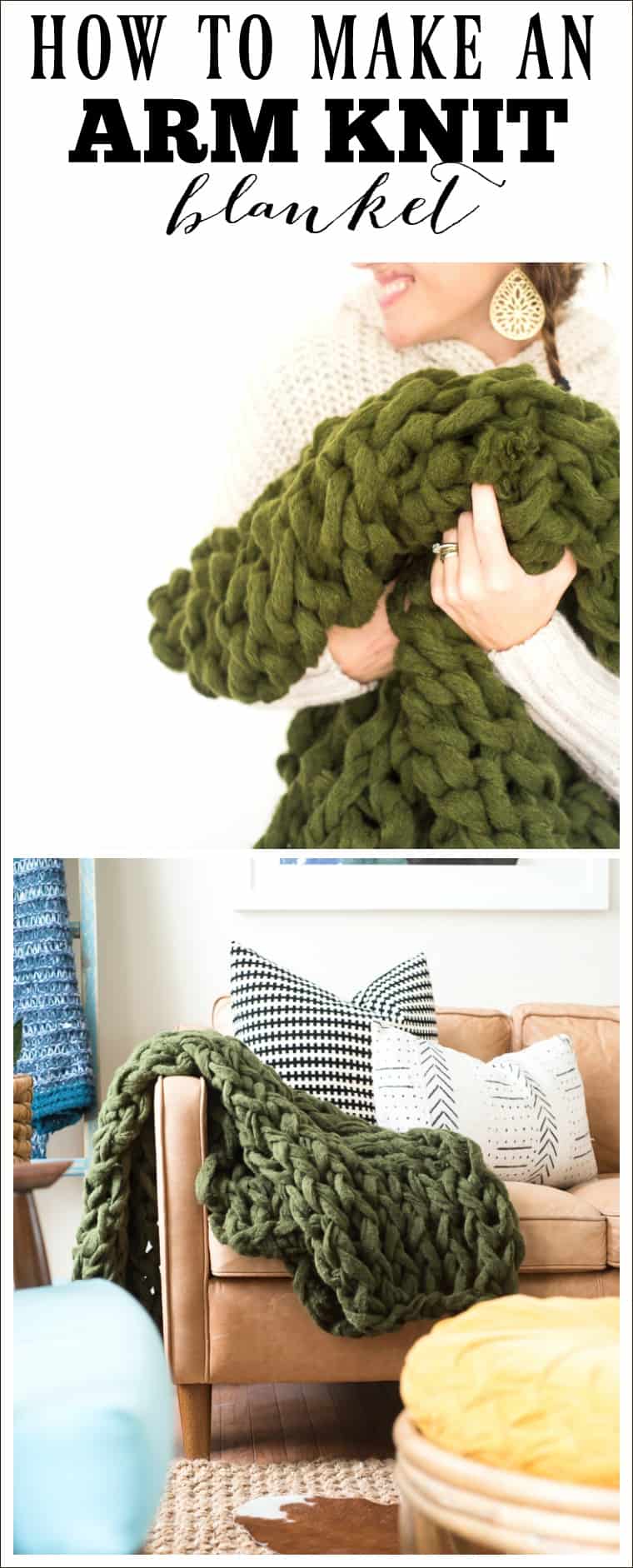 Products from Amazon.com
‹
›
Well, I  am sure it was not my last knitting project you all! It was so fun to make this fantastic blanket! I hope you enjoy the video.


And before you leave, be sure to grab my lovely SHORT GUIDE on how to create a STYLISH HOME.
Download your mini guide NOW! I share 5 quick tips on how to create a stylish home!
If you are over on Instagram, be sure to check out my FEED, full of HOME DECOR inspiration HERE.
**UPDATE**
I made another blanket last week and I can't wait to share another tutorial with you on this fun pom-pom chunky wool blanket!
HERE IS THE LINK TO THE NEW VIDEO!
Be sure to sign up for my newsletter to get notifications of new posts!
Cheers friends!
Aniko