BATHROOM MAKEOVER REVEAL | ONE ROOM CHALLENGE WEEK 6
BATHROOM MAKEOVER REVEAL time!! This is a jaw-dropping bathroom makeover. You need to see the before and after! Modern, chic bathroom makeover with lots of cool design!
WE DID IT!!
This past five weeks went by so fast, and I still can't believe we finished our bathroom!  When Linda from Calling It Home kindly asked me to participate in the challenge as a featured designer, I was humbled and I, of course,  said YES and immediately told the hub that we need to make it a good one this time:-) We decided that we are going to makeover our guest bathroom. To remind you of the before here are a few pictures and if you would like to see the progress you can check out
We decided to make over our guest bathroom. To remind you of the before, here are a few pictures, and if you would like to see the progress you can check out WEEK 1, WEEK 2, WEEK 3, WEEK4 and WEEK 5.
Ugh! Yuk!
This guest bathroom needed some love, guys. It was the typical builder's grade bathroom, and it was very much outdated. The color on the wall was awful; the flooring was old and messy, and I hated all of it!
We learned a lot in the progress of the makeover for sure!  When a reader commented at the beginning of the challenge, and she said I was ambitious to take on a bathroom remodel in six weeks, I thought …yeah, what's a bathroom remodel…easy-peasy, we can do it! But now, after lots of the stress, frustration and sleepless nights, I say this makeover was a big challenge, and I had no idea what I had signed up for! I've done many ONE ROOM CHALLENGES, but without a doubt, this was the toughest!
"WE DON'T GROW WHEN THINGS ARE EASY, WE GROW WHEN WE FACE CHALLENGES."
We had several problems that resulted in delays, and lots of headaches and the lessons were learned:
– I am not a superwoman and I can't do it all!
– Unexpected things would happen and you can't control them!
– People are sent in your way for a reason.
– When it's time to hire a professional to do the job you can't, don't call the guy from the neighborhood, but call and pay a professional!
….
After all,  I am happy to report that we were able to pull this together. First and foremost, I have to THANK my husband for all the work he did. He is simply amazing! I also have to thank my dear friends who helped me watch the kiddos while we were putting the finishing touches on the project, and I have to thank the hard working guys who showed up after work to fix the walls came to put tile down over the weekend as well!  This makeover was a race against the time and I am over the moon excited that it's done and over with! But enough talking for me now and now I want to you to sit back and enjoy the transformation.
And now drum roll, please!
Here is our remodeled bathroom now after the makeover.
What a transformation, right? We just created my dream bathroom, you all!
The ugly plastic tub and the shower curtain are gone, and the use of subway tiles (4 x 12) all the way to the ceiling was a game changer! We also added a beautiful, deep, acrylic bathtub and a sleek glass door that covers the bathtub half way and it opens out.
We removed the door from the closet and left that closet open which was an excellent idea. The bathroom door has also been removed, and we built a sliding barn door (tutorial is coming soon). We've hung the door with the help of an Ironwood Loft Barn door Hardware.

Below are the CHUNKY SHELVES that we built, and I filled the shelves with large baskets for accessories, cleaning items and I rolled some comfy, plush towels for everyday use.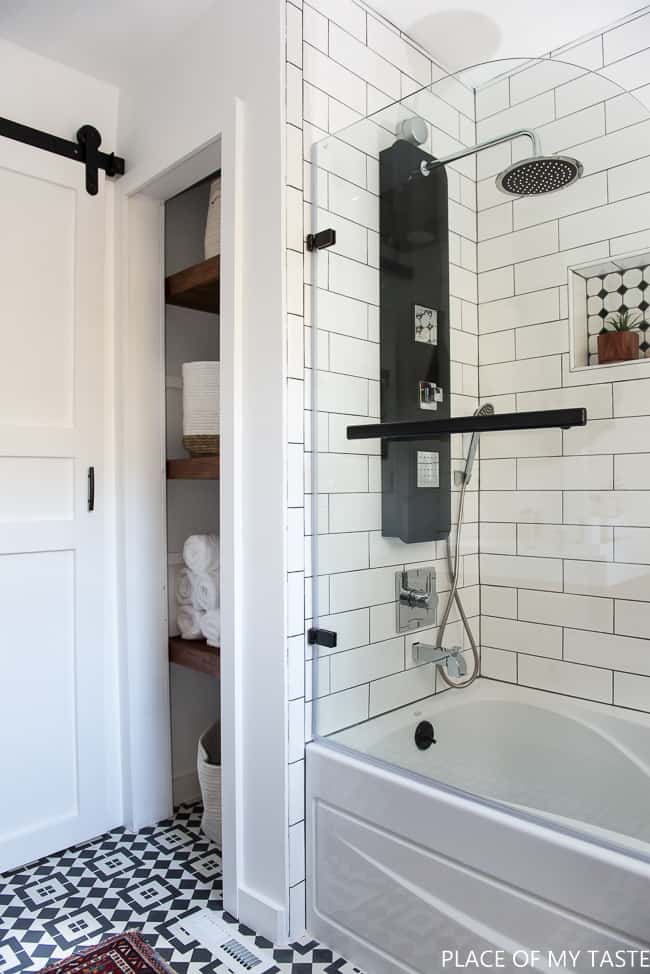 We installed a tower shower panel which is kind of cool and it was super easy to install. This small pocket on the wall was not planned but when I saw that awesome tile at Home Depot I knew I need to add it to my bathroom plans.
These cute little wooden planters are from Target. They come in neutral color and I stained them with the same RED CHESTNUT stain that  I used for the closet shelves and for the recessed lights.
We built the recessed lighting, and we hung those pretty cool black pendant lights.

I chose to decorate with beautiful bamboo accessories and baskets to keep the SPA-like feel in the room.
Sometimes, the least expensive things are the best…like this towel ring for a few bucks:-) Isn't it cool?
My vintage rug from Chairish was a perfect addition to my neutral colors scheme. It adds a little bit of contrast to the room, and I love it!
That piece of wall hanging was the last minute put together yesterday. I needed something to go on that white wall,
and I made up a quick DIY. 🙂 I will write a post on it later.
That towel rack was also a last minute DIY from an extra wooden piece. It turned out great and super functional.
I printed some of my photographs and hung them above the toilet.
And here is the obligatory BEFORE and AFTER!
I think I am ready to soak in that bathtub now! Here is a short video with a before and afters! Enjoy!
I am listing everything you see in this room for your convenience:
BATHTUB | TOILET | GLASS DOOR | BARN DOOR HARDWARE  ATG Stores 
VANITY  | SHOWER TOWER| ROUND MIRROR – ALLMODERN
PENDANT LIGHTS – BELLACOR LIGHTING
BATHROOM ACCESSORIES – JOSS& MAIN
BASKETS | TOWELS | BASKET KIT | NANDA BASKET| WOOD WASTE BASKET | 6 PIECE BATHROOM SET |TOILET BRUSH
VINTAGE RUG– CHAIRISH
TILES
FLOOR: CEMENT TILE-CAMBRIDGE- CEMENT TILE SHOP
WALL TILE: SUBWAY TILE 4X12
A huge THANK YOU to my amazing sponsors to help create this fantastic bathroom!
And now leave me a comment of what you think of this transformation and be sure to check out my fellow designer friends and their makeover!
Jana Bek | Chris Loves Julia | Shannon Claire | Coco.Kelley | The Curated House
Driven by Decor | The English Room | From the Right Bank | Sherry Hart
Hi Sugarplum | House of Jade | Hunted Interior | The Makerista | Making it Lovely
Marcus Design | Pencil & Paper Co. | Megan Pflug | Place of My Taste | Suburban B's
Waiting on Martha  Media Partner House Beautiful | TM by CIH
Cheers for a great week!
***This post includes affiliate links***