How to make IKEA BILLY BOOKCASE built-ins
How to make IKEA BILLY BOOKCASE built-ins…that's what I am going to share with you all today.
Phew! This project required a little more time and planning than what I thought it would take. Plus I needed some extra glasses of mimosas as well along the way from start to finish. But it was all worth it at the end of the day because I love the new look of our living room. These billy bookcase built-ins totally changed the room. If you are new here, let me fill you in real quick of what I am working on right now. I am a linking participant of the ONE ROOM CHALLENGE, hosted by Linda from Calling it Home. The challenge requires us to makeover a room in 6 weeks ( well, it's only five weeks as we reveal the room on the 6th week). I love to take the challenge as I know I will finish a room from start to finish in 5 weeks. It's though! No doubt that it is. Especially when someone is a thrift shopper, like me. Sometimes I have to hit Goodwill and thrift store multiple times before I find what  I need. This week is the 4th week, and I love to see that the room is coming together nicely. Today's project was the biggest project we tackled in this room. It took a couple of weekends ( not all day of course but when we were able to free up from the kiddos).
I looked up many Billy Bookcase hacks, like HERE, HERE and my favorite was the one HERE, but I could not find any tutorials where the shelves were built around the fireplace. This tutorial HERE kind of gave us a good start on how to build our shelves in. And I also found this tutorial on DIY built-ins . 
The reason why our project was a little more complicated is that we had a particular measurement to work with and finding the right pieces of materials were not easy. But we found everything we needed after looking through the isles of HOME DEPOT several times.
Here is our BEFORE PIC of the wall with the fireplace. Well, first of all, I hated that yellow shade on the wall for a long time, okay?  This room is a relatively small room, and I thought to have bright white walls, and WHITE fireplace will help this place a lot. And it did. Big time! 
Built in bookcases are great as when you style your bookcases you can truly shine your personality. Styling a bookcase is not an  easy task (I will have another post on that later) but it's fun. I love thrift shopping and I found the best little additions that fit my taste for pennies:-)
Here is a short video where you can see the room and how I styled these bookcases

So shall we start the tutorial?
How to make BILLY BOOKCASE built-ins
OUR MEASUREMENTS WERE: 41″ on one side of the fireplace and slightly more, 43″ on the other side.
MATERIALS we used:
2 BILLY BOOKCASES ( $69 each) with EXTENSION ($20 each)
2 X 1′ x 12′ x 10′ WHITEWOOD BOARD ( for side board)
2 X 1′ X 12′ X 6′ WHITEWOOD BOARD ( for top)
1′ X 4′ COMMON BOARD ( for behind the cabinets as the whiteboard that went on the side was 12″ and the Billy bookcase was 11″)
2 x 2x4x 10′ for the wall side of the cabinet
2x4s  ( cut small pieces ) for filling gaps
WOODGRAIN MILLWORK
4 PC NEXUS PLINTh BLOCK
TOOLS:
I will list the step by step in-case anyone would love to replica this tutorial.
But before I start let me just PRAISE my awesome hub! This project could not be done without him! He is the biggest complainer of all when I bring up new ideas, but I tell you what, he jumps right in at every single project as I think he enjoys making them, too:-) #teamwork♥♥
So. Let's start!
We added four pieces of wood panels on the walls ( both sides of the fireplace) as the long board that goes on the side was 12″ wide, and the Billy bookcase was 11″ so we needed to make up that 12″.
2. The hub cut the baseboard out from the back wall so the Billy Bookcase could be pushed up against the wall.
3. Using L-brackets, we secured the shelves to the wall ( to the horizontal wood panels) so it would be stable.
4.  We added the side board ( the 1x12x12) on the fireplace side. We measured it and cut it to the exact measurement from ceiling to floor. We added a small filler to the gap between the shelves and the side board.(from 2×4)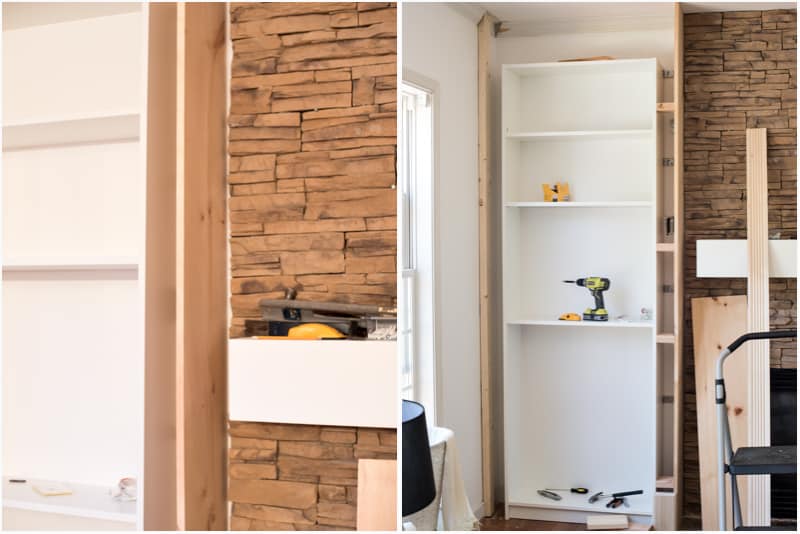 5. Added a piece of 2×4 ( size of the whole built-ins) onto the top of the bookcase so we could nail the top board that goes on the front fo the selves.
(Tip: JobWe invested in a brad nail gun and OMG…the job was done in no time! Worth every penny!)
6. We pieced together the top board and side boards ( they were measured and cut to pieces).
7. We added the woodgrain millwork pieces ( square on top and rectangle to bottom)  and  then we cut the board to an exact size to cover he gaps.
My genius hub moved the fireplace switch to the outside of the built-in, so we can still control the fireplace:-)
Then we added the shelves that came with the Billy Bookcase. I did not want to have the plain horizontal shelves al the way so we cut in shelves ( that came in the box) and push them in vertically between two selves. We also bought a white a wood board and cut it in size for the longer pieces.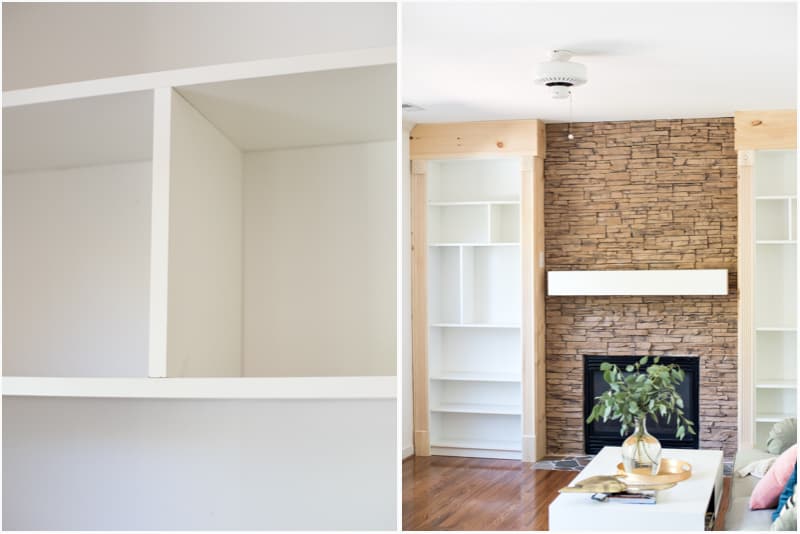 And as the last step, I painted the boards with Ultra White from BEHR!
Voila! Billy Bookcase Built-ins are in, and they shine my living room, you all!
Billy Bookcase Built-ins are in, and they shine my living room, you all! I dragged down this huge wicker lamp ( it was in my living room for years) from the attic, and I think it will be perfect in this room as I will bring in textures and layers with a touch of bright colors in to break up the clean whiteness.
I am smitten with the result, my friends! I can stare at these built-ins ALL DAY. What do you think?
As you see, I turned our boring brown fireplace to a white beauty as well. I just wanted to go all the way with WHITE:-) I will share the HOW TO on that as well but not before next week's room reveal, perhaps in a couple of weeks.
And I, of course, played around with the mantel styling a bit, but I am sure it will change many times before I'll be happy with the look.
Can you believe this is the same wall? WOOOOWWWWW!
And WAIT,  the room is not done just yet:-)
Will you come back to see the full reveal next Thursday? There are some missing pieces still ( like artwork, coffee table- I found a beautiful mid century one on Craigslist from Lane for $50:-) which I am going to pick up this weekend, and some window treatment, possibly bamboo – I am also thinking on a bar cart perhaps).
Thanks for stopping by today! Now be sure to head over to Calling it Home to see the updates from all of the other guest participants .
Cheers,
Aniko
*Affiliate links are listed in the post)