I have so many easy DIY MACRAME PROJECTS on the blog that I thought it would be fun to gather into one blog post and share them all with you. Some of us have some extra time on hand these days, and I tell you that start with macrame now is not a bad idea, especially if it ever crossed your mind to learn it. This image below was one of my very first macrame wall hanging pieces. It looks complicated, but it was made with a few basic knots.
"YOU ARE NEVER TO OLD TO SET ANOTHER GOAL OR DREAM A NEW DREAM."
I began my macrame challenge three years ago, and I never stopped. This amazing art is not only relaxing, but you can also challenge your creativity with it. The limit is the sky! I also opened my Etsy shop to sell some of my work.
Over these past three years, I have learned the basics, hosted workshops, and tried several fantastic macrame projects.
MACRAME WALL HANGING
MACRAME WREATH
MACRAME SHELVING
MACRAME PLANT HANGER
MACRAME ORNAMENTS
MACRAME UMBRELLA TASSELS
MACRAME JAR COVER
MACRAME DOOR HANGING
MACRAME TEACHER GIFT
MACRAME CHANDELIER
---
So let's go through these fabulously easy MACRAME PROJECTS one by one!
First and foremost, it's essential to know at least two basic knots. I have written a tutorial on BASIC MACRAME KNOTS – that's where you want to start your macrame adventure. Take some time and master the three basic macrame knots.
---
How pretty is this MACRAME WREATH? Right? It takes a little time to make it, but if you are all into crafting and having a little me time, this project is for you! Trust me on that. Every single visitor of mine has been complementing on this gorgeous and unique wreath.
---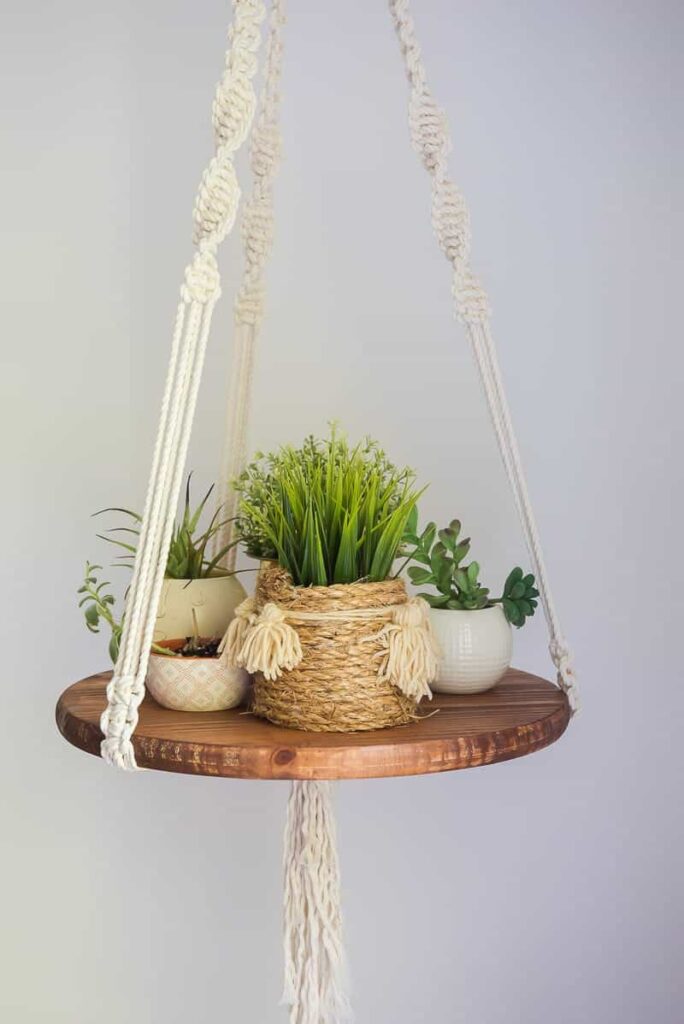 How about that MACRAME FLOATING shelf? Neat, isn't it? That shelf is excellent for any corner to hold decor pieces, plants, or YOU NAME IT items. Very easy to make, and you will have a statement corner piece to decorate with.
---
Hello beautiful! MACRAME PLANT HANGER for the win! I am obsessed with plants and plant hangers. I have so many; I can't even tell you how many. I love to gift these plant hangers; they are easy to make and make a statement piece in any room.
---
Set your next year's Holiday theme to "macrame"! MACRAME ORNAMENTS are pretty, one of a kind and look great on the tree. I made these cute macrame ornaments a few years ago and loved them. It is a pretty easy project; you can even do it with your kiddos as a fun holiday craft!
---
I think these easy MACRAME UMBRELLA TASSELS were one of my favorite projects. Last year I BOHOed my backyard patio up and wow! Did we enjoy it throughout the summer? Heck yeah! Give it a shot and make your ordinary umbrella extraordinary!
---
This MACRAME JAR COVER project is a little tedious but so worth the time! So worth the time. I had a glass jar that was just not fitting into my home decor being so naked and plain Jenny, so I added a cute outfit on it, and it made it on my coffee table for decoration. Hello! Sometimes you just have to think out of the box!
---
Okay. This MACRAME DOOR HANGING is a super beginner project, you guys! Grab a few sticks on your walk and make a fabulous front door hanging. Get creative with evergreens and flowers, even faux flowers.
---
Say what? A MACRAME TEACHER GIFT? Wow. How did I come up with that? I don't remember, but I know my son helped with the knots, and he LOVED the outcome of this fun mini teacher gift.
---
I don't have a tutorial on this piece, but I am hoping to make another one so I can share it with you. I loved how this piece turned out. It was not planned at all; I was just going with the flow.
Note: this Chandelier does not have a lightbulb installed. It is for decor purposes only.
If you got inspired to try these fun projects yourself, be sure to check out my favorite materials and tools to get started on your macrame adventure..
MACRAME COTTON CORDS
( these are affiliate links, please read my disclosure!)
I have a few favorite cords that I like to use for projects.
I mainly use twisted cotton cords as they are visually already more appealing and chunkier. I also like to use the thicker version of the twisted cords, especially for plant hangers and wall hangings.
THIS IS MY FAVORITE TWISTED COTTON CORD
AND THIS IS THE SINGLE STRAND COTTON CORD
METAL RING
If you are going to attempt a plant hanger you will need a metal ring to start with.
S HOOK
And lastly, you will also want to have a few of these S Hooks on hand for an easier process making your project.
---
Here are some more of my macrame projects from around the house.
PIN THIS IMAGE for later if you are not ready to tackle your first macrame project just yet!
Thank you for stopping by today.
Stay well!
Xoxo
Aniko:-)