A DAY OF INSPIRED DESIGN with DELTA faucet
This is a sponsored conversation written by me on behalf of Delta Faucet .  The opinions and text are all mine.
I spent a fantastic day in Chicago last week with some other fabulous bloggers for A Day of Inspired Design with Delta Faucet. Today I am sharing highlights of our fun-filled day. When I got invited to participate I was super excited as I loved the entire campaign and how everything was planned for us bloggers.
We traveled to Chicago, and we toured the city for inspiration: afterwards we had to create our design board for our dream kitchen and bathroom. How fun! Every design starts with inspiration. I get inspired everywhere! Literally. At home, on the beach, in the city, by looking at a particular color or pattern or sometimes simply just listening to music gets me in a certain mood to create and design awesome.
We arrived in Chicago on Monday. I took the hubs with me as he had some business to do in Chicago and we thought maybe we could make this a nice business/pleasure trip without the kiddos. Yeah, it's nice to get away for a few days sometimes.
Chicago was named The Windy City for a reason. And yes, it was windy and cold, especially after the sweet and warm Virgina weather. The event started the next morning so we had the afternoon to walk and enjoy a cute little French restaurant.
Next morning our private trolley was waiting at the hotel, and we headed to the Delta Showroom at the Merchandise Mart.
Next morning our private trolley was waiting at the hotel, and we headed to the Delta Showroom at the Merchandise Mart.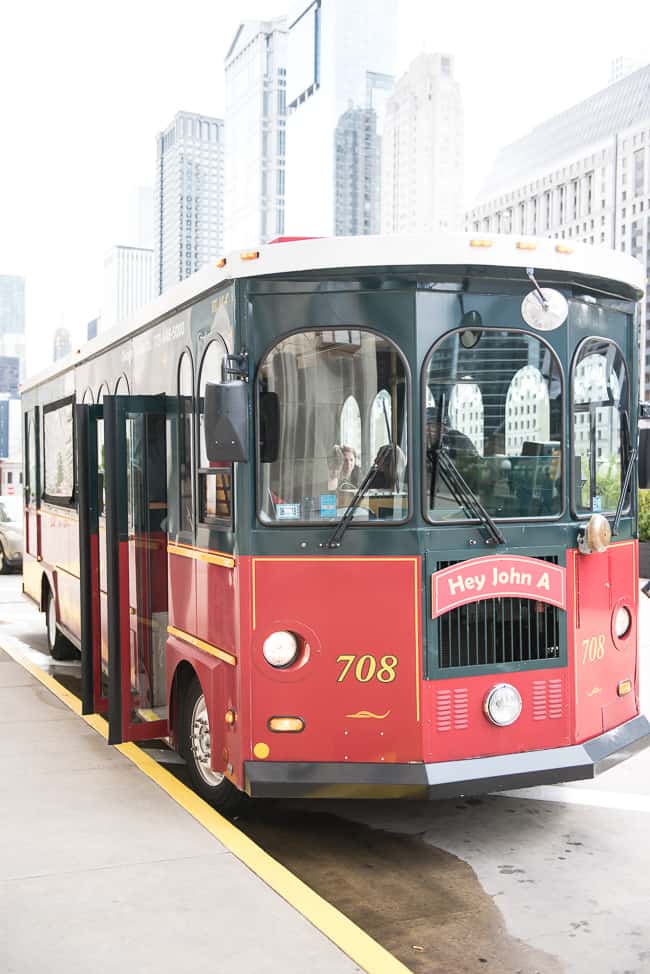 The showroom was beautiful, packed with fantastic Delta faucets and products.
There we had our morning orientation, and I got to meet Sherry and John from Young House Love. It's funny as we live in the same city and I never met them before (despite how I always wished to bump into them somewhere, haha!) so we chatted, and they were so nice and down to earth people. They were also very inspiring speakers.
Then the fun started. We were taken to four different Chicago destinations to get inspiration from beautiful architecture, history and design. We had a private tour guide, and he was fantastic. We took lots of pictures of anything and everything we found interesting.
I was drawn into the ironwork and this beautiful door at The Rooky building. There was something about it. I love to incorporate neutral colors and textures into my home decor, and design and I thought this door looked unique with the design on the top.
I liked this staircase as well. The iron, the pattern, and the wood feature was simply beautiful.
After we had toured all the locations, we headed to have a nice lunch with a glass of rose:-) Yay!
Back at the hotel, we all sat down to create our design board being inspired on our tour. How fun!
I brought few inspirations from home as well to add to my board. I was working on my dream bathroom board and as you see there was lots of bright colors, textures, greens.
My dream bathroom looks something like this in my head:
Beautiful blue patterned cement tile on the floor or in a shower with white walls, perhaps brown wooden board going across the vaulted ceiling, a few lovely and refreshing plants, round wooden mirrors with white vanity, a chic touch Delta Faucet plus stand-alone bathtub to soak in every weekend while burning eucalyptus candle.
Wow! Can you picture it?
Well, guys! It's going to stay my dream as I did not win the mood board makeover contest but I did get a wonderful Delta Faucet to start my work.
Beth from Homestoriez A-Z did, and we all cheered her for that!
We ended the night with a wonderful dinner and fantastic view for Chicago and a glass of wine:-) Cheers!
Stay tuned as I will show you how and where I used my new Delta Faucet in my home:-)
Until next time!
Aniko