DECOUPAGED TERRA COTTA POTS
I am adding bright spring colors to my home decor, hoping that will bring Spring here sooner. I am so ready to put away my winter clothes, and I am SO ready to wear my light blazers and flats.
Oh, joy.
Today I will show you a quick tutorial of how you can make these lovely decoupaged terra cotta pots.
We went to Florida in February, and we stop to pick oranges on a fun orange farm. The boys and we enjoyed picking oranges and playing around on the farm. The oranges that we ate there were phenomenal. They seriously had the best oranges, ever! We loved them so much that we took some oranges home, and hub decided to plant those seeds so we can grow those yummy oranges.
Yeah…I can't wait to see those oranges:-) I am not very optimistic that we will ever see oranges here.:-)
So there were plenty of seeds and my hub germinated them, and once the seeds were split he put them in these plain terra-cotta pots, he marked each pot and put them out to the window. I couldn't stand anymore how ugly they looked. I decided to pretty those pots.
I had some beautiful decorative napkins that my sweet friend left for me when she moved back to Hungary, and I decided to use to some of those pretty napkins to decoupage these plain terra cotta pots.
Materials needed for the project:
– lovely decorative napkins ( possibly with patterns or shapes that you can cut out )
– mod podge
– paint brush
– paint ( acrylic paint would totally work)
-scissors
It was so super easy to do, and I love my "new" pots.
STEPS:
1. First I painted my pots. I used Martha Stewart chalk paint for the yellow and regular acrylic paint for the white paint.
2. I let the paint completely dry.
3.While the paint was drying, I  cut out my flowers shape from the napkin.
  4. I mod podge the napkin and slowly smoothed it on the pot.
5. I then sealed the whole pot with a coat of mod podge.
TADA!
Yep. Simple is that my friends!
My pots look fabulous now.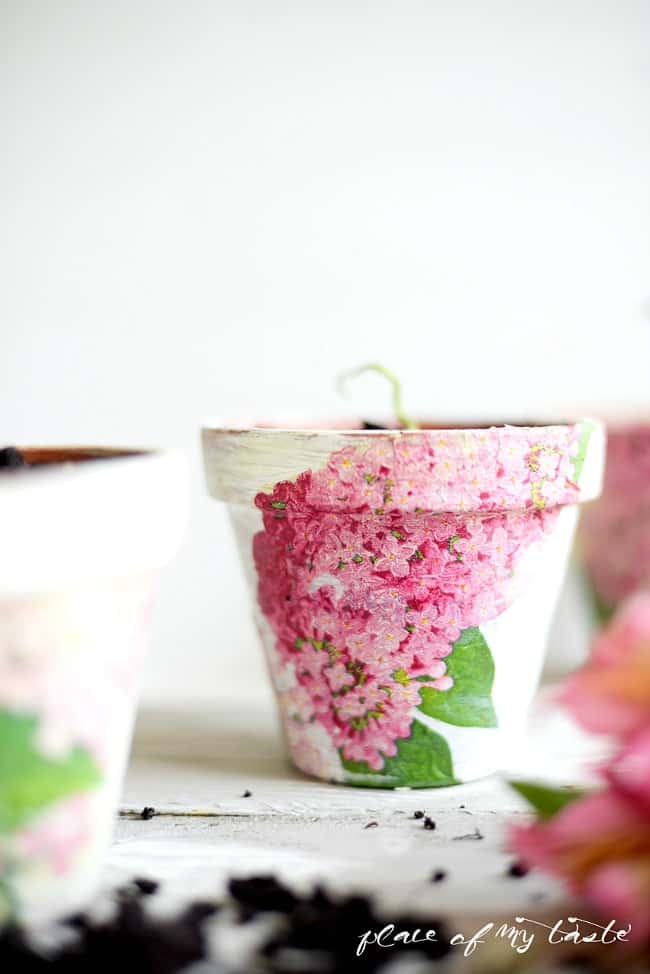 A 15-minute quick craft can go a long way.
So what are you waiting for my friends?
Find some gorgeous napkins and get decoupaging! So easy and the I bet for anything that you will love the result.
Now I am only waiting for my yummy oranges to grow:-)
You may also like these pretty Marbled Eggs
Or these fun Coffee Filter Flowers
Thanks for stopping by today!
Cheers
*** This project was featured on a  Housewarming party***