DIY garage pegboard and painted stairs
The  garage organizing continues… Today I will show you how we made this happy and colorful DIY garage pegboard and painted stairs.
We DIY a lot.
And I mean A LOT! That means lots of tools in the garage. The worst situation is when we are in the middle of the project and we can not find the specific screwdriver or drill that we need….That's when hubby gets angry….
…and hubby blames me for not finding things in the garage...ha!
Why?
…because I am the one who brings home all the mess…:-) Oh yeah! Gotta love those yard sale  and goodwill finds:-)
 We decided to build a nice and organized pegboard that helped us keep everything in place.
All we needed was a few sheets of pegboard from Home Depot, saw to cut the pegboard, screws and paint to make it happy.
We measured the wall where we were planning to build up the pegboard and we cut the pegboard by the measurements. We picked white pegboard and I really liked how nice and clean it was when we put it up on the wall.
But something was missing!
…a color…
…a happy color…
Using painters tape, we taped up square shapes and a painted them to green.
Easy – peasy and makes a huge difference!
Then we nicely organized all kinds of tools with the pegboard hooks and baskets.
It is not perfect and there is still room to organize but hey…it means a BIG improvement for us! Now we can see where everything is and when we are looking for something it won't take 15 minutes to find it!!
Now, that we had the color GREEN on our garage storage wall , and pegboard I thought giving a coat of paint for the stairs would be fun.
I used weather proofing wood stain on the stairs…and thankfully my little helper did the majority of painting:-)
Using my cutting machine I cut out numbers and stenciled the stairs to add  little more fun!
What do you think? Will you come back on Friday to see the whole happy and organized garage reveal?
Until then, make sure you check out the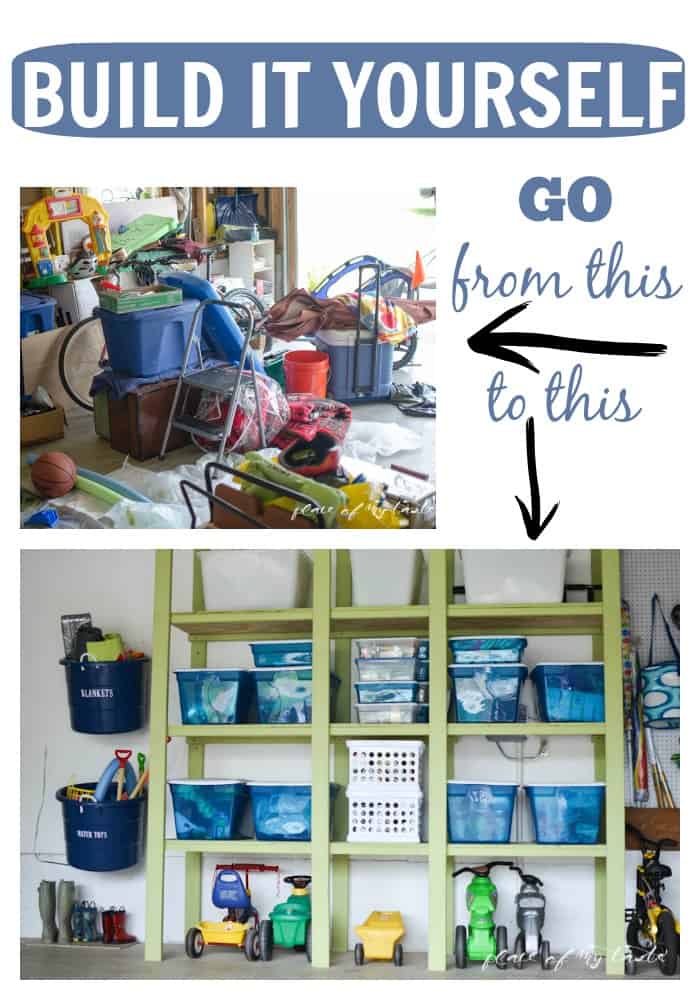 and our
Hope I got you in a mood to get  some organizing done in the garage.
Have a wonderful day!
Xoxo