Make your DIY GIANT WALL ART! It is inexpensive, but very high-end looking!
Art makes our home beautiful, and art made by you makes it unique!
You guys! I am so excited to share this project with you all!
Why?
Because it was spontaneous, absolutely not planned project, and it turned out beautiful.
I think!
The story began when I took the Christmas decorations down after January 1st.
My dining room was dressed up with pretty plaid and red,
and I adored it during the holidays, but when all those decorations came off,
I was standing in the dining room not knowing what decorations should go up now.
Standing there, I was looking at my pretty bare walls and just hated them!
For a minute or two, I considered putting some winter decorations back,
but had to realize that all of those were very Christmasy.
Here is the Christmasy dining room look and on the right here is the very open look that I had after the holidays.
Pretty empty, right? Needs something, maybe some art?
Then my mind started spinning.
…and spinning.
First I decided to get rid of those shelves. I didn't like them. At all.
They were not functional but hard to decorate.
I pictured three huge pieces of wall art on that big empty wall. Yep! It all came to life in my head.
When I told my hubs, he said: NOOOOOOO, no projects!
I had promised him that there was not going to be any project doing in January, but only organizing,
because there is plenty to organize.
I finally talked him into my crazy idea! 🙂
I took a quick trip to The Home Depot to see what kind of material I can find.
I found these guys…for $2.07/piece. Winner!
I got five panels to make up three huge frames.
So I pictured three huge pieces of wall art…, okay but what art goes in there..?
I love to create my art. Thankfully I inherited some talent from my father, and I can pretty much draw anything.
I just wish I had more time to draw and paint.
I usually buy large paper rolls at IKEA for my boys, and I thought that this paper would be PEEERRRFECT to fill these frames.
The paper is about 18 inches wide, and I can set the length of the art as long as I want.
Awesome!
I can get bored pretty quickly with things, so these large frames will be just what I need, where I can draw a new piece of art anytime.
Okay…in case you would like to replicate these large wall frames, let's get on the project now!
MATERIALS :
– 5 furring strip boards  (1″ x 4″ x 8″ $2.07 /pc)
– Three project panels (for the back of the frame) ($5.49/pc)
– wood stain, one lighter oak and one dark walnut (I had it handy, full can: $3.99 )
 – wood screws ($2.87)
– saw tooth hanger
– wood filler (had it already)
[amazon_link asins='B00QSS9VTO,B00Q2QQL5O,B0000224VG,B000UHMITE,B00006IDXW' template='ProductCarousel' store='plofmyta-20′ marketplace='US' link_id='e4e349a7-dc6f-11e6-aeab-079635a89f70′][amazon_link asins='B00QSS9VTO,B00Q2QQL5O,B0000224VG,B000UHMITE,B00006IDXW' template='ProductCarousel' store='plofmyta-20′ marketplace='US' link_id='e5cdd087-dc6f-11e6-a46a-7dcf83f5b348′]
TOOLS: 
– miter saw (so you can cut 45 degrees for the joints)
– drill
– sander
– hammer
As the first step, we cut the strip boards to the size that we measured out (the frame we made is 24 "x 49" – pretty big).
Then we attached the joints and drilled a hole for the screw on the side of the board. Screwed the 2 1/2 " screw into the hole we made.
We repeated this on all four corners.
The joints set in almost entirely. Only one side was off slightly, but we filled that tiny gap with wood filler.
Sanded the surface to be smooth and then stained the frame.
I used two different tones of stain. One lighter and one darker shade.
LIGHTER SHADE: FIRST COAT- Minwax: Golden Oak 210 B
DARKER SHADE: SECOND COAT – Minwax: Dark Walnut 2716
Stained the frame with a lighter than a darker shade to get this lovely color.
I drew my art with my pastels.
For one piece of art (I saw an inspiration at West Elm site) I just wrote inspirational life quotes continuously. Looks so fun!
I placed my art on the top of the board and flipped the whole frame upside down to attach the board to the frame with screws.
I left the paper slightly longer than the frame, but after the screws had been screwed in, I cut off the paper that was over the frame.
As the last step, I hammered a sawtooth hanger on the back of the frame.
Tada!
3 GIANT WALL ART FOR $30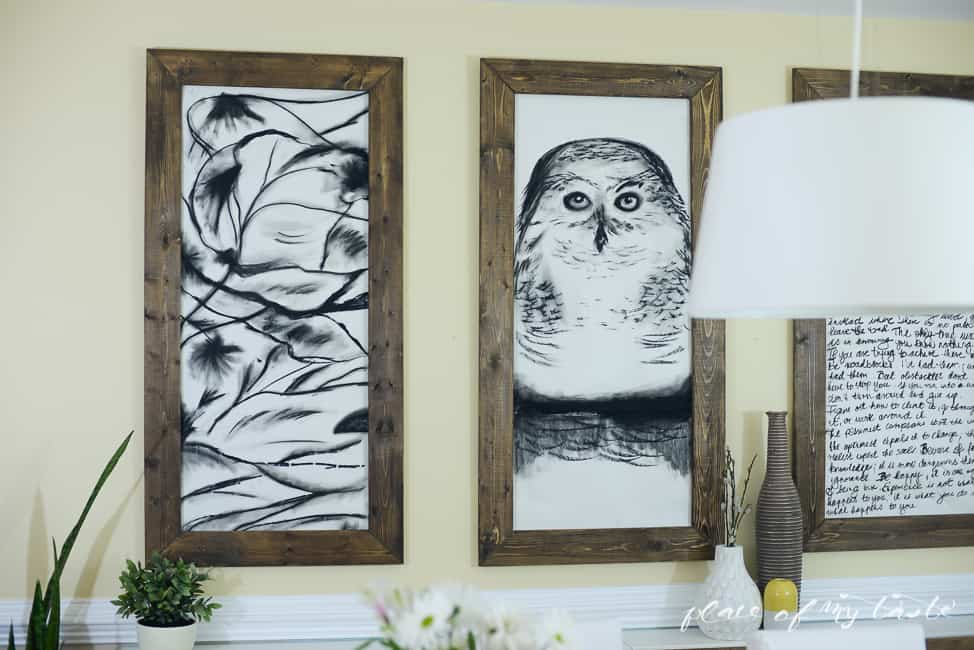 They fill up the large wall surface so well, and these HUGE frames make the room look five times bigger!
The stain turned out beautiful; the color is just amazing!
I was playing around with the drawings…first I made a colored piece in the middle, then I switched it out to all black and white.
What do you think, color in the middle or stay with the black and white only?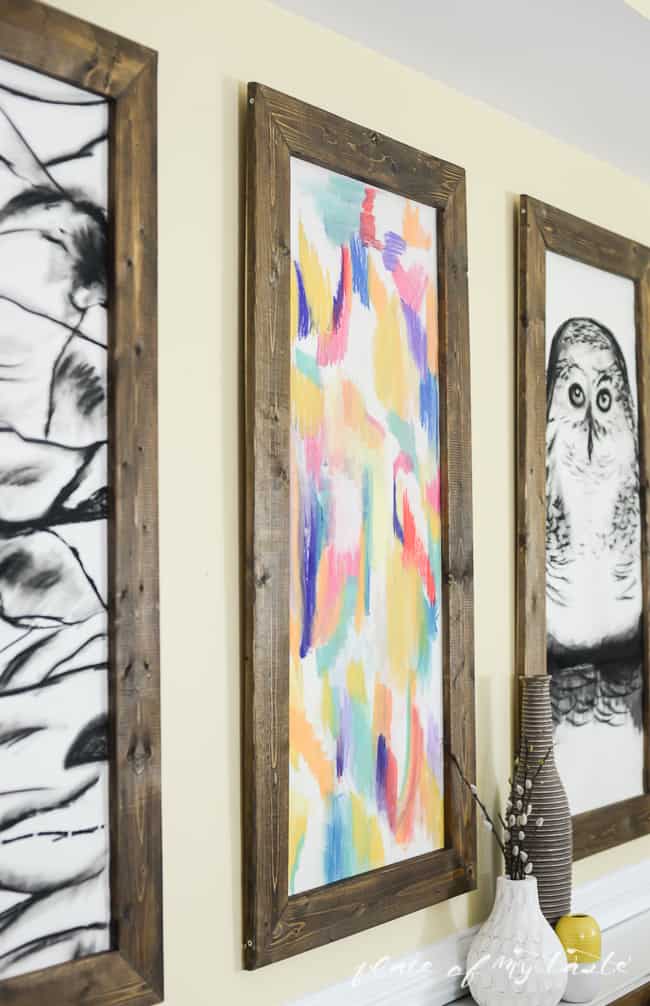 I am seriously in love with these frames. All I want to do is to sit here and stare at them!!
Update: One of my readers asked –
"What if I can not draw any art to put in these frames?
You may put fabric or other downloadable art into the frames. 🙂
There is another project we tackled in this room! I am planning on posting about it on Thursday so be sure to check back!!
Below is a peek. :-)♥
I hope you got inspired to create your wall art! It is so worth the time!
If you like this project, here is an image to pin to remember it for later.
Come and party with us tomorrow and check back on Thursday to see the rest of this room!!
Have a lovely day!