DIY PAINTED MASON JAR VASES
Ok…I have lots of plans for this year.
Back in the summer , I posted about my bedroom makeover ideas.
If you missed it , read about it here.
BEDROOM MOOD BOARD
Originally I wanted to start working on our bedroom in the fall but then I got so busy and it never happened. Now, in the new year I am starting off with some fresh and new decor projects.
My very first one is this
PAINTED MASON JAR
I think they are just gorgeous.
And these vases are not only gorgeous but so super inexpensive to make them too.
All you need is some empty mason jars, paint and sand paper.
YEP…that is all!
You can create a pretty , decorative vase in less than 10 minutes.
 Choose a nice color and paint a few coat
on the outside of the mason jar.
I painted off white and yellow on the bigger jar and off white and light blue on the smaller one.
I also pained the lids. I painted for different colors than the mason jar itself.
Once the paint was dry, I sanded the top coat a little bit to achieve the rustic look.
So pretty and
SO EASY PROJECT!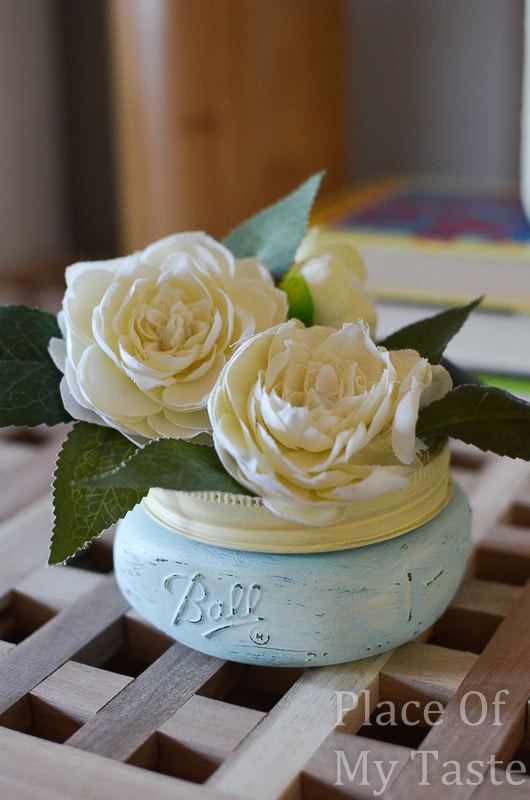 It's so pleasing to look at these cute decorative vases.
Happy dance:-)
Did I inspire you to paint some mason jars today?
Here are some other great ideas to get on the design mood:
Thanks for visiting today!
HAVE A GREAT DAY!
Xoxo

         { Linking this post in here }