HOW TO INSTALL A STAIR RUNNER – EXTRA LONG RUNNER RUG
I have been planning on sharing this quick post on how to install a stair runner since Christmas. I know, it's been more than a month now, but you know….life gets in a way sometimes. We installed this extra long runner rug on our stairs and I could not love it more!
Let me take you back to when we updated out floors with laminate flooring at the beginning of the summer. You can read on 5 super awesome tips on how to install laminate flooring, in case you are about to do that in your home.  We decided to add the new flooring on both levels in our home, and I could not be happier on how it looks, how easy it is to clean and how much better it is than carpet.
After having both levels updated with laminate flooring, we had this idea to add of adding the laminate floor on the stairs as well. And it turned out great but….
I could not forget that we have two energetic boys (7 and 9 yr olds) who are still using our home sometimes as a race track. And that made me think of getting a runner rug for the stairs ever since we installed the laminate flooring.
I was searching for the perfect runner rug, and it took me a few months until I found the one I liked and the one that was the perfect length.
The Perfect Stair Runner rug?
My initial thought was to add a few different patterned vintage rug to the stairs, the way she did in this post. 
But then I couldn't find vintage rugs that were good if I mix matched them. Also, true vintage rugs were kind of over my budget so I dropped that idea completely.
Then I decided to look for an extra long runner rug and I think I found the perfect one that was also affordable and it was within my budget.
I found a few extra long runners (22′ long!) that I LOVED. I was debating between these designs below.
Becuase of the asthetic of my home I was looking for a runner rug that had a vintage-y look.
The rug picked was a Shafiev rug and it was delivered within a few days. Was I happy when I got my runner? Yes, I was very happy with what I received. The runner is very true to color, and the size was just what I needed.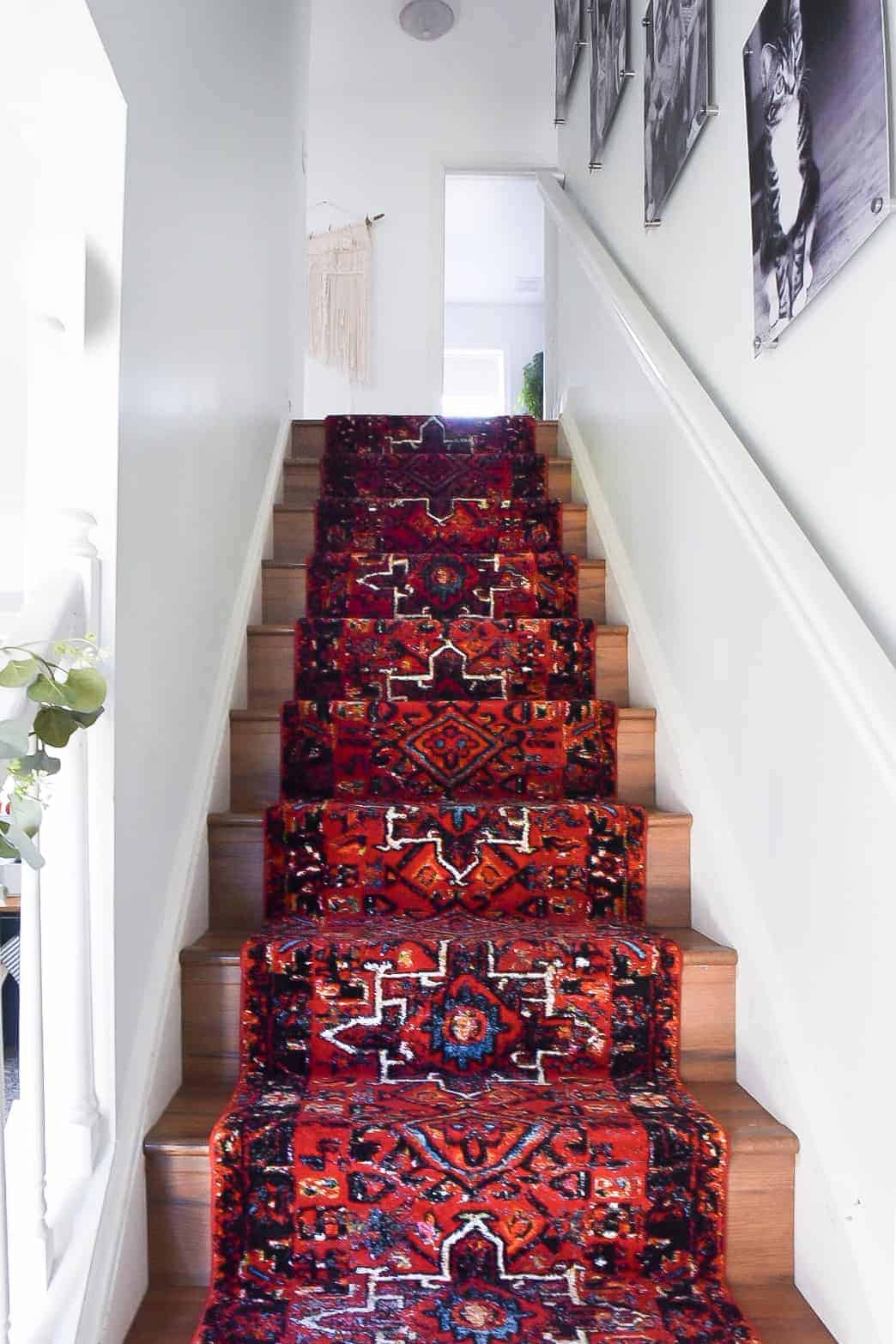 Then we started to begin the installation.
HOW TO INSTALL A STAIR RUNNER
Installing a stair runner is easier than you think. And when I say that it is easier than you think, you have to believe me.
MATERIALS YOU NEED to install an extra long runner rug
-tape measure
-nails
To begin the installation, you need to measure the length of your stairs to make sure that the rug you have is long enough to cover your stairs.
STEPS TO INSTALL A STAIR RUNNER RUG
1. MEASURE
First things first…We wanted to make sure that our runner will be centered, so we measured the same width from both sides of the wall. Our stairs are not too wide, so it was a narrow distance from each side to measure.
2. LAY DOWN THE RUG PAD
Then we layed the rug pad down carefully.
3. ADD THE RUG ON TOP OF THE RUG PAD
Once the rug was added onto the rug pad, we immediately started nailing the rug down using our Brad NAILER gun (which we use for so many DIY projects – like this awesome WOOD SLAT CEILING!). We started nailing the rug at the bottom of the stairs, and we made our way up by nailing the rug into each stair.
4. NAILING
Then we started off by nailing onto the stairs right below the stair nose, which was completely invisible,  and then started nailing a row into the bottom of the risers.
We went all the way up to the top of the stairs which took us a good 30 minutes to finish.
On the top of the stairs, I had a good 2′ of rug that I did not cut off, but instead, I have it beautifully going into my upstairs hallway.
What do you think about our new stair runners?
My husband keeps telling me that this runner rug was one of the BEST choices I've ever made. He really loves the pops of color and the feel of this super plush rug under his feet when he walks up the stairs.
I definitely think that we made a really great choice by adding a stair runner.
And the best part?
This extra long runner rug was so affordable that even if I get tired of this bright and bold runner in a year, I can always get another one for less then $150 when I am ready for an updated look.
Thanks for checking in and don't forget to check out some of my favorite posts!
Cheers,
Aniko