Ahh!OUTDOOR KITCHEN!!
***Update July 2020***
I have shared lots of step by step photos on how we built our outdoor kitchen in the OUTDOOR KITCHEN – HOW WE DID IT post so after this post head over there to check it out! There are also some current photos of the deck/outdoor kitchen at the bottom of this post.
Today is the REVEAL day of our fantastic outdoor kitchen you want to see, my friends!
This post is sponsored by Lowe's, but all thoughts and opinions are my own.
I almost can't believe that this project is finished!
If you are new here let me fill you in the outdoor space story and let's look back and see where we exactly started about a month and a half ago.
As you see, we had a typical 10×10, square deck.
We tried to make our existing deck more cozy and comfy about three summers ago with a DIY pallet furniture which we've really been enjoying throughout the summer season ever since. But every time we had a cookout or had friends over we felt like we needed a bigger outdoor space, perhaps a beautiful outdoor kitchen with a seating area. So I dreamed up an outstanding outdoor space in my head with a nice ground level deck that would be an extension to our already existing deck plus an outdoor kitchen with a pergola.
Yeah! It was all pictured in my head.
I am happy to report that my vision came to life (again:-), and I am still pinching myself that this space that I am about to show you is OUR outdoor space.
But before I show you our new area I need to give a huge shout out to my awesome husband who is always a partner in crime and puts up with THIS crazy gal and her even more insane ideas (yup, that's me!!). I am gifted with many talents but to tell you the truth I wouldn't be able to accomplish all the work without my man! My husband and I worked so HARD to finish this fantastic outdoor kitchen. And I say  – it was all worth it!
We DIYed all of it!
I am hoping to write up some tutorials building the ground level deck and pergola later as I would love to share all that we've learned throughout this process!
And before we move on, I would also like to say a big thank you for LOWE'S to help us bring my vision to life and providing all materials and products for our outdoor kitchen space!
And now drum roll, please…:-)))
Come and tour our NEW outdoor kitchen! (I will list links to everything at the bottom of this post- affiliate links included.)
Well, this is where we spent the last month, guys! We got home from our day job, we changed clothes and worked, worked and worked when we had some free time.
Awh! I still can't even BELIEVE that this is our backyard!
Just can't!
So let's dive in and get the deets!
I think one of the best decisions we've made was to make the stairs wider. It's a huge plus to this entire area, and it opens up the two decks entirely.
I wanted to ensure that this large outdoor space looks and feels cohesive throughout, so matching the stain for both, the upper as well as the lower level deck was a must. However, we could not strip off of the stain from our old deck, so my hubby had to rebuild the upper-level deck completely. Oh, the joy of unexpected obstacles!!
But at the end of the day, I was happy to see the new deck. The old patio was almost 20 years old, so it was about time anyhow.
Let's move onto the kitchen area…
My favorite section of ALL!
We have the large Master Forge 3 Burner Modular Grill, the Master Forge o-Burner Modular Outdoor Refrigerator and the Master Forge 3-Burner Modular Outdoor Sink and Side Burners. Perfect grill set! The manufacturer advises a 24″ clearance around the grill. However, we positioned the set differently this time. The great thing about the Master Forge Modular grill set is that you can roll each section out and change the layout any time.
Building the frame for the grill needed some planning, but as soon as our grill set arrived, we outlined everything and planned out the layout right away. Then we started working on the frame and the pergola which was the biggest bite of this project. The structure is built on 2×4 poles, and the frame is covered with cement board completely.
On the picture below you see the other side of the kitchen area. We planned to add a small bar section so the hub can enjoy his drink while I am cooking (or Vice Versa :-)).
My original plan was to use the air stones ( the air stone is built onto the cement board) all around the frame, but we ended up using wood panels to the back of the frame, and I just LOVE how it turned out.
We picked out a comfy and cute outdoor dining room set. It's not too big but perfectly enough for a family of four. It's stylish, chic and comfortable.
I fancied up the space using lots of greens and plants. I hung greens on the pergola utilizing my macrame plant hangers that I made. I also used some wonderful plant stands from Lowe's to display the large plants in the space.
And at the end of the day, I truly wanted to make this entire outdoor space to be one large, cohesive space, so I decided to sew a new cushion cover to my pallet furniture and I repainted the existing pallet coffee table so everything would be fresh and beautifully styled together.
And here is this fantastic and cozy space lit up at night! Awe! So fun!
And the obligatory BEFORE and AFTER!
So what do you say??
YAY or YAY??:-))
Now to enjoy this fabulous outdoor space for months to come!
TO SHOP THIS POST, HOVER OVER THE IMAGES AND CLICK ON THE PRODUCT TAGS!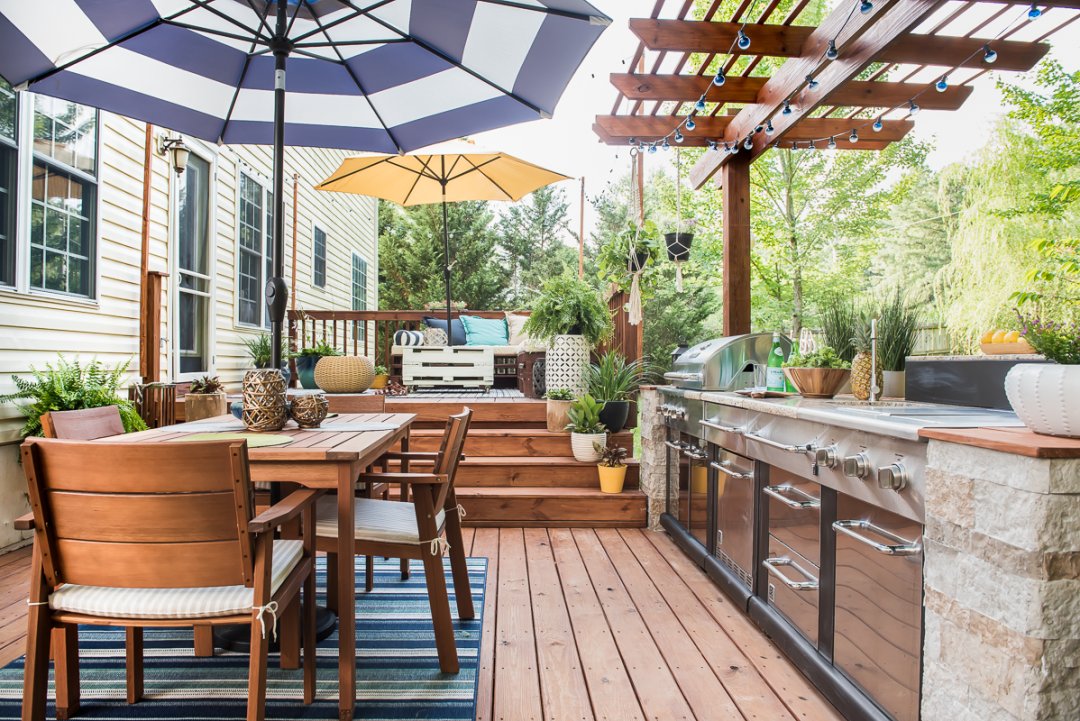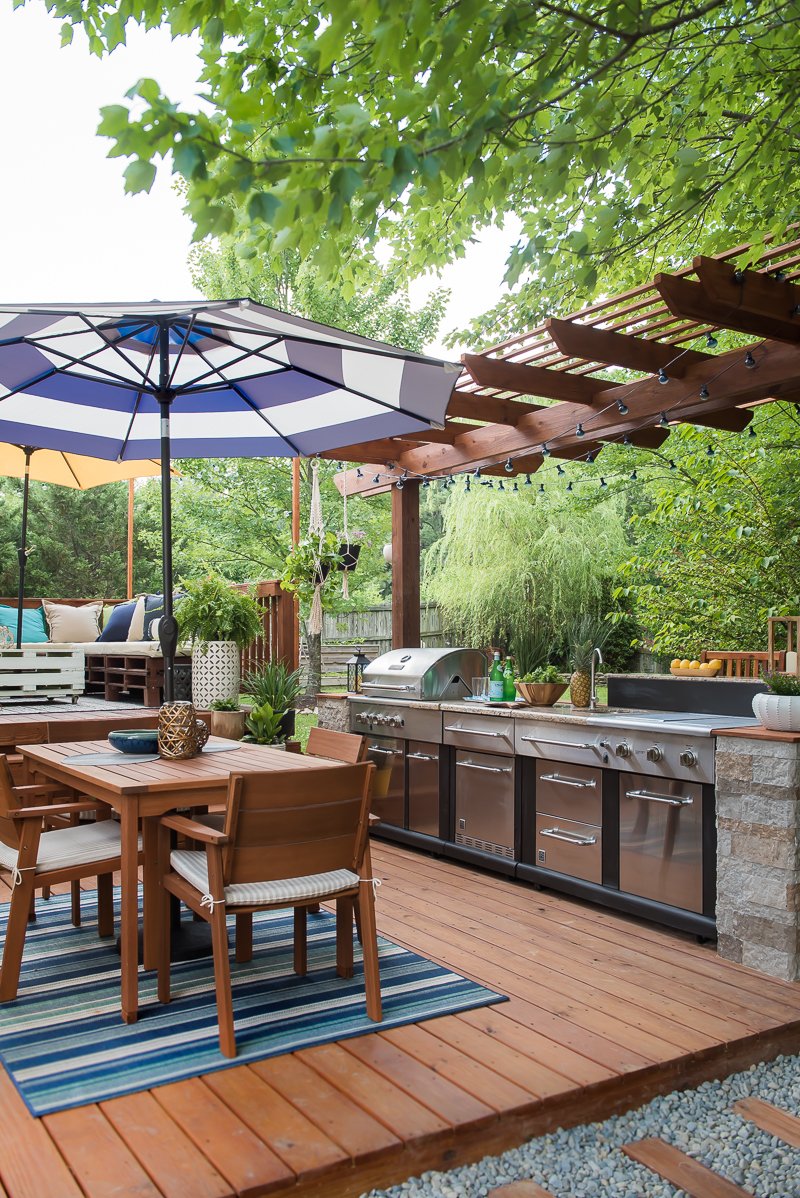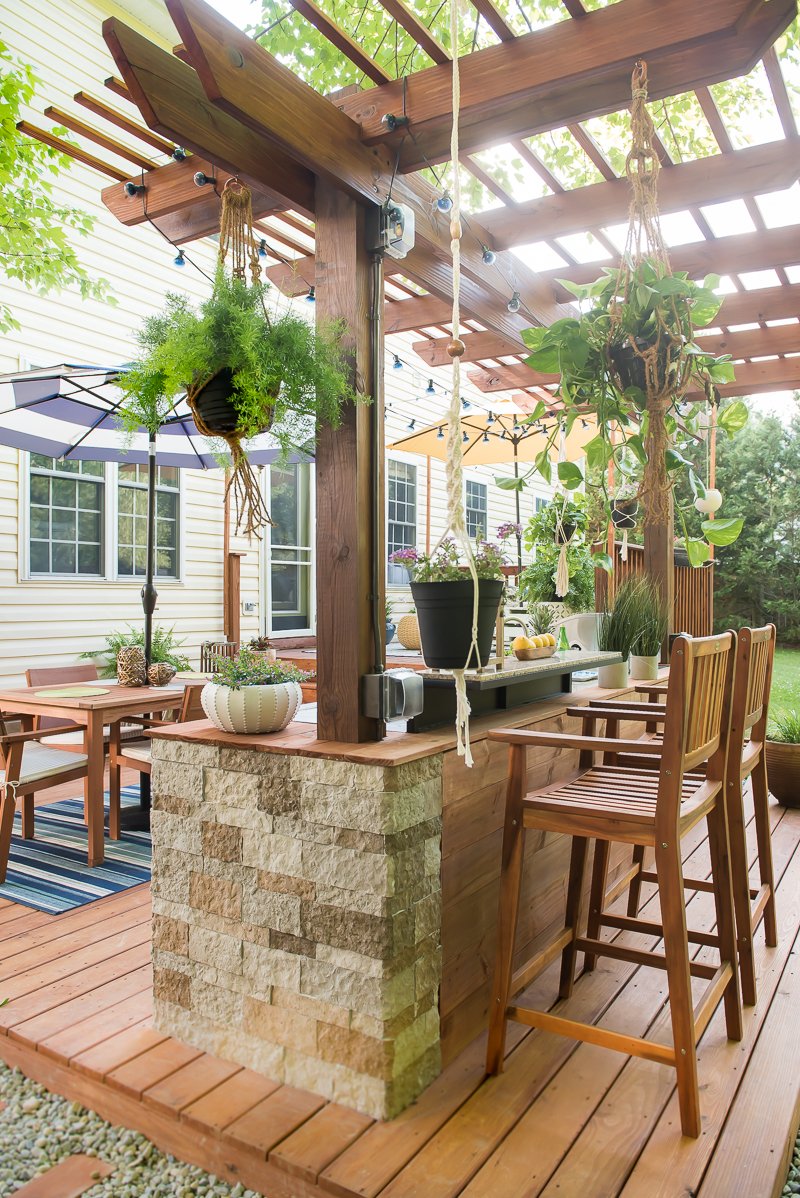 Sources:
Outdoor Dining Set
Outdoor Area Rug
Barstool Chair
Master Forge 3-Burner Modular Outdoor Sink and Side Burner
Master Forge 3-Burner Modular Gas Grill
Modular Outdoor Refrigerator
Air Stone – Faux Stone
allen + roth White Indoor/Outdoor Round Steel Plant Stand
allen+roth Navy Awning Patio Umbrella
allen+roth White Ceramic Bowl Planter
Wicker Candle Holder
allen+roth Citronella Candle
***UPdate ::: Wow guys! It's been almost 2 years since we have this paradise and we could not love it more! We love this outdoor space so much and we spend Severy possible minute out here!***
We have updated the upper deck this past summer and it got a lovely makeover. Be sure to hop over to see the PATIO UPDATE  and what we added, and how we made this space even more amazing. You can also check out these 10 OUTDOOR SPACES that I loved and used as an inspiration for some of my designs.
UPDATE 2020!!!
UPDATE 2020!!!
I get lots of questions in regards to this Outdoor Kitchen ESPECIALLY about the current condition. I am about to write up a post about how we built this space so stay tuned. And here are some current photos ( JULY 2020!) to show you guys the current condition. It's been an amazing outdoor kitchen/space for us for 4 years! And we use it a lot! Well, hello Pandemic!!!! The appliances are still in great condition and I would not change a thing in here.
Thanks for stopping by my friends! Have a wonderful summer!
Cheers,
Aniko