DIY PALLET FURNITURE – PATIO MAKEOVER
Today I am going to show you how to build an outdoor pallet furniture. I bet you're gonna love it!
So excited about today's post, my Friends, as I am so much in love with our new outdoor space!
The pallet furniture that we built is quite amazing. I feel like I want to spend every free moment out here! Oh my goodness!
It turned out exactly how I had envisioned it in my head!
Pallet furniture for your deck, porch or patio! So fun!
 I stumbled upon a few pieces of pallet furniture on Pinterest and I totally envisioned our new, colorful, fun patio in my head.
When we moved in 6 yrs ago, we bought a nice patio set which I upholstered last year, find the tutorial HERE.
I loved that makeover very much as it was a huge transformation, but this year the cushions were ready for a change again.
Of course, I love colors and, and wanted to use lots of summery colors for this outdoor project.
I made up my mood board while I was planning the. I am not big on planning my projects usually, but this time I had to,
as the fabrics were ordered online.
I think I definitely got the colors going, didn't I? ♥
LEARN TO MAKE A PALLET PATIO FURNITURE!
So this is what we started with:

A nice empty deck.
Hubby repainted the wood to give a nice and fresh look to it.
Then we picked up some pallets that were in good shape from our business place.
We have a load of shipments each week to our business, so definitely had pallets on hand!
The standard  pallet size was a bit wide for us. Needed to cut about half off to get the right width for the sitting furniture.

Then we placed the already cut pallets on the top of each other to make an L shape sectional in the corner of the deck.
(Little man was there helping of course. :-))
Hubby cut big thick legs for the sitting furniture from 4 x 4 wood panel, and we screwed those
to the bottom of the pallets with small tie plates. We attached a long 2×6 piece to the back of the pallet to balance out the furniture,
and used small tie plates to secure the pallets together.
So far it is not so bad, right? I have to tell you, the hardest part is over.
Then came a little beer time with some relaxing painting out on a sunny day. We used the same stain that we had on our deck.
I was debating if we should paint the furniture to white or some lighter color, but I am so happy that we stayed with the same matching color to the deck. It gives a nice flow together.
When the pallet sitting furniture was done we moved on to make the pallet table.
Isn't it amazing?
The table was also made out of pallets. The pallets we used for the table was a little bit smaller as standard pallet size. We stacked 2 on each other and removed the top panels. We got some nicer, weather resistant wood panels from Home Depot to cover the top of the table.
Remember that happy green from our HAPPY AND ORGANIZED GARAGE MAKEOVER? I had some of that paint left (grass cloth from Behr – weather resistant outdoor paint) so we used that to make this table pretty. I wanted to keep the umbrella, so we cut a hole in the middle of the table for the umbrella to go in there. We kept the umbrella stand (the plastic bin filled with water ) under the table (not visible).
The table also received some nice wheels so that it can be moved around easily.
Phew…That was it, my Friends! The project was completed, and we were so happy to sit down and enjoy it!
You are not going to believe, but the most expensive piece on the whole deck makeover was the foam for the sitting furniture. They sell the foam by yard, and it is pretty pricey. Over $60 per yard. I was lucky enough to find the foam for 50% off at Joann, though.
The foam was covered with outdoor fabric from OnlineFabricStore. If you missed yesterdays late post, make sure to check out the gorgeous pillow covers that we made with my Mama.
I wanted bright colors for this patio and I picked out the several different colors and patterns.
Make sure you click on THE IMAGE BELOW  to enter for your chance to win a
Now that the pallet furniture had been done, I was able to get going with the styling part. My favorite part of every projects.
The carpet is from Target, it was more than 50% off and the big lantern was also on sale.
My friends always tell me that I am the luckiest bargain shopper ever, I tend to find the best of the best deals.;-)
The pallet flower hanger which is leaning to the deck was also DIY-ed. Check on how we made it HERE.
Do you spot those fun coasters? I will share the tutorial on how to make those next week.!
Oh…I am loving this view. So happy that we tackled this project!
I really to hope that I inspired you to recycle some pallets and build your own outdoor furniture!
Pin this image for later to remember.
 Our deck is much more spacious now compare to what it was before. I can hardly wait to get home every evening,
and sit out here with a glass of wine while the boys are running around in the back yard.
It's happy, relaxing, inviting and it is exactly what a great outdoor space should be.
Here is the breakdown of costs:
Pallets: FREE
Paint: we already had it on hand
Fabric: To cover all the pillows and the foam : $100 ( Online Fabric Store provided me with a $50 gift card:-)
Foam: $140
Carpet: $26 (Target)
Lantern : $11 (Target)
Outdoor stool : Sam's Club ($40/peice)
Wood panels  and tie plates from Home Depot: $25
2 chevron pillows from Target: $7/piece (50% off:-))
Coasters: $2 (8pc tile from Home Depot)
Tray: $4 (from Goodwill – upcycled)
Total cost: $350
So what do you guys think? Will you start making your pallet furniture? I am so glad we did!
Thank you so much for reading today!
Xoxo
See this patio with fun STRING LIGHTS
And here you can see my PALLET PATIO REFRESH ( 2 YEARS LATER)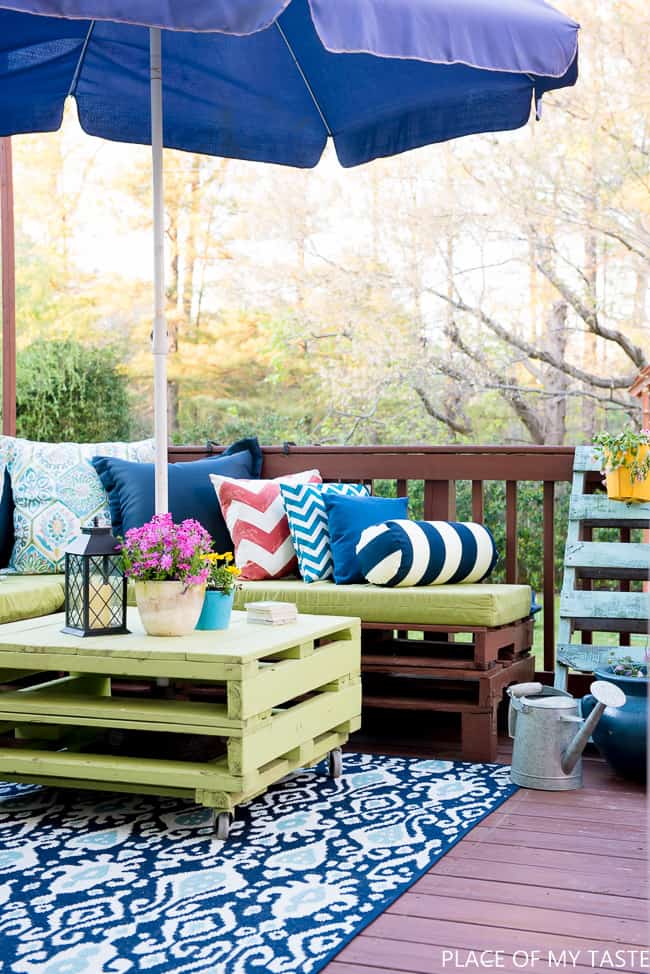 ***UPDATE***
This project was featured in Better Homes and Gardens July issue this summer.
Absolutely humbled and honored to see this project being featured in my favorite magazine!
Read more on the behind the scenes with BHG