French Apple Tart with Puff Pastry
This Page May Contain Affiliate Links. Please, read our Disclosure Policy.
Looking for an impressive dessert to serve at your next party? Look no further than this French Apple Tart with Puff Pastry! This tart recipe is easy to make and sure to impress your guests. The puff pastry adds a delicious buttery flavor and makes the tart look elegant and professional. Serve this tart warm or cold, with a scoop of vanilla ice cream if you wish.
Apple season is here, and I could not be more excited! There is nothing better than biting into a crisp, juicy apple, especially if the apples are freshly picked. Using fresh, crisp apples – gala, fuji, granny smith apples, honeycrisp or basically any fresh apple would do – for this French Apple Tart with Puff Pastry is the perfect way to enjoy fall's bounty.
It was super cold in VA yesterday. And I love nothing more than baking on a cold fall afternoon. The smell of apples (and cinnamon- if you wish) filling your kitchen will make your whole house ( or, in my case – my camper!) smell amazing.
Even though this easy french apple tart looks like it would be difficult to make, it's actually pretty simple and only takes 5 minutes to prepare. Oh and did I tell you it only needs a few ingredients?
This time wanted to experiment, and I baked the French Apple Tart in my Halo Outdoor Pizza Oven. And wow! It was fast, and the pastry baked beautifully. If you love outdoor cooking or Pizza baking in general, be sure to check out this amazing Pizza oven.
Use code: placeofmytaste to get 5% off the retail price.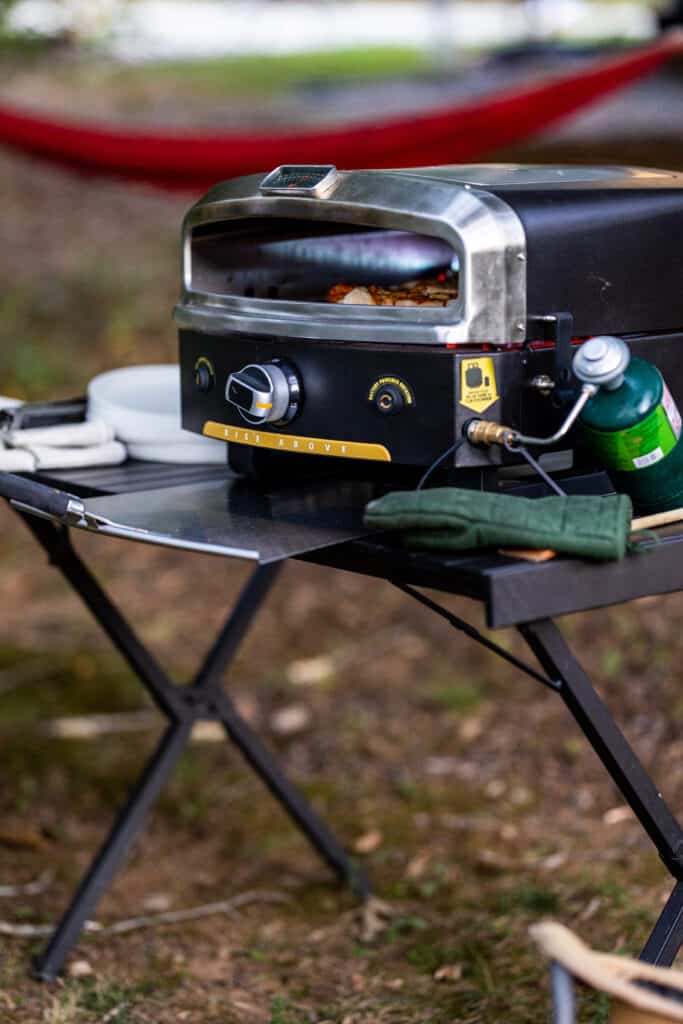 As I mentioned, I experimented with baking in the Versa 16 pizza oven, but you can use your regular one preheated to 400 degrees to bake this pastry to perfection.
To make this french apple tart, we use a store-bought puff pastry sheet, but you could also make your own puff pastry from scratch. I love using store-bought puff pastry as it's no mess, but simply roll out a sheet of puff pastry dough, then transfer it to a parchment paper lined baking pan. If you don't use the whole box of puff pastry, you can store the leftover in the fridge for a day or two.
TIP:
To make this easy puff pastry apple tart shine – use a glaze on top. It's good to use apricot jam (because it has a nice yellowish color), or you can also use apple jam to brush the apple slices.
French Apple Tart with Puff Pastry
Looking for an impressive dessert to serve at your next dinner party? Look no further than this French Apple Tart with Puff Pastry! This tart is easy to make and sure to impress your guests.
Ingredients
1 sheet of frozen puff pastry, defrosted in the refrigerator overnight
3-4 G large apples, peeled, cored, halved and cut into 1/4 inch slices
1/2 cup sugar
2 tablespoons melted butter
1/2 cup apricot or apple jelly
Instructions
Preheat the oven to 400 degrees.
Line sheet pan with parchment.
Roll the puff pastry out to about 10 x 14 inches. Put the pastry on the prepared sheet pan and set o the side as you prepare apples.
Peel, core, and slice the apples.
Place overlapping slices of apples in rows over the puff pastry. Use any pattern you wish. Sprinkle with sugar, then brush with melted butter.
Bake until the pastry is browned and the apples start to get a nice color.
Brush tart with the jelly, and allow it to cool completely.
This French Apple Tart is soo good, it won't last long! The crust is so good! Slice it, sprinkle it with powdered sugar (optional), and serve it right away. And don't forget to enjoy every last bite!
Some frequently asked questions:
What is the difference between pies and tarts? While pies look covered from all sides, tarts are open from the top and you can easily see the filling on top. 
What kind of apples are tart for baking?
One of the most popular tart apples, Granny Smiths are crisp and quite sour. They're a good all-purpose cooking apple, and their flavor is enhanced when paired with sweeter, spicier apples in pies and crisps.
If you love baking with apples, be sure to try some other easy desserts from below.