GARAGE STORAGE WALL – BUILD IT YOURSELF
I can not believe that finally I am posting about our garage organization project. I have to admit that I am not very good at organizing things. We have WAY TO MUCH crap and it's pretty hard to organize all that. I think all of us have a dream garage pictured in mind. Am I right?
Well, my dream garage formed in my mind last summer when I posted about my GARAGE ORGANIZING IDEAS. The mess we had in the garage was unbelievable. Every time I entered the garage I got so pissed off as I could not find anything in the mess. I am a keeper and I can not throw things away. I actually got a little better about it lately and I took a few packed bags to Goodwill.

Are you ready to see what we had in the garage? Yeah, I am not so proud of it, but I wanted you to see!
I wanted you to see, just because you have to believe that everything is possible! It's possible to get a space like we had, organized!
Eeeek… It still hurts to look at it!
I spied an IKEA rack that I really loved but it was  a little bit on the pricey side. Then I found a great tutorial of how to build a garage storage wall  from The Family Handyman. I knew that it will take some times but I really loved the idea of how he put this rack together. I am not going to get into details of how to make it as he has a wonderful tutorial on his site and if you will follow his instructions you will  be able to build this amazing garage storage wall.
All you need is  some handy tools , 2 x 4 – s , 2 x 2 -s, some colorful paint ( I loved this green that I chose) and storage bins to make this incredible transformation and create a fantastic  and organized space.
We have lots of little motorcycles and bikes that are now parked under this huge storage wall.
I bought these bins at Walmart to organize everything that we had laying around. It holds all sort of stuffs…shopping bags, leftover fabric pieces, seasonal decorations etc.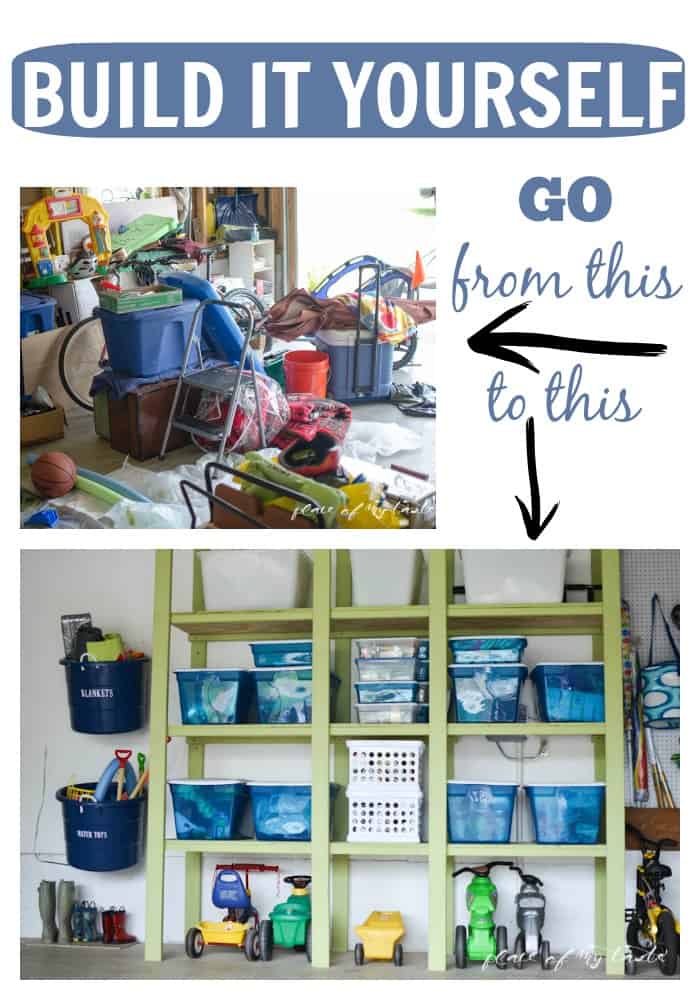 What do you think?
Did I get you inspired to build yours?
We started  the garage organizing project last summer and of course we could not finish it due to lack of time. Sometimes it's hard to get things done with the boys running around:-)
Then the winter months came and we left the whole organizing project on the side. Now, that the weather is nice again it was just time to get our hands on the garage again and finish it up!
Make sure you come back tomorrow, there will be another great garage organizing post coming up!
Thank you for reading!
Have a great day!
X0x0