Disclaimer: This post may contain affiliate links. If you click through and make a purchase, I may earn a commission. This is at no additional cost to you. Full disclosure here.
It was a big bite! 🙂
But we have done it, and now it's time to show you Lola's new face.
If you have been following along, you know the whole story, but if you are new around here, hop over to read about why we decided to buy a camper and the big plan. (Update: It's been 19 months since we bought our camper, and we are still traveling…)
We are currently on the road traveling the US for a few months (YES! Super honored for this opportunity!), so the camper is in use daily, and I am proud to say that we are traveling with style.
I say it was worth every second of elbow grease.:-) Renovating a camper was not like working on a house – it was a lot more intense and had a learning curve. But of course, part of it was that we were short on time, so we had to work on the project non-stop.  We took this baby apart and made it ours in just three weeks. I know it's crazy to even think of it, but the good news…we are still married, haha! And when I say we worked EVERY SINGLE DAY on this project, I MEAN IT! We almost divorce at the end of every project. 🙂 I guess that is what makes us stronger each time!
Lola, the trailer got a facelift, and now it's time to reveal it and share details on what we have done, how much we spent, and what tips and tricks we have for those who are thinking about a DIY camper renovation.
I also share some AWESOME and EASY DIY projects below that helped us make this camper look what it is today.
DIY FLOATING SHELF (coming up)
HOW TO ADD LAMINATE FLOORING TO A TRAILER (coming up)
WOOD ACCENTS FOR RVs and TRAILERS (THE SUPER LIGHTWEIGHT ONE!)
PEEL AND STICK TILE FOR CAMPERS
I think these projects can be done in a regular house, too.
ARE YOU READY TO DIVE IN AND SEE THE NEW LOLA CAMPER RENOVATION DIY?
Here are some before and after pics for you guys to check out. Move the slider to see the before and after of space.
AND HERE ARE SOME ADDITIONAL PHOTOS because why not..!?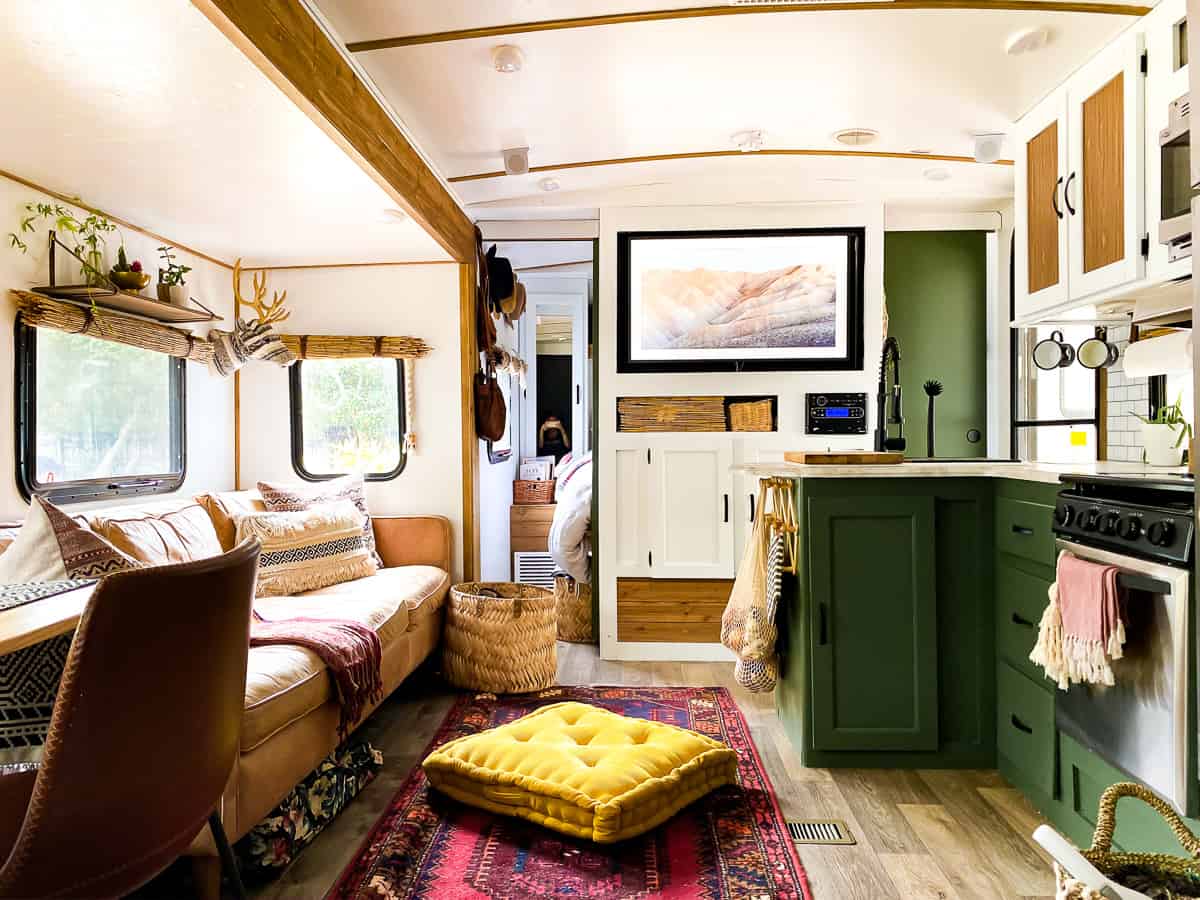 And lastly, here is a quick video tour of the camper:
We are so in love with this camper. She is the cutest, isn't she?
As always, thank you for following along.
And be sure to check out the new camper that we also transformed to be our style.
Cheers,
Aniko