NEW ENGLAND FALL ROAD TRIP
We traveled up to New England during the fall to experience the OH SO BEAUTIFUL fall foliage everyone raves about. Our trip to the NorthEast did not disappoint, and I would go back again any time. In this post, I am sharing our New England fall road trip – the places we have visited, the campgrounds we stayed at with our fifth wheel, and some restaurants that we loved.
At the end of September, we left Virginia with a rough plan on what stops we would love to make up in the NorthEast. Our original plan was to start our travels in New Hamshire then make our way up to Maine. But we quickly changed that travel plan after doing a little research and finding the super helpful fall foliage map online. We realized that we needed to start our New England trip on the farthest point in North, where the leaves changed slightly earlier.
The only way to make the best out of the New England fall road trip is to be flexible and not plan ahead- in my opinion. Or you can plan, but then there is no guarantee that you will catch the best timing for the leave changes. The time window is about three weeks; it goes from the last week of September to Mid October. During this period, the foliage peak can happen at any time- depending on the weather.
Below is the map that includes each stop on our trip to New England. We could not get to some places due to lack of time, but I left it there for those who might fit more things into their schedule.
Maine is the largest state in the New England region. We mainly focused on visiting Acadia National Park in the Bar Harbor Area as we had limited time, and we did not want to miss the New Hampshire stops at the peak of the fall foliage.
We parked our home on wheels at the Narrows Too Campground during our Maine stay, about a 25 minutes drive from Acadia. It was a convenient location to the park. We used our Thousand Trails Membership, which allowed us to stay for no charge during our stay. ( if you are a full-time traveler, I highly recommend looking into the TT membership options).
Acadia's attractions are all about enjoying the great outdoors. There are plenty of activities to do in the park for all ages. The list below shows you the main points we hit up during our one-week stay.
My two favorite stops at Acadia were Raven's Nest at Schoodic Peninsula and Jordan Pond.
We spent the first week in October in Acadia, and the leaves just started to change while we were there. By the end of the week, we had seen all the colors, though.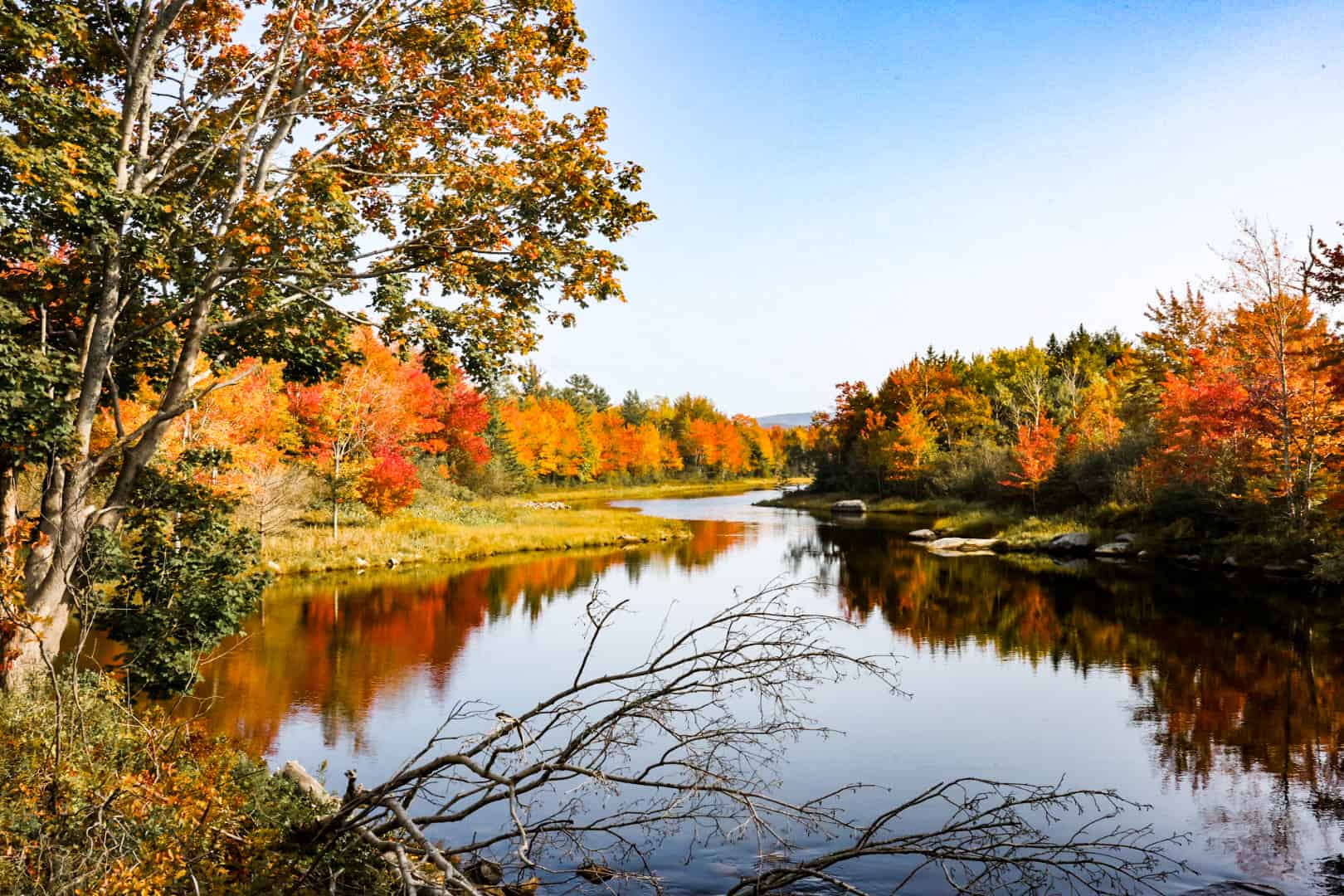 I have a separate post on Acadia National Park coming up. If you spend more than a few days there, check out that more detailed post on it soon.
Our favorite places to grab a bite in the Bar Harbor area were:
SIDE STREET CAFE (great food all around!)
PROJECT SOCIAL KITCHEN & BAR (great small plates and craft cocktails)
BLAZE (the best pizza I had in a long time!)
2 CATS BAR HARBOR (breakfast)
TRENTON LOBSTER ( for Lobster lovers)
After one fantastic week in Maine, we moved to New Hampshire on the 10th of October. Little did we know that most campgrounds close for the season in mid-October up in the North East. We lucked out as I found a great KOA in the White Mountain area- KOA at Lincoln/Woodstock (last minute), and I was able to book it for an entire week ( it was the best KOA we have ever stayed in!). The campground was an excellent location for all the things we wanted to explore during our New England road trip in the fall. The furthest drive we had to do was two hours, but it was a beautiful scenic drive, so it was not bad at all.
NEW HAMPSHIRE MUST SEE PLACES IN THE FALL
DIXVILLE NOTCH
Dixville Notch was about a 2-hour drive from Lincoln, and we did not end up traveling up due to not having enough time. Initially, we were going to Dixville Notch straight from Maine, but we were chasing the leaves and did not want to miss the foliage peak in other areas. But if you have the time, be sure to travel up there; I heard it's incredible.
ARTIST'S BLUFF
Artist's Bluff is a 2.2-mile moderate hike in Franconia Notch State Park. It was a quick 15 minutes drive from our campground.
I loved this hike a lot.
We all LOVED this hike a whole lot. Even Boomer, our golden doodle, was a trooper all the way.
I like to go to Alltrails to get details about our hikes. It always gives me a good start on what to expect. AllTrails directs you to park at Echo Lake right across the street from the trailhead. We did not park at Echo Lake, but there was a sign for extra parking a little further down the road passing the Echo Lake Parking lot.
There are three ways to get this hike done.
You can choose the short way up to Artist's Bluff and make your way back down. It 's the fastest and shortest way to go if you only want to get to the Artist's Bluff viewpoint.
2. The second option is to start the same way but continue the loop all the way around and take the short side road up to the Bald Mountain viewpoint. It's so pretty up there! You get a lot better view ( in my opinion) than from Artist's Bluff.
3. Lastly, the 3rd option is to make the loop go clockwise – this is how we did it. Starting the loop clockwise is more challenging as there are lots of steep rocky areas on the way down.
This hike is considered "moderate" by AllTRails; I recommend you watch your steps all the way.
After this beautiful hike, we walked down to Echo Lake and grabbed a snack while enjoying the stunning views and reflection in the lake.
KANCAMAGUS HIGHWAY
The Kancamagus Highway is a 34.5-mile scenic drive along NH's Rt. 112 in Northern New Hampshire that is well known as one of the best Fall Foliage viewing areas in the country. There are several points/overviews you can stop along the way.
Sabbaday Falls was an absolutely gorgeous and super short hike. This trail leads to a scenic waterfall and is a short hike for all ages—a very peaceful walk along the river.
If you have only time to hit Kancamagus Highway, you will have a ton of gorgeous stops along the way. Rocky Gorge was beautiful. We loved walking around on the rocks. Oh, and talk about all the bridges you will see in New Hampshire.
FLUME GORGE
Flume Gorge was also very close to our campground, and it was an excellent hike. The Flume is a natural gorge extending 800 feet at the base of Mount Liberty. The Flume Trail is currently a one-way ( due to Covid), 2-mile loop starting at the check-in booths located in front of the Flume Building. The entire loop takes approximately 1.5 hours.
The walk includes uphill walking and lots of stairs. The boardwalk allows you to look closely at the growth of flowers, ferns, and mosses found here— an absolutely stunning hike. There is a fee, though – $18/adult and $13/kid, but it is worth every penny.
CONWAY SCENIC RAILROAD
Going to see/ride this iconic train was on my list, but WE could not make it there. Heritage rail excursions and a scenic train ride through New Hampshire's Mount Washington Valley and Crawford Notch are great. They offer different rides. If you can, look up CONWAY SCENIC RAILROAD and squeeze a ride into your schedule.
---
Our favorite place to grab a bite close to Lincoln was:
WOODSTOCK INN BREWERY (great food )
And we got to the last part of our New England Fall Road trip. We expected to rain on our last two days, so we took a quick trip to Vermont on the last day before the rain rolled in. We drove to Stowe, the cutest little town, visited the iconic Sleepy Hollow Farm, learned how they make maple syrup at Sugarbush Farm, and drove up to Smuggler's Notch State Park.
SLEEPY HOLLOW FARM
The iconic farm is a very famous spot for photographers. There is construction around the house area currently, and now there is a gate that won't allow people to get beyond a certain point.
We spent very little time in Vermont. But it was just enough to fall in love with it.
After visiting Sleepy Hollow Farm, we visited Sugarbush Farm to learn how they make maple syrup. We bought a few bottles of syrup and some delicious smoked cheese that they also produce right at the farm.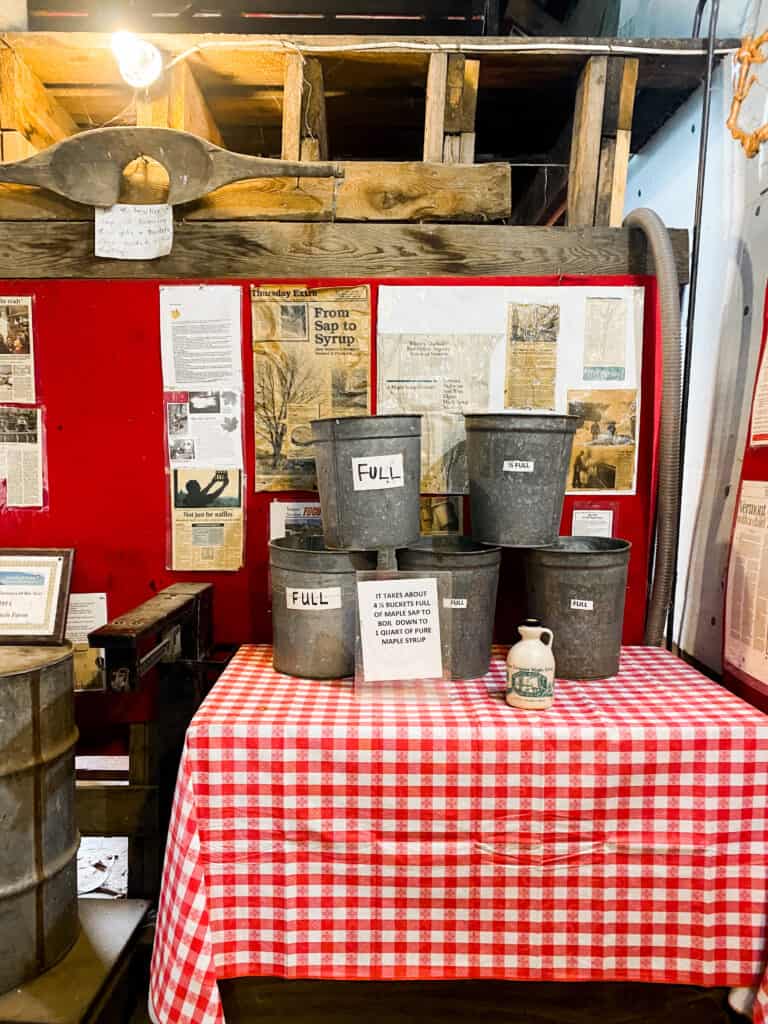 STOWE, VERMONT
We drove through Stove quickly. Unfortunately, the rain got above us, so we could not walk around much, plus we still had a two-hour go back to Lincoln ahead of us.
Our favorite places to grab a bite were:
IDLETIME BREWERY (great food all around!)
We loved our two weeks in New England. Truly a MUST see during the fall season!
We are currently in Massachuches for another couple of weeks to check out Boston and the surrounding area.
Stay tuned for that post soon!:-) And then I am planning to get caught up on our last years of travel posts:-)
If you care for any of our favorite camping stuff/ hiking gear or photography gear I use, be sure to click on my STOREFRONT to check my list out.
Thanks for visiting today. I hope you will save this post for your upcoming New England trip.
PIN THIS NEW ENGLAND FALL ROAD TRIP POST FOR LATER!
Thanks for visiting!
Cheers,
Aniko