SMALL LAUNDRY ROOM MAKEOVER
Here we go! Finally, I am sharing our small laundry room makeover with you guys. New Year, New decade and here is our newest and latest DIY makeover.
But let's go down on memory lane first.;-)
We have a small laundry room on the second floor. To tell you the truth, I never really loved this space in the house. When we moved in, I chose a red washer and dryer pair, which I obviously loved at that time, but I was not so crazy about my red washer and dryer choice a few years later.
Oh well, I just shut the door and tried to ignore this space as much as possible.
And when I say tried to ignore my laundry room, I mean I don't like to do laundry, haha!
But now having a chic and amazing space now, I might change my mind on that statement.:-)
So…Here is the BEFORE pic of my laundry room.
Can you see why I wasn't crazy about this yellow/red combo anymore?? My style evolved so much in the past years that these design choices were not fitting in anymore.
I had hoped that one day I could incorporate a chic and stylish design for this space utilizing every inch in this room. And now having the makeover done,  I think I accomplished what I planned for our laundry room makeover.
When I  start a room design, I always create a mood board and It looks like I stay pretty darn close to my plans usually.:-)
So first things first…Let's see how we started this small laundry room makeover!
We decided to tile the room with penny tile, and NO, we did not tile ourselves, but we had professionals do the tile job. 🙂
And then, I chose a dramatic peel and stick wallpaper to add to one side of the room as an accent wall. Ghaw! So cool, isn't it??
I fell in LOVE with this design as soon as I spotted it HERE. Such a dramatic and beautiful wallpaper – I am so happy that I went with my gut! I think I will share a post on how easy it is to install a peel and stick wallpaper.:-)
Then we added a beautiful washer and dryer, which I wanted to be stacked on top of each other for saving space in the room. We built a shelving system around it to maximize the space/storage area. I wanted to make sure I have a folding area (it's a must!!), as well as a storage area that's not necessarily visible. I also wanted to make sure that I have a space for drying/hanging clothes I don't put in the dryer.
And believe it or not, I came up with the macrame design and macrame fringe lighting fixture last minute.
My last-minute design decisions or projects tend to be the best of the best!
I can hide things behind the macrame curtain that I don't want to see. Like a blue detergent bottle lol!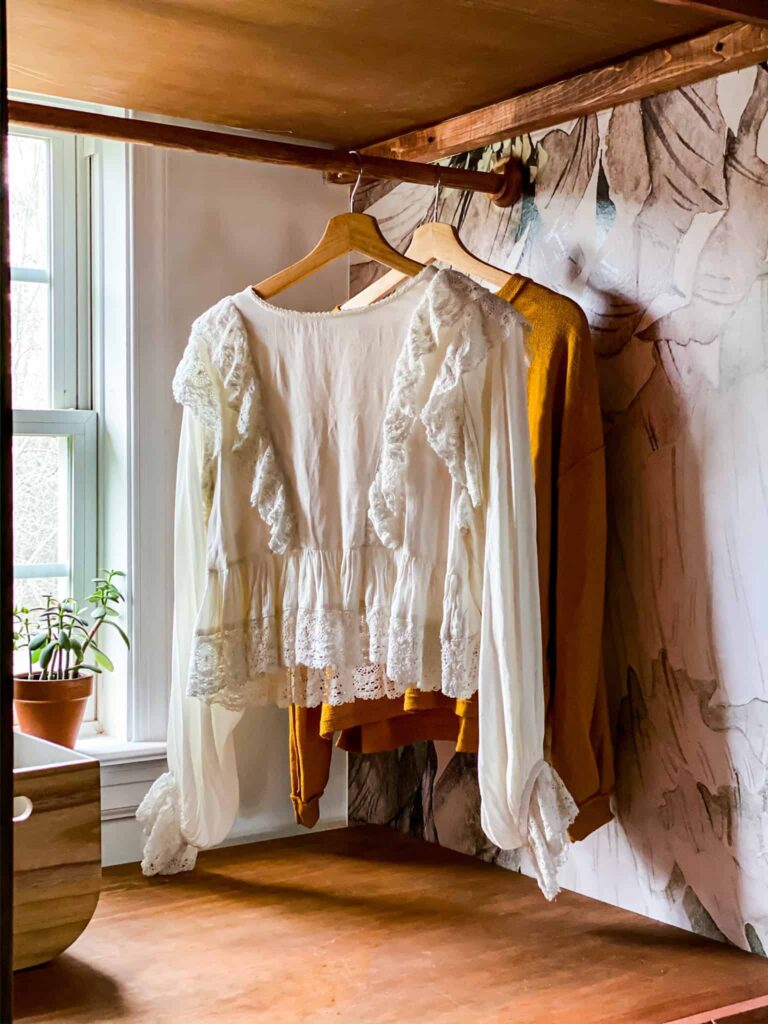 LAUNDRY ROOM MAKEOVER for the win!!
What do you think?
It's safe to say that I changed my mind on LOVING to do laundry! I want to stay in this room and fold away, haha!
Oh and let's not forget about this cool SLIDING DOOR we built a few months ago!:-)
I will be back with a full tutorial on how we built the shelving unit.
Thanks for checking in!
Cheers-
Aniko