This is a sponsored conversation written by me on behalf of Silk. The opinions and text are all mine.
Nothing quite says FALL like pumpkin…. Pumpkin Pancakes, Pumpkin Spice, Pumpkin pastries, Pumpkin pasta- there seems to be no end to the versatility of this fantastic harvest! Make sure to try these 10 PUMPKIN FLAVORED RECIPES and this PUMPKIN CHEESECAKE too!
DELICIOUS VEGAN PUMPKIN PANCAKES
These babies turned out beautiful AND so tasty. I feel like sometimes I get one or the other, especially when I am using new ingredients. Going plant-based just meant a few simple swaps to a standard pumpkin pancake recipe. I love the idea of using nut milk! I've been skeptical in the past because- they can't taste as good as real milk right!? But I have been pleasantly surprised at how much I really enjoy the taste.
So, I went to Target (you know you can always order stuff at Target.com too) and picked up this Silk AlmondMilk and a carton of So Delicious Unsweetened CoconutMilk. **sidenote: Make sure you download the Target app to save 10-15% on certain Silk and So Delicious brand items from 10/14/18-11/11/18 too! Just go here.**
Then I veered slightly off course when I saw this Hearth & Hand Set of 4 Wooden Plates and these kitchen towels, and these other kitchen towels- also by Hearth & Hand. You have to see all the Hearth & Hand™ with Magnolia it is one of my favorite brands lately.
Back to the pancakes. I know I like the flavor of nut milk now, but…
Can you cook with AlmondMilk?
Only if you want the freshest tastiest food to eat- like ever! So, um- yes! You can totally cook with almondmilk. I actually added some coconutmilk to my recipe too. Go big or go home, right? Here is the recipe!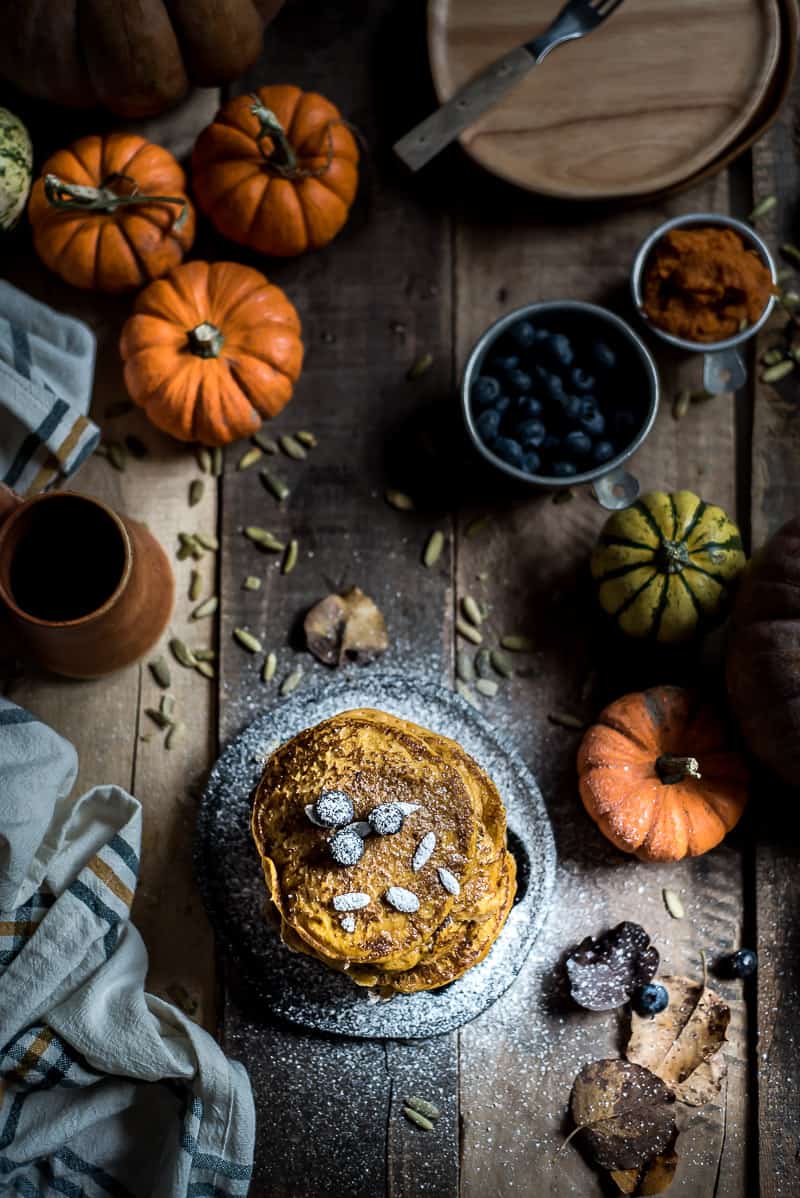 VEGAN Pumpkin Pancake Recipe
VEGAN PUMPKIN PANCAKES
Author:
Prep time:
Cook time:
Total time:
The best pumpkin pancakes are totally vegan!
Ingredients
1 c.all purpose flour
1/4 c. brown sugar
2 tsp baking powder
1 tsp ground cinnamon
1/2 tsp ground nutmeg
1/4 tsp ground cloves
1/2 tsp ground ginger
1/2 c. pumpkin puree
3/4 c. coconut milk
2/3 c. almond milk
pinch of sea salt
1 tbsp extra virgin olive oil
Instructions
Put the flour, sugar, salt, baking powder and all the dry ground spices in a bowl and stir and smash gently with a fork until they are all sifted and well distributed.
In a separate bowl mix the pumpkin, coconut, and almond milk until well combined and smooth.
Add the wet mixture to the dry and stir well. Add a little more coconut or almond milk to get your desired texture. The more liquidy- the thinner the pancake. Less liquidy is fluffier.
Heat a skillet to medium and add a small drizzle of the olive oil each time you add batter.
Flip when you see small bubbles appearing in the uncooked side.
Serve warm with syrup, confectioners sugar or both!
A sprinkle of confectioners sugar adds a bit of whimsy. Add pumpkin seeds for texture and good plant-based protein too.
A drizzle of real maple syrup brings all the flavors of fall together for me- oooh- maybe a scattering of crushed pecans would be nice on top too!
This is a perfect Saturday morning Fall breakfast!
Who would say no to these!? No one in my house… but did I make enough to share? 🙂
Do you like saving $$$ like I do? Download the Target app to save 10-15% on certain Silk and So Delicious brand items from 10/14/18-11/11/18 too! Just go here.
You too can make this gorgeous seasonal treat- but might need to double the recipe to feed everyone. Because who doesn't love a good stack of pancakes!?
Cheers,
Aniko