WALK-IN CLOSET MAKEOVER WITH IKEA PAX WARDROBE
I am a Brand Ambassadör for IKEA U.S. This is a sponsored post.
I have been waiting for this day for so long as I was itching to share my walk-in closet makeover with IKEA PAX WARDROBE with you guys. I shared some sneak peeks on Instagram throughout the process, and now that it is entirely done, I am super excited to share the final closet reveal with you!
First things first…
I am a fashionista. Ok, maybe not a fashionista but I tend to have way too many clothes in my closet as I like to follow the current trend. And I've always had a hard time keeping my clothes organized. But not anymore! My new, brilliant walk-in closet is bright, pretty and immaculately organized and I have a feeling that it will stay that way because the system I have now. I've been dreaming of a beautifully planned, organized closet for years and now that I have it I am one happy gal.
Before we get into details, I think you should see what I was dealing with for the many years prior. I had the sort of builder grade standard closet (system) that many of you probably have with the wire shelving. It's was a disorganized space, and clearly, I could not keep it tidy.
The closet alone is a weird shape as there is a little nook on the far left that almost hardly accessible. My goal was to fully maximize my closet space and of course, going through and purge all my clothing.
I am a huge IKEA fan!
Every time I visited the store and walked by the wardrobe area, it made my little heart go pitter-patter. IKEA has a fantastic closet organizing system, called the PAX system. What's great about the PAX system is that you can go online and use their PAX online storage planner. You can type in the measurements of your closet space and custom plan your closet for your needs. Isn't that cool?!?
IKEA PAX Storage Planner…
I played around with different frames and variations until I found the perfect system for my closet space.
Installing the PAX closet took us a couple of days but following the instructions made it super easy.
And now take a look at my finished walk-in closet space….I swagger in here, and I feel like I walked into Carrie Bradshaw's closet. But for real!
I can't even believe that it's the same space, guys! I purged a lot but nearly not as much as I thought I would. It's incredible how easily all my clothing fits into these organized units. Everything has its place, and I know it will be a breeze to keep it this way.

AND these Features!
All the features that are available with the PAX system are just fabulous.
Just look at the pants hangers, and these pull out trays that can help keep my jewelry and belts organized.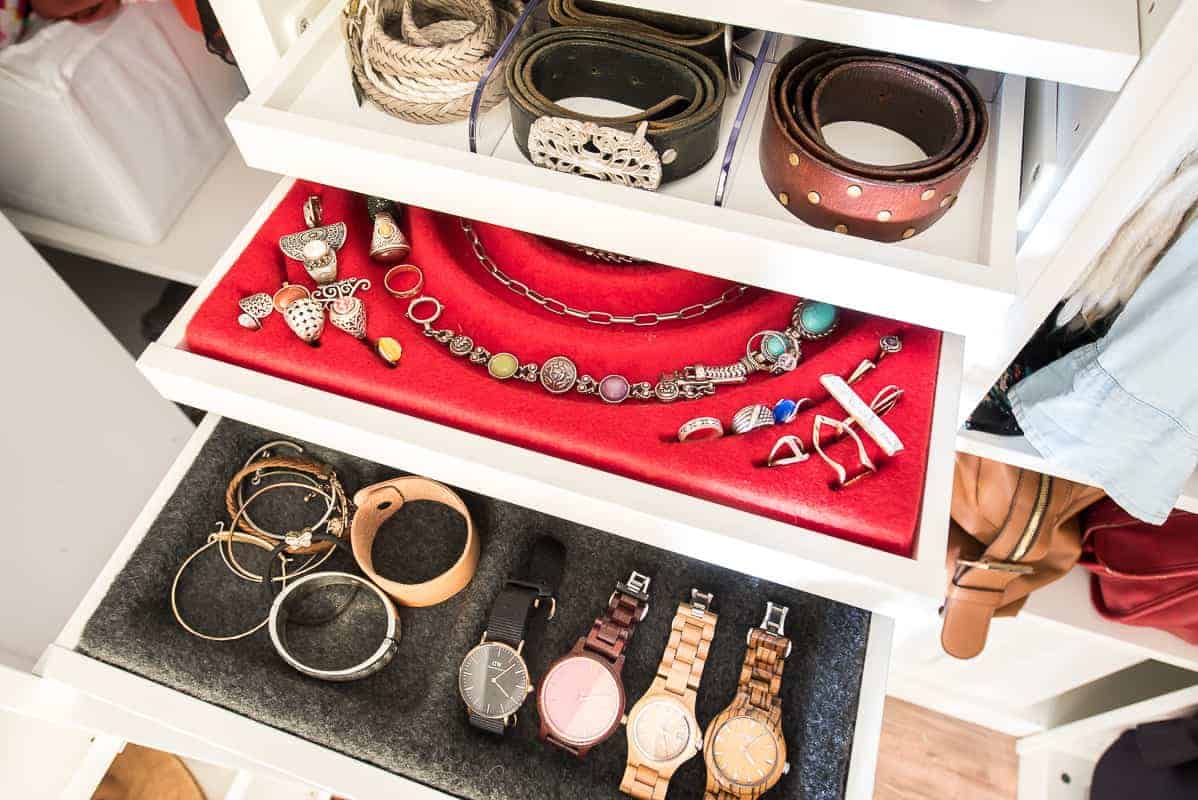 The entire wall on the right is fully maximized. I love the pull-out drawers that can hide things that aren't so pretty to display.
The pullout hooks are my faves! They are perfect to store long necklaces and scarfs.
I am super giddy about my pretty, bright and organized new walk-in closet. These pictures are not staged, this is the real deal, my friends!
For lighting, we added the IKEA URSHULT led cabinet lights, and I made a macrame lantern to complete the space to my taste.
What do you think of my new walk-in closet? I can't wait to read your comments, so please share your thoughts and let me know if you have any questions.
I highly recommend the PAX system for anybody who is looking to maximize their closet space!
Want to organize your closet? Here are some great ideas to get you started.
Have a beautiful day. I'm going to (effortlessly) find something to wear… in fact I may change my clothes three times today- or just hang out in my closet and smile like the cat who got the mouse. Thanks, IKEA!
Pin this post for later!
Cheers,
Aniko