Today I am sharing a fun and chic entryway decor update.
It's about time to share my very first project this year. Yay!I took blogging very slowly in the first couple of weeks in the new year, and it felt great. I slept, I spent lots of time with my family and had been away from projects. Phew! This little entryway decor update was tackled at the end of last year, but it just did not fit into my schedule to share. I wanted to share it tho, as I am in love with this quick little DIY project. If you remember, we transformed our messy playroom ( our living room downstairs was turned into playroom when my kiddos came along) into a fun family room. This living room opens directly from our entry way. With the new LIVING ROOM DESIGN, I wanted to have an entry way that kind of match our living room style.
Here is a peek of the living room in case you don't remember. And you can see more of the living room reveal HERE.
I started getting inspirations from Pinterest, and I could not get this image out of my mind. It just stuck in my brain, and I could see our entry way tackled in a similar way with a little DIY, of course:-)
On the image below you can see our entry way before. Read more about it HERE.
So you might ask yourself I was crazy to change this pretty cheery entryway? Well, I would be lying if I said we did not love it. We LOVED this entryway. It was a fun, lively and functional in every way and I was delighted to see this lovely design every time I stepped into our home. But you know, I wanted a change. A slight little change so the entry way would nicely flow with the living room decor:-)
I got rid of the shelf and the IKEA shelving unit that was made into a bench. While the kids were small, we used this bench a lot but lately, not so much. I thought that bench could be replaced maybe with more functional baskets ( that I already had on hand).
We made a fun coat hanger and a rack that holds baskets.
Materials:
2×4 wood panels cut to size
( I had two different size cuts; one for the upper rod and one for the rack for the baskets below that)
simple white drawer knob
sharpie pen
I stained the wood with dark walnut stain as a first step. I let it dry thoroughly.While I was waiting, I drew black lines onto my double rope hooks to make the look a little more stylish and interesting.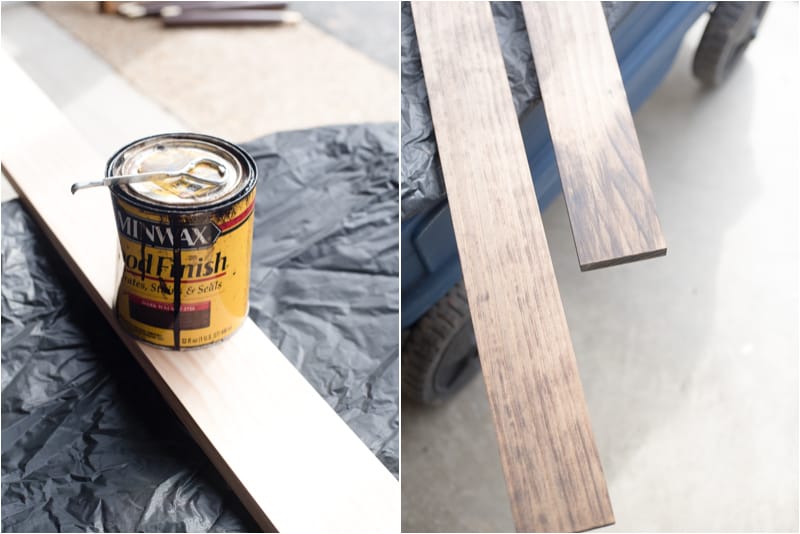 I taped the hooks with painters tape, and I drew black lines across. It was a pretty quick little project and I loved the final look.
Then we screwed the hooks into the stained board, and we attached our board to the wall with screws. We tried placing the screws where the hooks were, so the screw tops are not visible at all.
Then for the lower hanger, I screwed on the single white door knobs.  I pushed a piece of rope through the basket then I hung the basket on the door knob.
That was most of the project. Pretty simple and very impressive, isn't it? I just love the black and white and brown hues working so well together. These neutral colors flow very well with the living room design.
I also love that we gained all that space, and I was able to add baskets down to the floor. Those baskets hide sweaters, hats, mittens, vests and many more everyday clothing pieces. I have hooks for my kids jackets and their backpacks.
The magazine rack stayed, the only thing I changed its position and I took the brown back panel off. I adore this organizer. I drop in letters, outgoing mail, papers from school, magazines and all. I also kept the cork board organizer ( I changed the fabric last year). This cork board is pretty darn good to pin on birthday party invites, photos, and reminders.
Oh, and the keys found their home, and on the upper hanger bar too. It's just a perfect little hook to drop our keys onto.
So what do you think? Love the change or hate the change?
I hope I inspired you to get in the car, drive to home depot and get some of those 2 x 4's and some pretty inexpensive hooks to create yourself a fun entryway!:–)
Thanks for visiting today! Be sure to come back tomorrow, I will have a fun organizing post and GIVEAWAY!!
Cheers,
Aniko