MOODY MODERN DINING ROOM REVEAL
After five weeks of HARD work, it's finally REVEAL day! My moody modern dining room reveal for the One Room Challenge is here, you guys!
Who knew that I would sign up for the One Room Challenge again? I was debating for a long time if I should sit it out or just go for it…? Yeah! I was kind of itching to see some changes in the dining room for a long time, but it was kind of also just a busy time around here.  I have been changing things around in the dining room ever since we moved here (10 years ago), but one thing I have been putting off!  Removing the chair rail!!! Ghaw! I hated it!
So this time I went in for the challenge with some easy plans and I thought it would be a piece of cake to redo this room. But you know how things usually are. Things get out of control, and I always end up working a LOT harder ( hence my last minute DIY ideas lol!) than I imagine in my little head at the design planning stage haha.
But like always… I say it was SO worth all the work again.
I am freaking loving the space we created. WE! Yes! My handy hubby is always here to help. God bless him for staying married with this crazy for so long and giving me a hand with everything I need help with. 🙂 In the end, we are a perfect team together. We always make everything work!!!
Okay! So let's go back in memory lane for a sec.
This was the mood board I created for this space. I did a good job on bringing this vision to life, I think!
And this was before of my dining room.
It looked really nice, but I wanted to get rid of unneeded things. Like that buffet, we DIYed many years ago! We just didn't use it at all, and I felt like it took off so much space in here.
I went for a change and I am so glad I did!
So let me introduce you to this moody modern dining room, guys!
A little recap of what we did during the 5 weeks:
We removed the chair rails – WEEK two!
Painted the tray veiling- WEEK three!
We DIYed that awesome BAR wall- WEEK four!
Mural went up –  WEEK five!
I still owe you guys for the tutorial on how we DIY ed that BAR WALL. I just could not get to it yet.
I truly love everything we added to this room. The wall mural from A New Wall is absolutely my favorite in here! This Foggy Hills Mural was an excellent choice for this space! What do you think?
And I wanted to see it framed, as a significant art piece! And it turned out exactly how I envisioned it!
I will share a tutorial on how we framed the mural as well. Stay tuned!
Let's talk about that fantastic rug, guys! I've been eyeing Loloi Rugs for a long time, and I was super excited to collaborate with Loloi Rugs for this makeover. I fell in love with the gorgeous Lay Spice Marine over and over again. Such beauty!
I select my pieces carefully when I design.
I wanted a cool light fixture for this room, and I think I found it!  I found this piece over at SAZERAC STITCHES. 
Absolut perfect light fixture for this moody room. The size and shape…everything is on point!
And how do you like my super sexy captain chair? OMG! I can not find words! I found this gem at Eclectic Goods. I was happy to collaborate with this fantastic company to showcase these Jean Rattan chairs my space.
I ended up with a few easy DIY projects last minute…
This concrete planter was born two days ago, and due to not finding the perfect table, I ended up painting my old table black. I think it looks fantastic.:-) You always needs plants and greens, right? In this how to decorate with large plants in a small space post you can learn all the basics on decorating with plants.
Oh, guys! I am so much in love with this room, and I am happy the house is back to its normal state.
I think I am ready for my Whiskey Coke haha!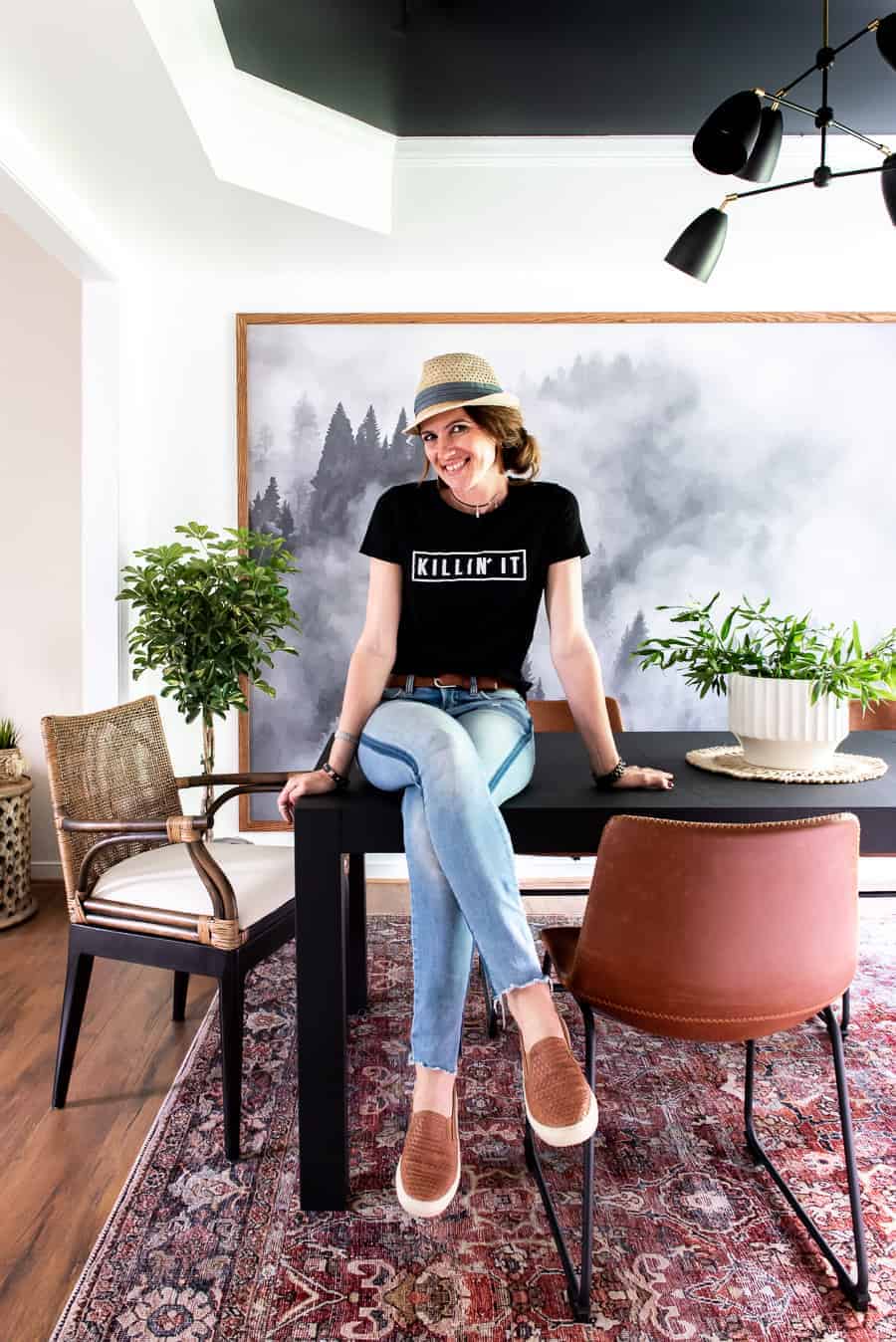 Oh, and I am loving that my house getting so cohesive too..LOOK AT THIS VIEW 🙂
PIN THIS IMAGE FOR LATER!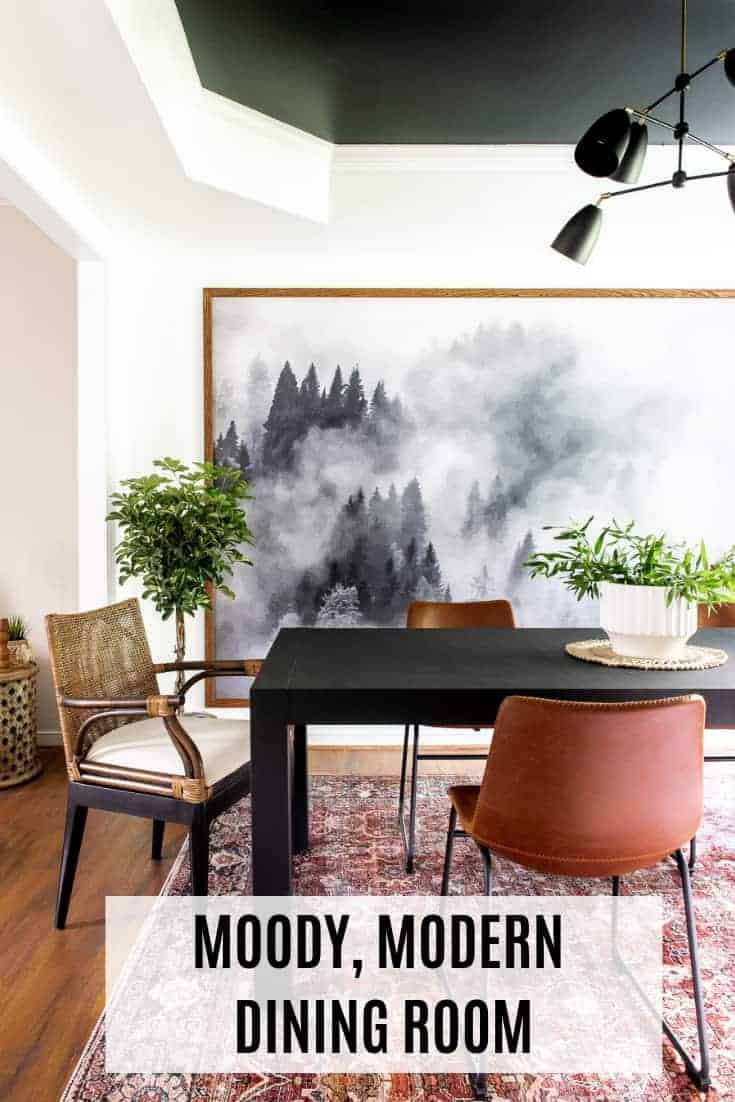 What do you think? Do you love or don't like this moody space?
What's your favorite DIY cause we had a few good ones!:)
Thanks for following along and thanks for checking in to see the reveal!
Cheers-
Aniko 🙂