It's Garden party time!
What's better in the middle of summer than checking out 25 fantastic outdoor spaces! The fabulous Ursula from
HOMEMADE BY CARMONA
is hosting an all week long garden party with some seriously awesome blogger friends! Favorite time of the year for me is summer ( only when it's not 117 F outside) as we love to spend as much time outdoor as possible. My boys are off electronics (and I mean ALL electronics; tv, movies, games, etc.) during the week so being inside is not an option. Even though they have many toys, they are always complaining being bored inside. Ha. But I love the idea of playing outside, running around and enjoying outdoors as much as possible, so it all works out with my crazy team!
Today I am going to show you little bit around the house, and I will show you how our outdoor space is looking like these days.
We built this amazing
patio pallet furniture
two years ago firm shipping pallets, and we could not be happier with how it turned out. During the spring and summer months, we use this bad boy on a daily basis. Literally! Very comfortable lounge furniture and the cushions are perfectly beautiful and durable.
One thing I love to be surrounded, all year around, are flowers. I have many summer plants and flowers on the deck, and I ( or the hubby :-))try to keep up with watering them regularly.
This fabulous hanging flower planter holder was also made out of shipping pallets. You can learn more about the making process
here
.
This shot below was made of the front of the house. I think by now you can tell how much I am attracted to blue shades. The
shutters and front door were painted last fall
with beautiful blue, and they look stunning with the yellow siding.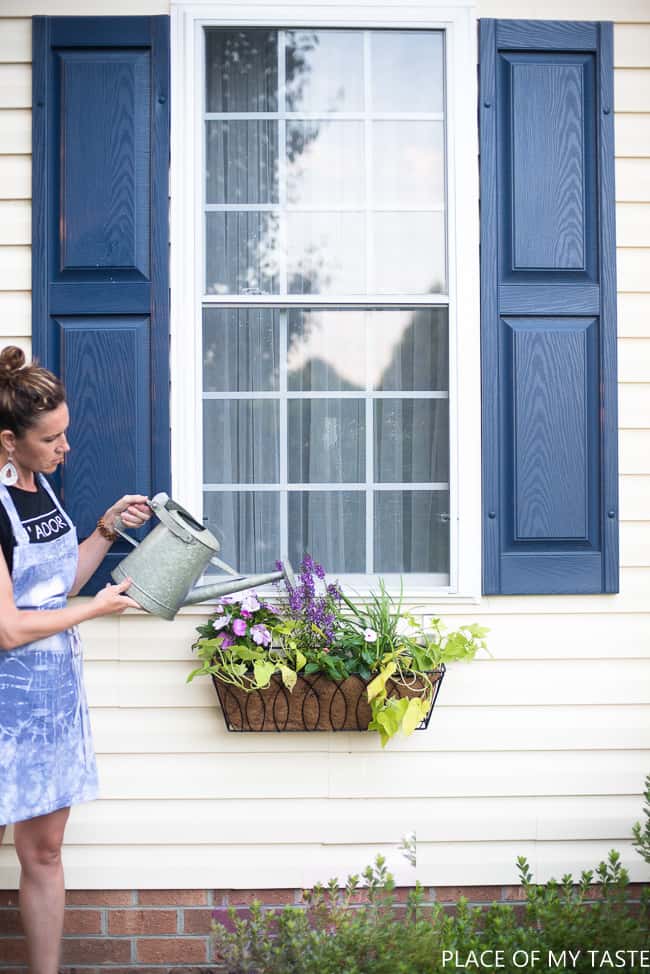 Well, this is my little outdoor paradise that we enjoy having!
There are other amazing garden spaces to check out
HERE
! Enjoy the tours!