GREEN BEAN SALAD WITH PRUNES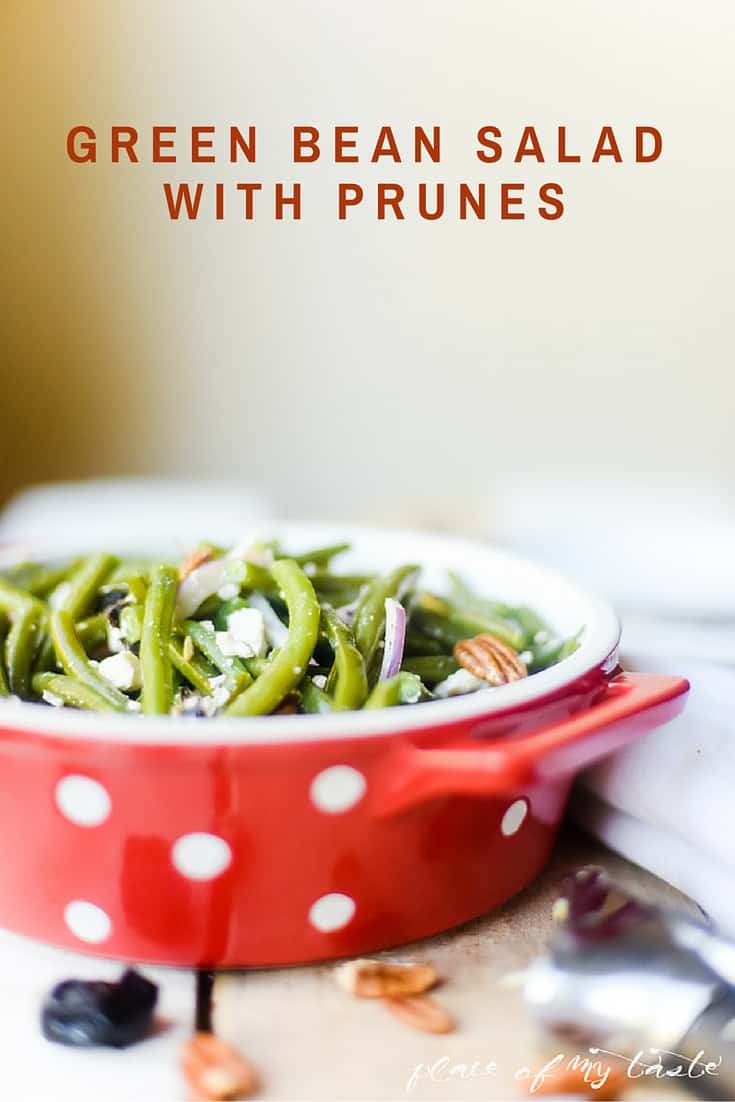 Yep…that's right, green bean salad with feta, onions, pecans and prunes.
Oh my deliciousness!!
Happy Monday you all! How was everyone's weekend? Mine was just perfect. The weather was absolutely gorgeous and we spent the entire weekend outdoors. We have a Folk Festival each year here in Richmond, it's a 3 days event and it is just fantastic to be at. Lots of great music, good food and activities. So it was definitely a busy fast few days around here. Cooking was totally put off, there was only time for a great salad. This easy Green Bean Salad with prunes that I am sharing today is absolutely delicious  plus you can totally have this salad added into your Thanksgiving menu. Switch off your same ol' green bean casserole!
It is a cold salad and it will go well  with meats as it is a very flavorful side dish.
THANKSGIVING TASTES AND TABLESCAPES
Author:
Prep time:
Cook time:
Total time:
Ingredients
1 lbs green beans, ends removed
1 cup red onion
1 cup feta cheese, crumbled
1 up pecans, chopped
1/3 cup olive oil
1/4 cup vinegar
1 tbs dill
1/2 tsp garlic (minced)
1/4 tsp salt
1/4 tsp ground pepper
1/2 cup dried prunes
Instructions
Cook the cleaned beans in boiling water for 5 minutes, drain and immerese them in ice cold water to keep them crisp.
Drain water and pat the beans dry.
Whisk together olive oil, vinegar, dill, garlic. Add 3/4th of feta, red onion and pecans. Toss, then top with the remaining 1/4th.
Enjoy!
Notes
Recipe inspired: Vintage Mixer
I love beans so much and now my little man is eating it, too. His brother still wouldn't want to try for these goodies.
Give this quick salad a try if you like flavorful dishes and let me know how yo liked it!
Here are some other great salads for an easy lunch idea!
CHICKEN CHICKPEA SALAD
STRAWBERRY POPPYSEED SALAD
Have a graet week!
Cheers,
Aniko