Pumpkin Chocolate Cream Horns
 Hey Place of My Taste readers! I'm Rebecca from Living Better Together and I'm so excited to be back here again with you all this month sharing a sweet pastry perfect for the fall season. Like most people this time of year, I really enjoy the pumpkin and chocolate flavor combo, you might remember my Chocolate Pumpkin Chip Pudding Cookies from last month as evidence. And we know Aniko loves it too thanks to her tempting Chocolate Pumpkin Truffles! So if you fall into the pumpkin chocolate loving group like we do, then you're going to LOVE these Pumpkin Chocolate Cream Horns!
 When I made these I posted this photo on Instagram, everyone kept asking me if cream horns were hard, and the answer is… THEY"RE NOT! Thanks to the help of some handy dandy molds and frozen pastry dough, they're super simple to make! Cream Horns are very popular here in Maine, though when I worked at the grocery store in high school, out of towners would constantly as what they were. So if you have no idea what a cream horn is, that's okay, I love you anyway. Okay, really though, cream horns are cone/horn/tube shaped pastry dough that's buttery and flaky and filling with cream and sometimes fruit or jam. I made these Chocolate Strawberry Cream Horns last fall, but my favorite is a chocolate cream filling… YUM! These ones though, have a sweet pumpkin pie filling with a hint of spice! Plus, they're dipped in dark chocolate! How can you go wrong!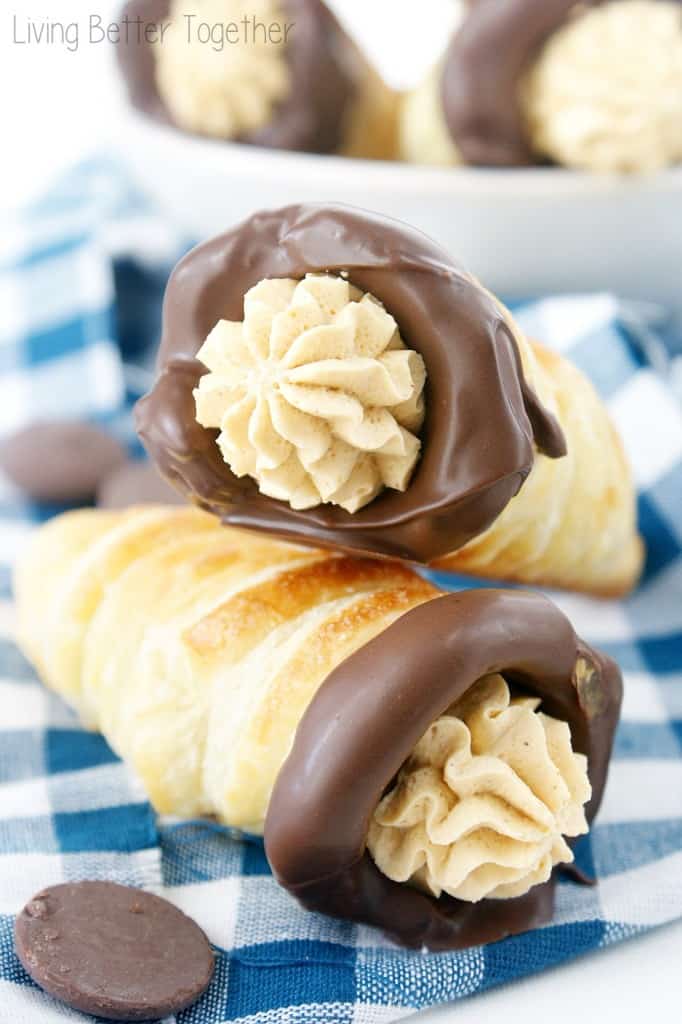 Pumpkin Chocolate Cream Horns
Author:
Prep time: 40 mins
Cook time: 20 mins
Total time: 1 hour
Buttery and flaky pastry dipped in chocolate and filled with sweet fluffy pumpkin pie cream.
Ingredients
Pastry:
2 Frozen Puff Pastry Sheets (thawed)
1 Egg
1 tsp Water
3 tbsp Sugar
Chocolate Melting Wafers
Filling:
1 cup Heavy Cream
3 tbsp Instant Pumpkin Pie Pudding Mix (dry)
1/4 cup Confectioners' Sugar
1 tsp Pumpkin Pie Spice
Instructions
Pastry:
Slice thawed pastry dough into 1/2 inch strips with a pastry or pizza cutter.
Wraps strips around the cream horn molds making sure to overlap while wrapping.
Place forms and dough on a parchment lined cookie sheet and put in the freezer for 20-30 minutes.
Preheat oven to 400 F.
Wisk together egg and water to make an egg wash.
Pull dough from freezer and brush with egg wash, sprinkle with sugar.
Bake dough on forms for 20 minutes.
Remove from oven and let them cool on the pan for about 10 minutes.
Transfer parchment paper with horns to a cooling rack.
Allow horns to cool completely on the form, then gently remove them by gripping the dough and sliding it off the form.
Melt chocolate and dip the tips of the horns in and place on wax paper to solidify.
Filling:
Combine filling ingredients in a large bowl or stand mixer and beat until light and fluffy.
Pipe filling into chocolate dipped horns and enjoy.
3.2.2802
 Want More? Follow me on Pinterest and Facebook and check out these other great recipes!
White Chocolate Coconut Sweet Potato Pie Bars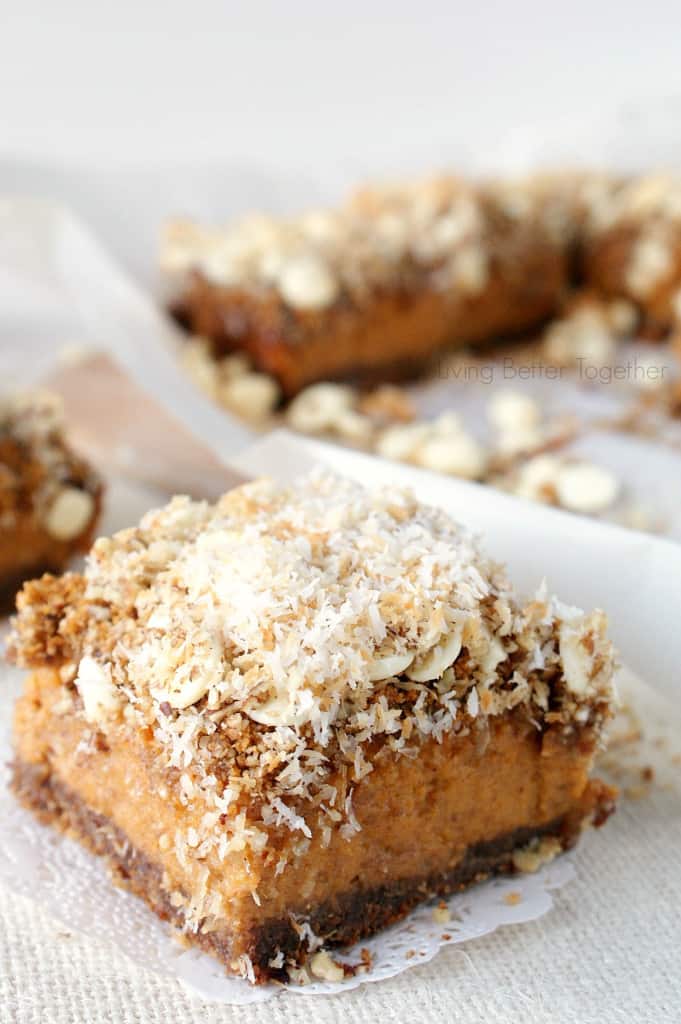 Peanut Butter Surprise Cupcakes