TIRAMISU CHEESECAKE BITES
This post has been sponsored by Folgers Coffee. All thoughts and opinions are my own.
Tiramisu is one of my favorite desserts of all time, guys!  Every time we go out to eat in a restaurant I get a Tiramisu for dessert. But, my friends, that does not happen too often. So I had to learn how to make my favorite dessert at home and now I make it way too often haha. With my kids, the easiest way to have dinner is to stay and eat at home. They are real homebodies and I don't blame them.
This version of Tiramisu that I am sharing today makes individual bites, which makes this sweet treat even better- because a serving is a serving! I normally shop at my local Food Lion for ingredients as Food Lion is in walking/biking distance from my house. Who wants to hop in a car all the time, right? I am from Europe so walking to the grocery store is not new to me and a little exercise doesn't hurt either. It makes taking the calories in that much more satisfying when I have already earned it from my little trek to the store.
I am a huge coffee enthusiast. Have I told you that yet? Coffee is the first thing every morning in my daily routine. I like to wake up before everyone else just to enjoy my cup of coffee in the quiet house. Then comes 10 am, and I get my second cup of coffee. My local grocery store Food Lion offers a wide variety of K-ups and this last time I walked home with Folgers® K-Cup® Pods, Folgers Classic Roast in particular.
Folgers is a trusted, familiar favorite that offers me a comforting start and reminds me to embrace all the day has to offer- especially the little things. Can you believe Folgers has been a leader in the art and tradition of coffee since 1850. It's a small solace that fills each day with optimism and inspiring energy for me, a timeless ritual that awakens the senses… Folgers' rich coffee aroma and consistently satisfying taste keeps me coming back. Their Classic Roast is one of my favorites and since I had these K-cups on hand, I used it for my delish Tiramisu recipe.
There are many versions of this Italian dessert, Tiramisu, which I think is the dream of dessert for coffee lovers. Layers of cream cheese, sweetened mascarpone cheese, and an easy to make cake dipped in freshly brewed coffee…Yum! Sounds amazing, doesn't it? You can make a no-bake version or my version with an easy baled cake that requires just a few ingredients and can be baked in less than 10 minutes.
What I love about this easy dessert that it does not require hours in the kitchen and these individual bites are so satisfying.
While the base cake is in the oven you can easily prepare the cream cheese mixture and you can brew some fresh coffee using your favorite Folgers K-cups.
Would you like to know how to make these Tiramisu Cheesecake Bites in your own kitchen? See ingredients and instructions below.
TIRAMISU CHEESECAKE BITES
Author:
Super easy Tiramisu recipe.
Ingredients
**For the Cake:
2/3 cups all-purpose flour
2 eggs
1/4 cup sugar
1/2 teaspoon vanilla extract
pinch of salt
Freshly brewed coffee
**For Cheese mixture
1 cup mascarpone cheese
1 cup cream cheese
1 cup whipped cream
1/3 cup powdered sugar
Instructions
Preheat oven to 380 degrees. Spray bottom of the muffin pan with cooking spray. Set aside.
Brake eggs to a bowl, add sugar and beat until the mixture is fluffy. Add vanilla extract, salt, and flour and mix until smooth. Spoon a teaspoon of the batter into the muffin cup and bake it until golden brown. ( 10 minutes most) Once it's done, let it cool.
Whip whipped cream in a bowl.
Add mascarpone cheese, cream cheese, and sugar to the mixer and beat until very well mixed together. Then add whipped cream and stir until well incorporated.
Once your cake is cooled off, poke holes in them and lightly soak the cakes with your fresh brewed coffee.
Spoon cream cheese mixture over your cake and refrigerate for an hour or two.
Dust your individual cakes with cocoa powder before serving. Enjoy!
I tend to use less sugar in general when I am making desserts, but feel free to add a bit more sugar to your recipe per your taste.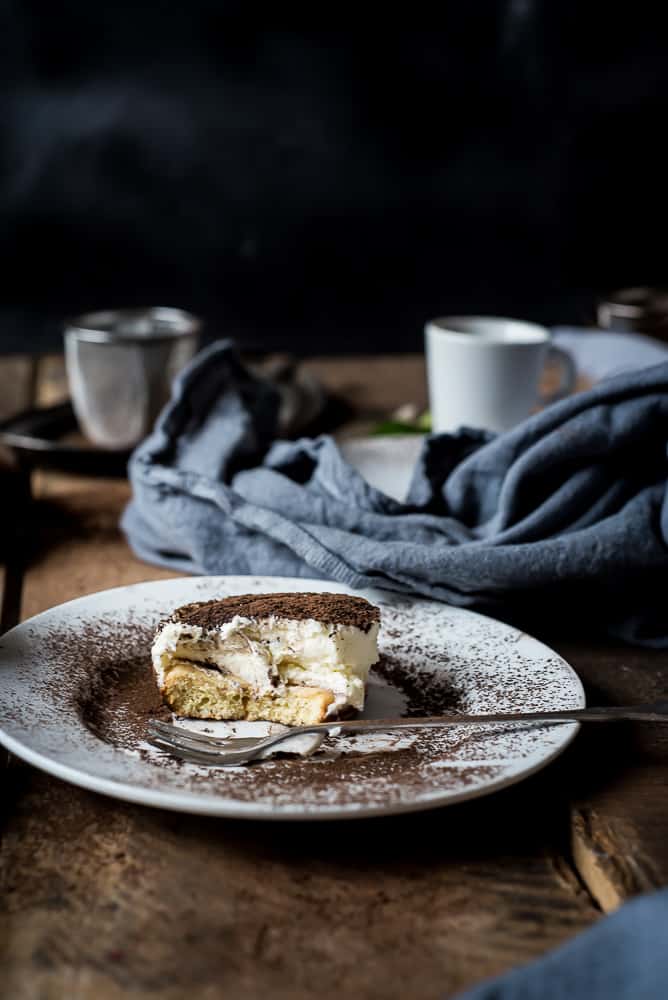 Well-well! This yummy recipe is on my favorites list for sure. Let me know how you like it!
Can't make it today? Pin It for later!
And now go visit your local Food Lion ( see store locator here) for all your Folder K-cup needs!
Cheers,
Aniko