PALLET PATIO|SPRING REFRESH|Blogger Stylin' Home tours
Welcome! It's the 2nd day of the Work & Play Blogger Stylin' Home Tours. Have you seen yesterday's spaces? OMG! I loved touring all the spaces.  My sweet friend, Lindsay at  The White Buffalo Styling Company, hosts two-three- fantastic blogger home tours per year, and I am always looking forward to it.
This month's theme was Work & Play. My first idea was to share my boy's colorful room, but I never got around to clean it -ha. Alright, I do clean it. On a daily basis probably but the truth is that we had a huge neighborhood yard sale this past weekend, and I went through their toys and stuff and since then the room is a war zone.:-(  So today I am sharing one of our favorite spaces in the house for the Spring/Summer season. Do you love fun pallet ideas?
Our fun and colorful Pallet patio.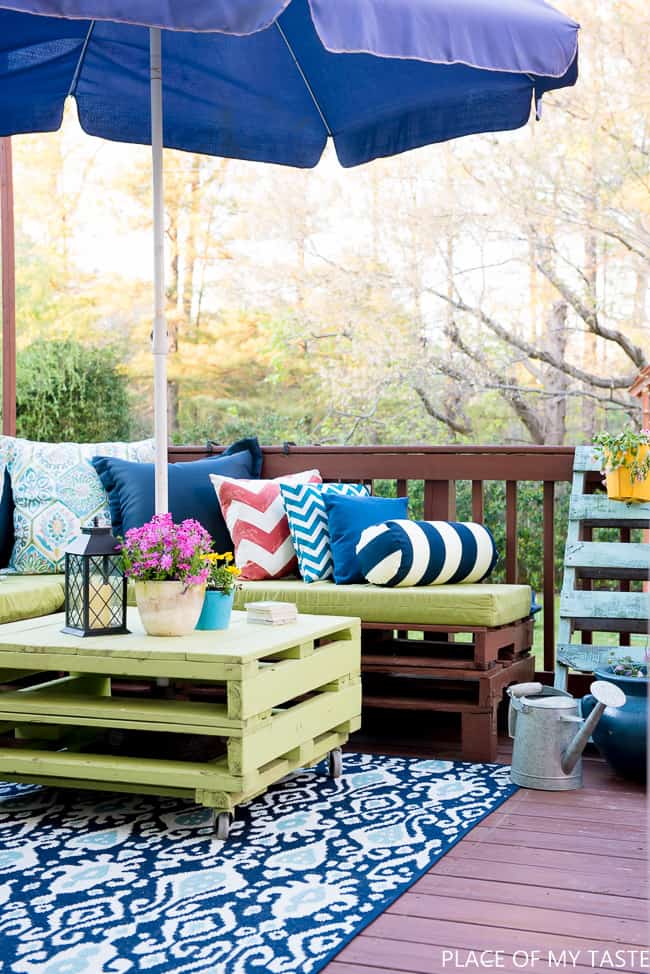 PALLET IDEAS
We built a PALLET PATIO FURNITURE  2 years ago. The pallet furniture is kept outdoor all year around, and it looks just like we built it yesterday. Seriously. Very sturdy and there are no signs of weather or wear. The only thing I move to the garage for the winter season is the cushions and pillows. 2 years ago I decorated the space with an orange rug and large orange striped pillows mixed with some colorful smaller pillows. Since the rug had a pretty good wear being outside for two years,  I decided to freshen the patio up for this spring/summer.
( from two years ago, see more HERE)
 I switched out the large striped pillows for a few large, solid color outdoor pillows and I purchased a new rug from Target.

We spend lots of time out here as a family. We eat, drink, laugh, play here. I love to sit out here to paint, we invite friends, we do just about everything on this cheerful, happy patio. Thankfully our yard is super private ( which was a selling point when we purchased this house), and we don't have to watch over our neighbors while out here.
I have not planted too many flowers just yet, but typically this corner is full of blooms and pretty flowers. The pot hanger is such a cool idea. It's a piece of pallet leaning against the rail. You can find more on it HERE.
What do you think? I always loved blue tones but this year blue makes my heart pitter-patter. Have you seen my DIY TUFTED HEADBOARD with the lovely indigo velvet fabric? Oh, I love it (psss…you will, too).
We added some string lights over the deck last summer to make it more inviting and cozier. Check how you can add lights above your patio HERE.
I hope you enjoyed this short outdoor space tour. If you got inspired, recycle some pallets and build your patio lounge. You will enjoy it all summer!
ALL PHOTOS IN THIS POST  WERE EDIT IN LIGHTROOM, WITH THE COLOR HAPPY PRESET FROM MY COLLECTION. MY PRESETS AND EBOOK IS AVAILABLE FOR PURCHASE  HERE.
And now be sure to visit the rest of the tours today. Next up is Jen from The Chronicles of Home. I can't wait to see what Jen has to share. Her style is AH-mazing!
Here is the weekly line-up!
WithHEART
Primitive & Proper
My Fabuless Life
Restless Arrow
Katie Gavigan Interiors
A Creative Day Blog
Cheers Friends!
Aniko