LIVING ROOM REFRESH WITH VELVET CHAIRS FROM ARTICLE
This post is brought to you by Article. All opinions are 100% mine.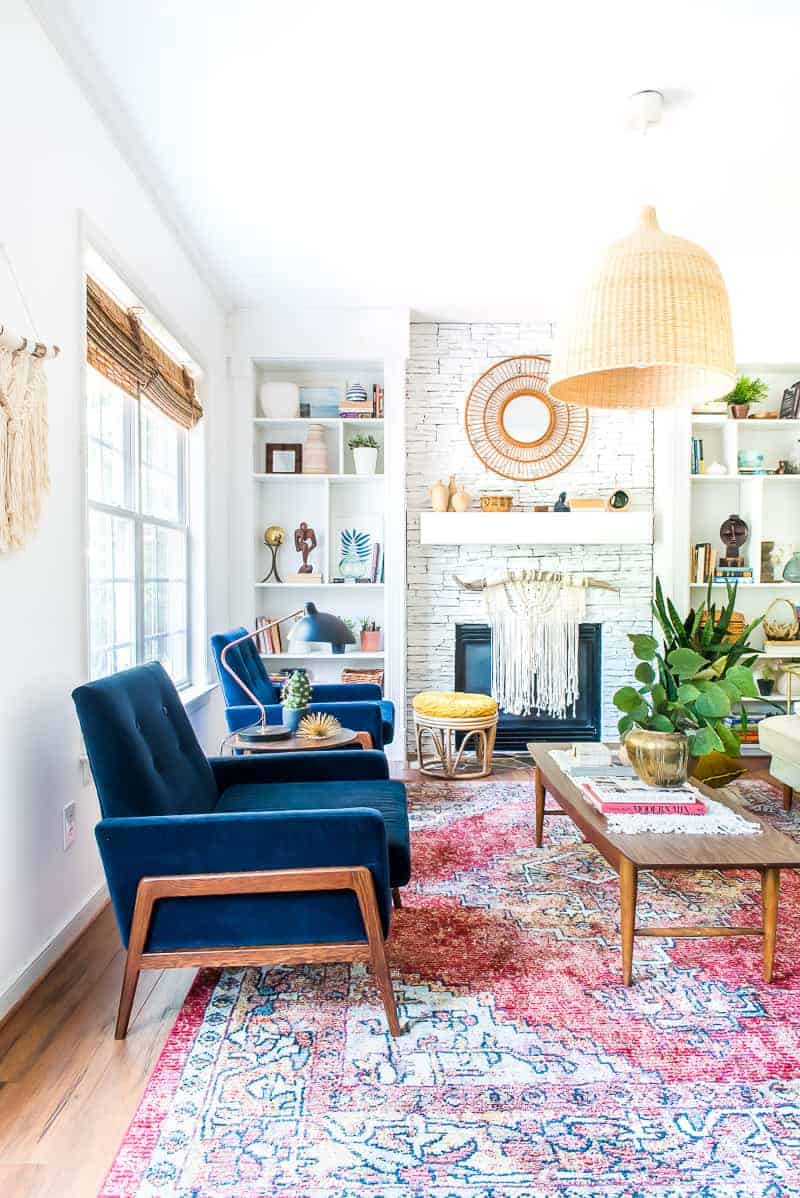 Color or no color? What do you vote for?
I say color, my friend! I've been eyeing me some sexy chairs for quite some time and I finally picked out THE ONES! I've been debating if I need a chair to this corner at all and now that I have two beautiful pieces in here, I am loving this room more than I ever have!
This corner in my living room was missing something. I had one big armchair in the corner but it was about to time to change it. Our living room had a few "looks" already but never been this colorful.:-)
Hello, colors!
If you have been following me for a while, you know that color is my thing. I love to add pops of colors to my home decor and I am so glad I added some boldness to this space. I love how bright and inviting this room had gotten just by adding some sexy chairs to this corner.
Have you ever shopped at Article? Let me tell you about it!
Article is an original modern furniture brand. Their collection of mid-modern furniture is just amazing and very reasonably priced. Article offers a flat shipping fee of $49 (or $19 for small shipments) for most orders, no matter how large. How cool is that?
So a few details about my velvet chairs from Article:
The Nord Cascadia Blue Velvet Chair that I picked out from Article is not only stylish but super comfortable too. The Nord Cascadia Chair has mid-modern lines and with its stylish wooden frame, it makes a very unique look.

In addition to my amazing chairs, I added some bold pillows to my couch to make the room more fun. Don't you love them?
These stylish under-stuffed scatter pillows are sold as a set of 2. I picked yellow gold and grass green and I could not love them more. They are made from plush velvet with a piped edge and 100% down filling. The Lucca pillows were made to match my velvet chairs.  The airy insides allow you to fluff them up or style them the way you want them.

That cool Leap table lamp and Amoeba side table are also from Article. I wanted to make sure we have a sitting corner where we can lounge with our coffee and books to read.
Guys! I am super psyched about this little update in our living room. What do you say, yay or nay?

Be sure to check out Article's hip mid-modern collection. I am sure you will love it! Article offers a 30-day satisfaction guarantee so you can try out your new furniture in your home. If you're not completely happy, they'll pick up the furniture and provide a refund, minus the delivery and pickup charges which is $49 in most cases. So what are you waiting for?

Thanks for visiting today. I hope I  inspired you to get your colors going in your home!:-)
Cheers, Aniko